Keeping Appearances Up: Pretax Savings Plan Can Finance Remodeling
Have you recently stayed at a branded hotel, or eaten at a franchised restaurant where the property was tired-looking and in need of an update? Was the overall experience less than expected because of the worn-out facility? On your next trip did you make a point to book a room or eat a meal at a competing brand, where the facilities and amenities were up to date? Worse yet, was the property yours?
This is happening ever more frequently today. Hotels and restaurants built 10 or 20 years ago now need substantial updating to compete with progressive brands.
Next to the initial costs of property construction, the largest expenditure will come when a facility is updated. We all know it's not if, but when the refresh or remodeling will take place. The FDD may contain specific language stating when the update should take place, but many franchisors have no way to enforce it and franchisees have limited ways to finance it.
In better economic times, access to financing was easy. Lenders were around every corner. But the world has changed since the economy melted down. Credit is tight and lenders are few in number, particularly for large-scale remodeling projects. Most analysts agree that the easy money genie is not coming back out of the bottle for a very long time, if ever. If necessity is the mother of invention, then it's time to look for creative ways to solve the financing dilemma.
One such bit of creativity is the use of a pretax savings plan to finance the eventual refresh or remodel. In the hotel industry it's common practice for a franchisee to establish a "savings plan" to be used for remodeling. In fact, many lenders for hotel properties mandate in the loan document that the franchisee save 4 to 5 percent of gross revenues to be used for remodeling. This type of savings plan consists of investing an aftertax dollar of revenue into an escrow account that produces taxable investment income.
There is another approach that makes better economic sense, particularly in light of what most think will be an environment of higher taxes. This approach is a franchisor-sponsored "savings plan" for the benefit of the franchisee.
Franchisees contribute to the plan by increasing their royalty, by a percentage or dollar amount. Since the increase is a royalty, the franchisee would obtain a tax deduction at the time of the payment. Essentially, the dollar becomes a pretax contribution.
Once received by the franchisor, the dollar is deposited into the savings account where it grows tax-deferred until needed for remodeling, which could be 5 to 15 years away. When the remodeling date arrives, the franchisor pays out the savings account balance to the franchisee. This distribution is a taxable event for the franchisee, but if used for remodeling it can be expensed or capitalized.
This savings plan allows the franchisee to save for future improvements using pretax dollars, which grow tax-deferred, and are taxed when distributed but expensed when used for the remodel. Should the franchisee sell or exit the business before the remodeling date, the potential to receive the future funds could be transferable to the new owner. This is particularly important to the franchisor that has a vested interest in a smooth transfer.
Many franchisees might look upon the plan as one more forced fee imposed by the franchisor. Not so. For those franchisees currently in contract, the plan would be electable. Franchisors might decide to include it in the FDD as a mandate for contract renewals or new franchisees. Franchisors also could encourage participation by offering a matching contribution in the form of real dollars or a forgivable franchise renewal fee in exchange for enrollment.
By sponsoring a tax-favored savings plan and encouraging participation with a matching contribution, the franchisor is assured that needed updating will take place on schedule. A consistent, positive customer experience is delivered across the system when franchise properties are regularly updated. By being proactive, the franchisor has protected the brand image, provided a much-needed financing vehicle for the franchisee, and contributed to the goodwill of the franchisor and franchisee relationship. It doesn't get much better than that.
John T. Geenen is a first vice president, investments with the Waterfront Investment Group, UBS Financial Services. He has more than 25 years of experience in the financial services industry. Reach him at john.geenen@ubs.com or 952-475-9442.
Published: July 12th, 2010
Share this Feature
Recommended Reading:
Comments:
comments powered by

Disqus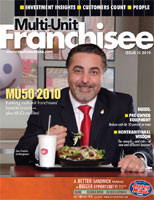 Multi-Unit Franchisee Magazine: Issue 3, 2010
Bad Ass Coffee of Hawaii brings an unforgettable brand, premium coffee products, and a proven business model to a booming coffee scene. We want...
Cash Required:
$100,000
Cicis is an iconic, modernized restaurant that pushes the limits of the regular family dining experience. With unlimited opportunities for revenue,...
Cash Required:
$250,000