Know Your Customer: Put Yourself In Their Shoes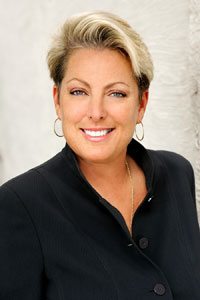 After 30 years in franchising, there is one lesson that I've learned personally and shared professionally. It goes like this: It's one thing to know your business. It's another to know your customer. If you can master both of these things, you will be extraordinarily successful as a result.
That is true across our service brands at The Dwyer Group. And it's true in my role as chairwoman and CEO as well. When I assumed these roles in 2007, some people could not imagine a woman in a "male's role." But instead of focusing on other people's reservations, I concentrated on a perspective we could all agree upon:
I am the target customer. I am the woman of the house, the person who typically schedules the majority of some 2 million service and repair calls our service brands make each year. And my experience matters.
Yes, it's good to know how to fix an air conditioner, replace a broken window, or restore a flooded basement in the case of our service brands. In fact, it's wonderful to know how to make a cup of coffee, change a flat tire, or cook a hamburger. It's imperative to know how to arrange a cookie bouquet, run a daycare, or sauce a pizza. The services or goods provided by any franchise, and the business training to execute those things, are to be expected.
But how is the experience for the customer? Did you make a lasting impression? Is the customer going to remember you to the extent that they tell a friend? Now, we're talking.
By turning the tables and looking at your business from the point of view of the customer, you might elevate your service. You might hire and train people differently. What's important to you may not be the same thing that is important to your customer. So, you might not only do what's expected--you might also do the unexpected.
At The Dwyer Group, we love doing the unexpected across our brands. Getting to know our target customer has boosted the satisfaction ratings of our service calls across our franchise family. The woman of the house doesn't just want a problem fixed. She also wants peace of mind. That means delivering in the details.
For example, repairing a broken toilet is one thing, but she's about to let a stranger in her home and needs to feel safe. A service professional in a clean uniform, a branded vehicle parked on the street, and an overall job that keeps the whole house clean while, yes, fixing the toilet, are paramount. Are you delivering that kind of serenity with your business?
I found a real place in my role as chairwoman and CEO of The Dwyer Group. I didn't need to be a master plumber, but I did need to know how to lead a great team. And the female perspective has added an emotional touch to the way we approach business. As a wife, mother, and CEO, I can say that no one questions my ability to do my job. In fact, both women and men relate to me because I'm not afraid to be myself and show my emotions. I'm the target customer, and that's an important point of view to bring to the business. Which begs the question: Why can't we put more women to work in the service trades?
That was magnified when I had the opportunity to challenge myself and see the female presence within The Dwyer Group at the grassroots level--and in front of more than 10 million TV viewers. I went undercover on the CBS show "Undercover Boss," where I worked alongside Tanna Marino, a female service professional who proved to be a role model for women in the trades. Although women make up 46.7 percent of the labor force, this industry is traditionally male-dominated. However, Tanna, in her job with Mr. Appliance, and other female service technicians are working to shatter this. And their ratings from happy customers are astounding. Again, they know the business and they know the customer.
After completing my journey on "Undercover Boss," my passion to find more opportunities for women to pursue careers across the service brands was reignited. I had Tanna consult with me for a Women in Trades program to attract others like her to our service brands. And today she is a member of the corporate team for Mr. Appliance as a franchise consultant for the system.
As I work to develop a Women in Trades program to add talented service professionals who will be embraced across our brands and by our customers, I am reminded that there is always room for improvement with our businesses. I am now on a mission to involve more women like Tanna where job opportunities exist and where women can earn admirable income in an industry that welcomes them.
Although every franchise founder obsesses about launching a company, signing the first franchisee, growing the network, and building the brand into a household name, I encourage you to get to know your customers. Provide the best customer service possible and find a way to keep yourself, associates, franchise owners, and employees accountable. See your brand beyond what it sells. See it for how it is received. When you focus first on people and activities, profits will follow.
Dina Dwyer-Owens, CFE, has served as chairwoman and CEO of The Dwyer Group since 2007; before that she had served as president and CEO since 1999. She is a former chair of the IFA, spearheaded the reintroduction of the IFA's VetFran program in 2001, and in 2002 received the Bonny LeVine Award, the IFA's highest award for women who mentor other women and advance the careers of women in franchising.
Published: October 10th, 2012
Share this Feature
Recommended Reading:
Comments:
comments powered by

Disqus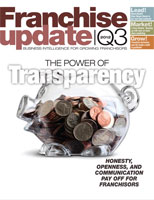 Franchise Update Magazine: Issue 3, 2012
Prisma has reinvented the marketing supply chain with an end-to-end solution that makes it easy to design, customize, order, download, print, kit,...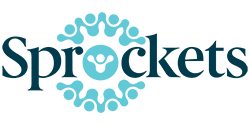 Sprockets is an AI-powered platform that helps franchisees maintain healthy staffing levels and improve employee retention. Our sophisticated...