Leader of the Bands: School of Rock CEO Finds the Perfect Home
With his first year as CEO of School of Rock under his belt, Rob Price has found his groove as he works to grow the 20-year-old brand that offers music education to kids all over the world. And, yes, he plays piano and sings, and his favorite band is Steely Dan.
Since teaming up with Sterling Partners in 2009, School of Rock has grown to more than 210 franchise units worldwide, system-wide sales from $13 million to more than $65 million, and its student count from 4,000 to more than 25,000. Its performance-based music curriculum teaches kids not only how to rock, but also how to be musicians on a variety of instruments.
Price, who took the CEO post in the summer of 2017, is an active leader, always on the move, and visited 95 of the brand's schools in his first 10 months on the job. His previous experience includes president of Edible Arrangements, where he oversaw more than 1,300 franchise locations globally. He's also worked as SVP and CMO at CVS Health and held executive roles in the grocery business at Wawa Food Markets and H-E-B.
Price says his leadership background and experience are helping him focus on "delivering great outcomes for our students, owners, and team members." He says he loves the culture throughout the brand's system, enjoys working with people at all levels, and ultimately hopes to contribute to building an enduring brand.
While he is serious about business, he doesn't take himself too seriously. "My management style is to work aggressively at making my management style irrelevant," he says. He believes if he builds a great team, outlines objectives, and provides the infrastructure to achieve them, things will go well. "I look for people who have passion and pride in their work, are not afraid to offer feedback, and have a great sense of humor."
But growing the brand is no joking matter. Price says he wants to build "the largest, most influential community of musical creators in the world." He plans to do that by entering more countries and adding hundreds more schools, and expects at least 50 more opened or in development over the next 18 months.
The brand recently inked a deal with music publishing company Hal Leonard. The new partnership makes customized charts available to School of Rock's students and teachers for classes taught in their programs and camps.
For Price, a true highlight of his job is seeing students perform live on stage. "Every single time I see a young student on our stage, showing the courage and collaboration required to play with others, I get goosebumps," he says.
Name: Rob Price
Title: CEO, president
Company: School of Rock
Units: 210+
Years in franchising: 4
Years in current position: 1
Leadership
What is your role as CEO?
My primary role is to listen to our owners, school teams, and students to shape a set of priorities to strengthen the delivery of our mission. We are a growing, passionate community dedicated to enriching lives through performance-based music education. As leader of this community, I have to make good choices about what, when, and how. My role also is to ensure high standards and follow through on our commitments.
Describe your leadership style.
My style is to make decisions using disciplined thinking, demand clear plans of action, and confront hard truths in an intellectually honest way. I take the work really seriously. However, I don't take myself very seriously.
What has inspired your leadership style?
I have inventoried effective and ineffective leadership skills of teammates over the years. More importantly, I have also invited feedback, even when brutal. I have been blessed with colleagues who have cared enough to point out my deficiencies. I embrace criticism and it always inspired me to try to improve.
What is your biggest leadership challenge?
In a high-growth brand like School of Rock, picking promising objectives is the highest priority, and staying focused is difficult. Franchises have many stakeholders with really diverse opinions, so balancing focus and flexibility is always a challenge.
How do you transmit your culture from your office to front-line employees?
Our culture does not come from our office. It begins in our lessons, rehearsal rooms, and performances. Our franchisees and school teams are incredibly passionate, so I do not find culture transmission a challenge. Rather, we have to work hard to systematize and automate our business to allow all of us to focus more time on building our culture, and less time on minutiae and bureaucracy.
Where is the best place to prepare for leadership: an MBA school or OTJ?
I learned irreplaceable skills, techniques, and decision tools in my MBA. However, leadership is best learned through doing, facing consequences, feedback, and mentorship.
Are tough decisions best taken by one person? How do you make tough decisions?
I bring team members into the deliberation process. I will solicit feedback and delegate to team members more expert than I, where possible. Ultimately, I do like to have single points of ownership on decisions, but not all need to be made by me.
Do you want to be liked or respected?
Since both can be subjective, I first would want to be effective--honoring commitments I have made. Most often this will lead to respect. While popularity is always nice, I would rather focus on delivering great outcomes for our students, owners, and team members. I am blessed that we have a team that is easy for me to respect and like, so I hope I earn their admiration in exchange as I help them build an enduring brand.
Management
Describe your management style:
To work aggressively at making my management style irrelevant. I believe in assembling a great team, establishing clear, measurable objectives, and building the infrastructure required to deliver those objectives. I also am really, really cheap. Every dollar we get is from customers, franchisees, or shareholders, so I am maniacal about cost containment.
What do you think makes up a good management team?
I look for people who have passion for and pride in their work. I look for them to solicit and offer direct feedback. I also think sense of humor is incredibly important.
How does your management team help you lead?
My team has a very strong sense of personal ownership and results. Nowhere is this more important than in serving our franchisees. I know I can count on my team to embrace franchisee perspectives with empathy. My team does not wait for me to tell them to help our owners succeed.
Favorite management gurus: Do you read management books?
I am particularly fond of biographies of historical figures. Two leaders I have particularly enjoyed studying are John Adams and Theodore Roosevelt. Both were imperfect men who overcame their deficiencies to create extraordinary change.
What makes you say, "Yes, now that's why I do what I do!"?
Every single time I see a young student on our stage, showing the courage and collaboration required to play with others, I get goosebumps. I get Net Promotor Score comments every day about how we have changed people's lives. There is rarely a moment in my job when I don't enjoy watching our owners and team swell with pride over their impact on our more than 30,000 students.
Personal
What time do you like to be at your desk?
I never like to be at my desk. I don't have an office or desk at our HQ. I move from place to place like a nomad. I tend to be at the office between 6:30 and 8:30 a.m., but I work at least another two hours at night. I travel extensively, having visited 95 schools in my first 10 months.
Exercise in the morning? Wine with lunch?
Since we are a child enrichment program, booze doesn't really have a role. And who has time for lunch when you are growing like School of Rock? I exercise about four times per week, usually at night. I work with a personal trainer twice per week.
Do you socialize with your team after work/outside the office?
I love my team, and have great fun with them. At the same time, I want them to have a healthy separation between work and play. I know many close friendships have been formed among my team members, but I feel more comfortable protecting my team from me after hours!
Last two books read:
The Undoing Project by Michael Lewis and Man's Search for Meaning by Viktor Frankl.
What technology do you take on the road?
A phone and a laptop.
How do you relax/balance life and work?
In addition to exercise, I love to play piano and sing. I also have an obsession for Scrabble.
Favorite vacation destinations:
Coastal Rhode Island and Scottsdale, Arizona.
Favorite occasions to send employees notes:
I try to send acknowledgments whenever possible.
Bottom Line
What are your long-term goals for the company?
We will build the largest, most influential community of musical creators in the world. We will enter several additional countries with hundreds of more schools to serve tens of thousands of more students. We will create a vibrant alumni network of hundreds of thousands and have our students perform for millions of people.
How has the economy changed your goals for your company?
With more global prosperity, our prospects internationally have grown. Already many of our most successful schools are outside the United States.
How do you measure success?
By the number of people whose lives are enriched through my effort. This applies to my family, my team, and my community. I have found that sufficient material success is achievable with this guiding principle, although it isn't the fastest route to a buck.
What has been your greatest success?
My ability to embrace feedback and adapt to become a more effective leader.
Any regrets?
Plenty. Most of my regrets however are not my mistakes or failures; I have learned from these. Rather, my regrets relate to not taking more chances, stretching myself, and learning new things.
What can we expect from your company in the next 12 to 18 months?
Over the next 18 months, I anticipate at least 50 more schools opened or in development. Some of these will be in new international markets. Our existing schools will show stout organic growth through improved marketing, management, and curriculum innovation. We will also activate new strategic partnerships that set us far apart from other child enrichment programs. We will be building a solid base of growth for the coming years.
Published: September 29th, 2018
Share this Feature
Recommended Reading:
Comments:
comments powered by

Disqus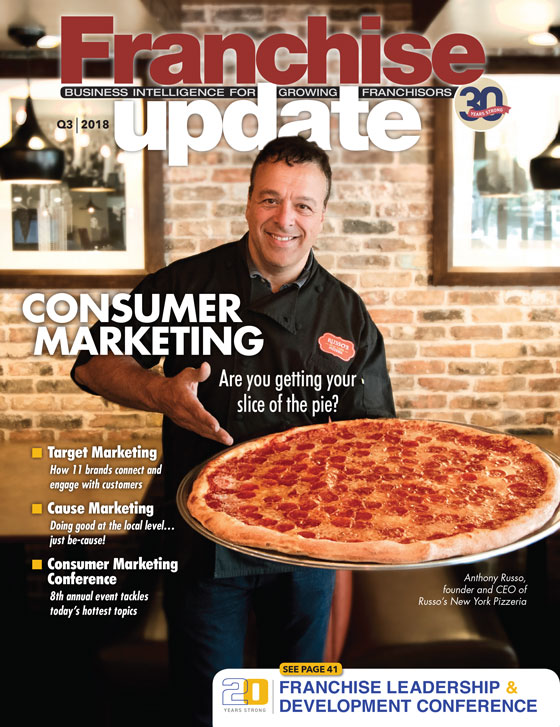 Franchise Update Magazine: Issue 3, 2018
Oct. 18-20, Atlanta, GA. An exclusive event for franchisor CEOs, Presidents, COOs, CDOs and Franchise Development Executives.
Leasecake is location management made easy – from lease contracts and licensing agreements to ASC 842 compliance. Never miss a deadline, stay ahead...