Local Marketing Rules!: Ratcheting Up Unit-Level Sales
When Lenny's Sub Shop offered fans who "liked" its Facebook page a free half-pound sandwich as part of a Valentine's Day promotion last year, the Memphis-based franchise felt the love. In just one week, this 21st-century word-of-mouth campaign attracted 40,000 new social media fans eager for a coupon to gobble down a Philadelphia-style sub on the house at their local Lenny's.
This February, Lenny's planned to launch a different deal with the same goal: reward loyal customers and use the virtual world to bring new folks through the door, says Brent Alvord, president of Lenny's Franchisor, which operates 150 restaurants in 18 states. The successful sweetheart local store marketing strategy is part of Lenny's efforts to become a strong national brand.
In today's economy, minding the local store can go a long way toward boosting a brand's growth and nationwide image, says Sandy Lechner, president and CEO of Boca Raton, Fla.-based Synergy Brand Management, which provides turnkey branding solutions for franchises.
"The real focus in marketing has to be on the local level," says Lechner. "What we talk to our customers about is the 'war zone'--that one- to three-mile radius around their location. They have to win that battle every day."
Local marketing vs. branding
Historically, says Lechner, companies have taken a shotgun approach to marketing that can appear even more scattered than in past years with the advent of Facebook, Twitter, podcasts, and other digital tools that have put a new face on "guerilla marketing." This combination of new media channels, fierce competition, and consumers with less cash to spend, have made it vital for franchisors to assume a larger role in providing tools and formal support systems, such as local marketing plans, to ensure their franchisees' success through a consistent brand message.
"A successful franchise is on top of their marketing," says Lechner. "Marketing is just one of those things that, traditionally, is ignored at the franchisor level. There has been a lot of focus on real estate and operations, but the best way to sell franchises is to have successful franchisees that can validate for you."
Most small to medium-sized franchise systems lack the market penetration and continuity, thus the economies of scale, for brand marketing to pay off. Unless a franchise is an equity brand that enjoys a Subway- or McDonald's-like market penetration, or a strong regional presence such as In-N-Out Burger, Lechner advises branding efforts to focus on trackable, wisely spent local store marketing (LSM) programs.
These ROI-based programs gather customer information, build strong customer relationships, bring in new patrons or buyers, and keep them coming back--or, in "marketingspeak," they drive traffic, trial, and retention.
Synergy, which counts Lenny's, Hungry Howie's, Pizza Hut, and Oxi Fresh Carpet Cleaning among its clients, works with companies to create formality in a brand's marketing message, offering franchisors a one-stop shop for driving traffic and building brand loyalty. Franchisees can then use an online portal to take advantage of company-approved direct mail, apparel, banners, grand opening kits, loyalty programs, and other in-store materials designed to provide a cohesive message that a local unit can use based on its demographic needs. Understanding those local needs is key to a campaign's success.
Mine every opportunity
Strong marketers know their local markets--those who live, work, shop, and dine in the primary area surrounding their locations--that "war zone" Lechner describes. Fortunately, with today's technology, it has become vastly easier to compile, slice, and dice demographic data to create a marketing plan, reach every potential customer, and evaluate the ROI. Even market mainstays can benefit from this approach.
Take Hungry Howie's, for example, with 575 locations in 24 states. When Lechner conducted direct mail and customer acquisition testing for the company's CEO, the data revealed that some stores did business with only 20 percent of area constituents. "He had successful units, but he was only skimming what he could be doing," says Lechner, who partnered with Hungry Howie's in its rebranding effort. In addition to creating a turnkey program for the chain, Synergy assisted in creating system-wide point of purchase, limited-time offers and catering kits.
Once a company has the data in place, Lechner advises clients to create and track a marketing plan aimed at driving traffic, trial, and retention--with separate strategies and budgets for each. One of the biggest, most costly marketing mistakes a brand can make is to send the same message to everyone.
At Lenny's, Alvord rarely prints a coupon without plenty of forethought. The company uses "measurable marketing" techniques, tracking results through its proprietary point-of-sale system, which allows management to quickly assess the value of a strategy or program. For instance, marketing to local schools easily raised local store spirit, while a direct mail piece to pharmaceutical representatives for catering services fell flat, says Alvord, whose background at Burger King, FedEx, and AOL (who can forget those ever-present installation CDs?) makes him well-versed in the value of low-cost buzz.
"Most of the time, franchisees can see that marketing pays for itself," he says. In convincing his franchise advisory council to embrace the Valentine's Day giveaway, Alvord estimated most of the customers would buy chips and a drink, providing a margin that would help offset some of the cost of the free subs. All but a handful of Lenny's franchisees participated in the promotion, which garnered significant media attention and brought additional, new customers through the doors.
Lenny's has tried other social media methods to raise brand awareness and connect customers to local restaurants, including Facebook's "Social Wednesday" deals and "12 Day of Giveaways" campaign. During the December promotion, each day brought a new giveaway and reward, such as Day 11, when the first two people to post a photo of themselves in a Lenny's with their sub and a straw mustache received $50 in Lenny's gift cards. However, Lenny's, which uses heavy direct mail and customer loyalty and retention strategies, does not intend to be a "discount trough," says Alvord. The desired result, he says, is "creating long-term relationships."
No matter how you choose to market your franchise on the local level, in the end, each local franchisee must deliver to complete the sale. Lenny's encourages its franchisees to make customers feel at home, emphasizing the brand's sliced-to-order meats and cheeses and no-trash-can policy. Says Alvord, "The best marketing we can do is to provide service in our restaurant."
---
Local Marketing Winners
Local marketing methods make it easier than ever to build relationships. Lechner's take on the following strategies provides plenty of ways to build your brand at the local level.
 Direct mail. It may not sound as sexy as social media, but direct mail still delivers. Lechner considers direct mail to be the best, most cost-effective, and traceable way to reach prospective and existing customers--and says it should be the largest component of an LSM campaign. Use saturation direct mail campaigns for grand openings, new product launches, and limited-time offers. Targeted and personalized mail work for specific messages, such as "Happy Birthday," "Welcome to the neighborhood," "We miss you," and "Thank-you" programs. A database mail campaign also allows companies to select specific criteria and focus dollars on the targeted prospects to communicate specific messages at selected times.
 Day and day-part promotions. Since most of Lenny's customers dine before 4 p.m., Alvord is a big fan of specific day and day-part specials. These methods, used frequently by retail and food service businesses, work to build loyalty and traffic for selected groups, individuals, organizations, and cultures. Parents will drive across town to dine or shop at a place that benefits their child's team, group, or club. By singling out segments of a prospect or customer base, your system creates an emotional bond and sense of loyalty that cannot be replicated. Some examples: Military Night, Kids Eat Free, Teachers' Night, Student Night, Senior Night, and special nights for sports teams.
 Loyalty programs. A strong loyalty program is one of the easiest, most productive ways to create long-lasting relationships with customers and better understand their habits. Programs can be based on number of visits, dollars spent, specific products, and selected days or day parts. When Lenny's converted its loyalty program from a stamped card to an electronic format, nearly 120,000 customers opted to receive an email newsletter. This also provides an easy avenue for the company to send a free birthday sub coupon or an automated "We miss you" message when a customer hasn't visited in 30 days.
 School and fundraising programs. Fundraising programs create both emotional customer bonds and community loyalty. These programs, aimed at Girl Scouts, Boy Scouts, churches, synagogues, Little Leagues, school bands, and school sports teams and clubs are traditionally inexpensive, and outside groups can become part of your marketing team. Strategies include coupon books with weekly or monthly offers and special nights when a percentage of sales benefits a specific group, team, or charity.
 Social media. While the ROI from social media marketing is still a moving target, Facebook, Foursquare, or Twitter, for example, can be an important part of the mix for promoting new locations, new products or menu items, day-part specials, and events. While social media is about engagement, it can lack customer acquisition tools or the ability to distinguish between prospective and existing customers. The deal-of-the-day discount website Groupon, for instance, may attract new customers, but it also offers an unnecessary discount to those loyal to the brand. Lechner says the use of email and social media is smart, but it should be used for "customer loyalty, retention, and brand awareness--period."
 In-store, four-walls marketing programs. Your best prospects for loyalty and upsell opportunities are those already in your location. Walls, tables, counters, shelves, ceilings, floors, and sound systems all present opportunities to build customer loyalty and increase sales. For instance, food brand customers should never leave without to-go, catering, or delivery information. Limited-time offers should be promoted on window clings, table tents, counter cards, ceiling dangles, menus, bounce-back coupons, and employee uniforms. Customer data should be gathered at the tables, registers, and POS terminals. This information is invaluable and allows for targeted marketing messages and spending. In-store programs should also include bounce-back coupons, flyers, and brochures aimed at increasing loyalty and driving return business.
Published: March 28th, 2012
Share this Feature
Recommended Reading:
Comments:
comments powered by

Disqus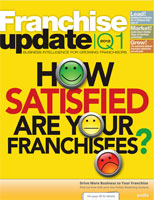 Franchise Update Magazine: Issue 1, 2012
MSA provides domestic and international franchise advisory services to franchisors and companies seeking to establish franchise and licensing systems.
Atmosphere TV is the world's leading cable alternative, providing free streaming TV for businesses.