Looking back, looking ahead
1987 was a good year for franchising. Up to then, franchising was young, brash, and not always professional. Franchises weren't much concerned with history. They were built mostly by young entrepreneurs who saw an opportunity and grabbed it, looking forward, not backward. The first 30 years of modern business format franchising had the feeling of the Wild West (like the Internet of the last 10 years).

But something happened that year.

Franchise UPDATE began publishing, with owners who had a background in franchising and who believed that it was time to bring a level of professional attention to the field.

They weren't alone in thinking so. That same year began with the acquisition of Entrepreneur magazine by three franchisors: Peter Shea, Barry Rupp, and Reinhold Pfahler, of Stained Glass Overlay, which had about 300 units at the time.

FranNet also was founded in 1987 (as the Franchise Network Group), by Howie Bassuk. The first of the brokerages, it signaled the dawning awareness that selling franchises involved more than smoke and mirrors (blow some smoke, the fog-the-mirror test, and cash the check). It was the beginning of a professional approach of matching a candidate's goals with those of the franchisor - today's professed standard.

On August 31 of that year, Time magazine ran a feature called "Franchising Fever." The article said: "Franchising may be a century-old idea, but it has never seemed fresher or hotter than in the U.S. of 1987. The business strategy that peppered the land with Golden Arches is in the midst of an unprecedented boom. Never have so many would-be tycoons turned to franchising, and never have they found so many would-be store owners lined up to buy a franchise."

The article contained a prediction by a well-known futurist: "John Naisbitt, author of the best-selling Megatrends, has estimated that franchising, which now accounts for just over a third of retail sales, will generate $1 trillion annually, or half of all sales, within 20 years."

Well, it's 20 years later. How did he do? Pretty well, by most measures. The most commonly cited figures put franchising's economic impact at just about where Naisbitt predicted!

The Time magazine article also noted: "The [franchising] phenomenon is accelerating so rapidly, says Andrew Kostecka, a Commerce Department analyst, that 'franchising will be the leading method of doing business in the 21st century.'" The Commerce Department also published a series of reports and figures in 1987, all depicting a very rosy future for franchising.

Growth and maturity
In 1987, franchising was still viewed primarily as a way to enter an industry or market (i.e., as a way of getting into the restaurant business, for example, but with the focus on the particular industry, not on franchising). After 1987, franchising began to change - to grow up, really.

Gone are the days of the white-shoe salesmen (and they were men), contracts inked on whiskey-splashed napkins, unrealistic promises followed by (in more than a few cases!) a complete absence of support, training, or any of the after-sale services provided by today's franchisors - and demanded by today's more educated and better informed candidates and franchisees.

Also gone: the regular appearance of news about franchise fraud, shady dealings by unscrupulous or otherwise bad franchisors, and stories of governmental investigations. And although not completely vanished, mostly gone are the lawsuits filed by hordes of unhappy franchisees, as both franchisors and franchisees have learned to work together more closely in a spirit of mutual interest. Franchisors have realized that their profits - and continued existence - depend on increasing their royalty streams, not on raking in as many franchise fees as possible and moving on. Building the brand has replaced milking the prospect.

Perhaps an indication of how things have changed, an interesting twist (bad franchisee, good franchisor) occurred this past July when 13 Wendy's restaurants in Western Massachusetts were closed abruptly. Without a word of notice, between 350 and 450 people were out of work - all owed paychecks for previous weeks. The franchisee had not paid his bills in months, for reasons yet to be explained at press time. In addition to a reported $4.6 million in unpaid loans, the Ohio-based franchisee also owed hundreds of thousands in unpaid meal taxes, as well as other debts.

Within days of the closings, a corporate spokesperson for Wendy's International said the franchisor would make good on the employees' pay as soon as the records could be sorted out. Would this have happened in 1987? (Wendy's pulled the franchise rights and intends to reopen the stores as soon as possible.)

This single act - besides being the right thing to do - could buy more goodwill for the brand than the millions the company spent on advertising in 2006.

Hi, we're from the government…
Better ethical practices in franchising (generally) have been the result not only of enlightened self-interest by franchisors, but also the effect of increased federal and state regulations - as well as the ability of news to travel anywhere in the world instantly. And bad news, as we all know, travels fast… at Internet speed, which was not the case 20 years ago.

While regulation of some sort was inevitable - and necessary - to curb the excesses of franchise sales people and companies in general, some significant milestones on that path trace back to 1975, which saw the Federal Trade Commission's (FTC) first franchise fraud investigations.

Also in 1975, the North American Securities Administrators Association developed the first of the two major documents that would come to govern the franchise relationship: the Uniform Franchise Offering Circular (UFOC), which was then issued by the IFA for use by states in regulating franchises. At first disliked by franchisors, UFOCs have become marketing tools for many of them.

The second, of course, came four years later: the FTC's Franchise Rule of August 24, 1979 (recently revised), putting what many consider the final nail in the coffin of franchising's Wild West era, and establishing a new era of regulation for franchising.

Federal actions in the 1970s about disclosure and rules for selling franchises were paralleled at the state level to varying degrees. California began the charge by the states, enacting its Franchise Investment Law in 1971. Wisconsin also enacted a franchise investment law that year, with a focus on helping franchisees realistically assess the investment opportunity. After all, many were using their life's savings, or mortgaging their home to buy in. More states soon followed. And although differences from state to state have been a headache for franchisors, in effect these regulations would ensure that those franchises that could register in a number of states were careful about what they promised.

Growing professionalism
In the late '70s and early '80s, increasing regulation had begun to tame the worst excesses in the world of franchising, making it a safer (or at least less threatening) neighborhood for candidates to visit. The more progressive-minded franchises in the field led the way in providing training, support, and other ongoing services to their franchisees.

By 1981, Bob Gappa had founded his training company, Management 2000. Later, as director of education for the IFA, he served on the committee that created the CFE (Certified Franchise Executive) program. Talk of establishing an "official" designation began at the IFA in the late '80s, and the first certification programs were offered in 1991. These programs and more ushered in new standards and an increased professionalism at the executive level.

During this time, the IFA, founded in 1960 by Bill Rosenberg and others, also began publishing a tabloid that would develop into today's Franchising World magazine.

One clear sign of maturation in the industry has been the steady shift from antagonism, conflict, disputes, and lawsuits between franchisors and franchisees toward a spirit of cooperation and mutual interest. The oft-stated platitude�"that the best thing for the franchisor is to see successful franchisees (i.e., higher unit sales translate into more royalties and a stronger, larger brand) - really has taken hold among today's franchisors. Some assuredly arrived at this point kicking and screaming, but after seeing the results at other systems, they followed suit.

The death of corporate security
The stock market was up and down in 1987. The Dow Jones Industrial Average topped 2000 for the first time, then 2,500 (quaint as those numbers now seem). But October 19 brought Black Monday, when the DJIA lost almost 23 percent of its value (about $500 billion), plunging 508 points. (That was after dropping 9.5 percent on the previous Friday). While the DJIA closed the year with a net gain, investor confidence was shaken, the nation's real estate market was tanking, and the S&L crisis was in full swing. And business was going global with a vengeance. All this would have a number of consequences for franchising.

The shift from a lifetime of corporate security and a solid retirement plan to a climate of growing uncertainty and insecurity drove motivated, well-educated executives to seek new ways to build their nest eggs, rather than continue to rely on the IBMs and General Motors of the world. Even the most well-intentioned U.S. corporations faced competitive pressures to reduce their white-collar staff and scale back the retirement benefits they'd promised to all employees - especially in health care, often after retirement, when it was too late to do anything about it.

The more fortunate of the corporate refugees received golden parachutes or buyout packages. Many, still too young to hang it up, were now willing to consider franchising, formerly considered a lower life form. (Ed. note: Compare franchising's worst excesses of the past with those of Enron, for example, and the rest of today's wave of high-level corporate and financial "evildoing.")

These experienced, professional managers would introduce a new level of professionalism to franchising - along with a higher set of expectations and demands. The better franchisors stepped up - and attracted a better pool of candidates interested in doing business with them.

Many in this new class of candidates brought not only skills but financial needs that left them less-than-satisfied with owning one store. Many also had the resources to make multiple-store ownership possible - and the motivation to maintain their quality of life. And many came equipped with decades of business experience and savvy that dwarfed that of many franchisors, especially the newer or smaller ones. All of this further fueled the shift toward multiple-unit ownership and area development.

Technology: End of the middleman?
The Internet has made it possible for franchise candidates (and current franchisees) to learn more about a company in minutes than was possible at all in 1987. Then, if you wanted to learn about a brand, you had to go through its sales force (not the most neutral of sources!). Want a UFOC? Ask the company. You could always talk to franchisees, of course, or see what you could learn from the IFA. But today, any time of day or night, you can read what many have to say online, from the comfort of home.

Then there are blogs… anything from venom posted by unhappy former franchisees (or even customers) to observations made by hordes of self-proclaimed online experts, eager to analyze the stock price of a brand or its chance to be the next big thing. It's not all bad: there also are sincere, positive postings meant to inform potential franchisees and investors of opportunities as well as genuinely perceived risk.

The result of all this is a shift in power from franchisor to franchisee in the "knowledge is power" dynamic. In the past, candidates had to provide copious amounts of personal and financial information to the franchisor, who held all the cards, and dribbled out minimal information selectively to candidates.

While franchisors still expect much in the way of personal disclosure (and rightly so), candidates today can learn plenty about a franchisor online. Many sites are dedicated to exposing the "evils" of franchising, or of specific franchisors. While these sites can provide useful perspective and behind-the-scenes information (leaked internal emails from a CEO, for example), many online sources are just as unreliable as the white-shoe salesmen were in their time.

Broker networks, although somewhat slower to mature and achieve respectability, are now firmly established as good sources for potential franchisees, generally providing them with useful, accurate information.

Also on the plus side, franchisors can use their online presence to build a healthy community through online education, chat rooms, intranets, etc.

Back to the future
As a marketing method, franchising has always proven itself extremely adaptable, able to grow in new directions as new opportunities appeared. Over the years, Franchise UPDATE has followed franchising as it reinvented itself.

We wrote about the trend to multiple brands under one roof (or in one mall), which was a way for food franchises particularly to take advantage of additional day parts with new traffic patterns. This trend has "spread out" as it were, with Subways located in BP stations, for example.

We are proud to have recognized early on the increasing movement toward multiple-unit ownership. As we've frequently noted in these pages, the shift from single- to multiple-unit owners reached a watershed in the past couple of years, with the number of multi-unit owners passing 50 percent for the first time. Years of observing the growth of these multi-unit owners and area developers led to the founding of a second magazine, Area Developer, whose summer 2004 debut recognized the need for a resource for this expanding population of franchisees.

This trend also led us to create a conference specifically for multi-unit franchisees and those franchisors who wanted to expand using a multi-unit strategy. That, and our increasing Internet presence (five Web sites and growing), necessitated a change of name for the company, to Franchise Update Media Group.

So what's next for franchising? Some trends that started a ways back are beginning to reach a critical mass, while some are just getting started. We'll expect to cover them all in the coming decades. Here are a few we see now:

Changing lifestyles: The rapid growth of franchising in the 1950s and '60s owes much to 1) the growth of the interstate highway system, cheap gasoline, and the nation's love affair with the automobile (think fast food, the family station wagon, and places to sleep�"with the kids - along the way), and 2) television, which provided franchisors with the way to build a national brand.

Changes over the past 20 years have led to a rise in services as aging or more affluent populations trade money for time or expertise. Areas expected to continue growing include children's day care and education (especially with a focus on enriched programs); tutoring and test preparation, as well as how-to classes in cooking, sports, and other specialized activities; and adaptations of emerging technologies to today's marketplace (DNA testing, spas featuring "cosmeceuticals", etc.). New franchises in lifestyle areas will continue to appear - tanning salons, women's fitness, elder care, healthy salad bars, dog and pet services - and many more yet to appear.

While sub-specialties and niches will continue to appear (pizza focused on Latinos, daycare specializing in art), attempts at blending related concepts and products are also likely to increase - combining women's health and fitness with fashion and cosmetics, for example.

Changing business methods: The movement in business to focus on core competencies and outsource more and more functions - from paychecks to human resources and even whole franchise sales departments - has helped both established and newer brands to grow more quickly by hiring the expertise they lack, or by adding more "troops" during a national expansion campaign, for example. Would-be franchisors with tight budgets today can hire free agents - whether individuals, or through the emerging number of companies offering experts-for-hire in training, marketing, development, and more functions essential to growth.

Changing demographics: We've become a nation of minorities, and these groups are profoundly influencing franchising. Just think of the new Latino-influenced franchises like El Pollo Loco, Pizza Patron - Taco Bell is no longer alone. In 1987, Black Enterprise magazine developed its own Franchise 50 list. As far back as 1996, the magazine estimated that its audience owned more than 5,000 franchise units with investments exceeding $90 million.

The Commerce Dept. published a series of reports a few years ago noting the following in the U.S.: 1) $250 billion in purchasing power among African Americans in 2000, and $150 billion for the nation's 40 million Hispanics. Perhaps more important, minorities will account for the lion's share of future economic growth: from 2000 to 2045, according to Commerce, minority purchasing power will top $6 trillion and contribute between 44 and 70 percent to the country's total increase in purchasing power.

Related to the growing economic power of the "new majority," is a renewed focus by franchisors on developing outlets for their goods and services in urban environments: because with suburbs and malls tapped out for many brands, that's where the new money is - or at least a good portion of it.

And of course women, a majority distributed among all groups - and already a major force as both franchisors and franchisees - will continue to exert more influence in franchising, as well as in every other sphere.

Changing world: For some of the more mature brands, which have already picked the low-hanging fruit in the U.S. and are seeking greener pastures, overseas is the next expansionary frontier. The emphasis by U.S. brands on international growth has ebbed and flowed in the past two decades, but has been steadily on the rise. Even 20 years ago, Commerce Dept. reports showed a strong and growing international presence, noting 342 U.S. franchising companies operating 30,188 outlets in foreign countries in 1985, compared with 328 franchisors with 27,021 outlets just one year before. In 2007, McDonald's, with more than 30,000 units of its own in 100 countries, inked a deal to develop 1,600 units in Latin America and the Caribbean.

Changing owners: Consolidation within a business sector or industry is a sure sign of maturity. In franchising, this trend brings several brands together under one corporate umbrella. Yum! Brands (A&W, KFC, Long John Silver's, Pizza Hut, Taco Bell) has been doing this for years, as had Kahala before its recent merger with Cold Stone Creamery added a 13th brand to its stable. Private equity, too, has joined in this phenomenon. Roark Capital, with investments in at least half a dozen franchise brands, is a prime example. McDonald's, on the other hand, has chosen to focus on hamburgers, shedding its investments in Chipotle Mexican Grill, Donatos Pizza, Fazoli's, and most recently, Boston Market. Consolidation, though on the rise, clearly is still an experiment in progress.
Published: November 27th, 2007
Share this Feature
Recommended Reading:
Comments:
comments powered by

Disqus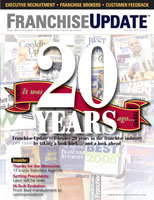 Franchise Update Magazine: Issue 3, 2007
Find the support you need to find success with your small to mid-sized business. Explore the PEO services offered by Integrity Employee Leasing.
Leasecake is location management made easy – from lease contracts and licensing agreements to ASC 842 compliance. Never miss a deadline, stay ahead...