Looking for Mr. Goodbuyer?: Exit Strategy Dynamics Are Changing
Over the past 25 years, franchising has continued to develop and become more sophisticated. The reins of the franchisor have passed from the pioneering founders to established management teams with significant industry experience. Today, many of these companies are publicly traded or majority-owned by institutional equity investors.
Franchisees, too, have grown in size and scope. Many now have a national or super-regional reach, having transitioned from small-scale, mom-and-pop operations to larger, professional, institutionalized operations. As the nature of today's larger franchise companies requires more complex capital structures, various forms of capital alternatives continue to evolve for franchised companies seeking to change ownership or fund growth initiatives.
What implications does today's franchising landscape have for franchisees and franchisors? Generally speaking, the average age and tenure of the franchisee base has increased over the past decade. Many larger franchisees are already at or nearing retirement age and are ready to exit their businesses in the next five to 10 years. As such, there will be an increase in turnover within franchise systems that will play out in the next several years.
Historically, during a period of smaller consolidation transactions, franchisees' main acquirers were other franchisees within their system, geographic neighbors or related groups from other parts of the country. However, as franchise businesses have increased in size and maturity, fellow franchisees may neither be able nor interested in a large, substantial acquisition.
So how will these future transactions occur? Who will be the buyers? Where will the capital come from? And will franchisors be ready for these changes?
Exit strategies for the future
The dynamics of larger-sized transactions are dictating the need for a broader group of buyers with substantial financial resources. Fewer existing franchisees will look for consolidation; instead, many with capacity and scale will be looking for their own exits. And on the buyer side, franchisees who have built substantial equity value in their own businesses will be unwilling to risk their financial stability to become larger.
In the past, buyers were able to use the embedded equity on their balance sheets to provide the needed capital to get deals done. Today, the combination of more conservative lending practices, larger deal sizes, and an overall reduction in "balance sheet wealth" makes this option more challenging. Most franchisees do not have the level of equity capital necessary to commit to even modestly sized acquisitions. For franchisees to continue to enjoy an active market for the sale of their businesses, something has to change.
Private equity has stepped in over the past several years to fill some of this void. Diversifying from their successes in franchisor/brand-level investments, some private equity firms have found franchisee investments to be attractive, less-costly opportunities. However, franchisors have not completely embraced and welcomed private equity groups as franchisees into their systems. Given their historical familiarity and comfort with mom-and-pop franchisees and the potentially conflicting investment and management objectives of private equity firms, franchisors often have been reluctant to approve these transactions. Nevertheless, since franchising will continue to see increased activity from private equity firms, both franchisors and franchisees must find acceptable solutions for this type of investment.
Additionally, we are starting to see interest from family offices (closely held fund ownership) and other diverse forms of institutional capital lending themselves to more widely held franchise ownership structures. Individual investors are also tiring of the public securities markets and seeking alternative investment vehicles. Because of this, the future might hold new investment funds composed of small, individual investors providing the financial support to professionally managed franchisee companies. These investor groups might provide attractive, lower-return requirements and a longer-term ownership focus than private equity firms.
Finally there is a possibility of a new "de-consolidation" trend, with larger franchise companies broken into smaller operations to appeal to a broader market and to provide greater diversification to franchisors and lenders alike. However, one benefit of larger franchisees is their high level of infrastructure support and sophistication, which cannot be provided in a smaller setting. If franchisors can find a way to provide these benefits (using technology and efficient outsourced resources), they can make the smaller franchise model relevant again. This would help franchisors achieve the size balance they have been desperately seeking.
Conclusion
Exit strategy dynamics are changing for both franchisors and franchisees. In managing system turnover, franchisors must balance protecting the integrity of their system with facilitating a mutually beneficial exit/entry process. They cannot put their systems in jeopardy through unit ownership concentration risk and high leverage. They also must find ways to maintain the operational superiority that often comes with larger groups. In addition, they must find acceptable exit solutions for their maturing franchisees or face declining performance from tired ownership groups, and adversarial actions from franchisees demanding to sell to financially capable buyers. Finding a collaborative solution through open franchisor-franchisee communication is the key to a win-win structure in the future.
Dean Zuccarello, CEO and founder of The Cypress Group, has more than 25 years of financial and transactional experience in mergers, acquisitions, divestitures, strategic planning, and financing in the restaurant industry. The Cypress Group is a privately owned investment bank and advisory services firm focused exclusively on the multi-unit and franchise business for more than 17 years. Contact him at 303-680-4141 or dzuccarello@cypressgroup.biz.
Published: November 8th, 2010
Share this Feature
Recommended Reading:
Comments:
comments powered by

Disqus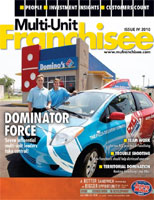 Multi-Unit Franchisee Magazine: Issue 4, 2010
Phenix Salon Suites is awarding our scalable, semi-absentee opportunity to motivated entrepreneurs. With no salon experience required, franchisees...
Cash Required:
$300,000
With a 46-year track record, 1.3M+ Avg. Gross Sales* and flexible footprints, Potbelly is a perfect addition to your portfolio. *Top 25% of...
Cash Required:
$250,000