Loyalty Through Service: Front-Line Training Keeps Customers Coming Back
When a customer ordered a sandwich at one of Mike Knobelock's restaurants in North Carolina, it came with pickles on it. "They didn't like pickles," says JJ Villafranca, COO at Knobelock's company. "They were a little irritated about it, but commented on how friendly the employees were."
So how did the company respond? The manager contacted the customer and asked them to come back and be treated to a lunch or dinner with him. Sometimes the area supervisor will make the offer. Villafranca says they are working on implementing this policy in all their restaurants. Regardless, he says, "We answer all our complaints."
"We preach that there's always something we can do inside of our four walls to make the experience for the customer better," says CEO Knobelock, whose company, MSK Enterprises, operates 47 Church's, 20 Little Caesars, 3 Sears Appliance & Hardware stores, and 1 Dekker's Mesquite Grill (his own concept). "You always hear complaints about marketing, new products, all those outside things, but there are always things you can do inside your four walls to improve and keep the people coming back."
"There's lots of competition out there," says Villafranca. "Service and quality are just so much in our control that it's absolutely critical we become experts in it."
It may appear self-evident that great customer service results in loyal customers, but it's not as simple as it might seem, according to Jeff Reetz, who operates 30 Pizza Hut restaurants, 29 cobranded with WingStreet.
"Clearly the brand and the franchisees believe there is a relationship between good customer service and repeat, loyal customers, but is it easy to prove or show? Do the metrics always reveal that? It hasn't been our experience," he says. "We have restaurants where the metrics aren't as high as others, yet they have very strong sales growth; others have very good customer service metrics and sales are lackluster." However, he adds "You can't deny good customer service plays a role in whether a customer decides to return."
Many QSR customers simply look for the best deal and tend not to regard service as highly. While these brand switchers are more loyal to the best deal than to any particular brand, there are things operators can do to increase their chances of bringing them back.
"Fundamentally, if you have great product, clean restaurant, hospitable personnel, and execute the concept well, those customers who are not brand switchers will come back to you," says Reetz.
"There is one way and one way only for any company to ensure its financial security: by creating satisfied, loyal customers. A satisfied, loyal customer is one who re-purchases, again and again, and recommends a product to friends as well."
The One to One Future, Don Peppers & Martha Rogers, 1993
Room for improvement
Last year, Empathica, a customer experience management firm, surveyed 10,000 U.S. consumers on the top 62 QSR brands. The Quick Service Restaurant Benchmark Study measured food, order accuracy, speed of service, staff, value, cleanliness, atmosphere, and menu for QSRs that customers had visited in the past 30 days.
The study revealed that QSR customers ranked service over price, says Gary Edwards, chief customer officer at Empathica (since acquired by Mindshare Technologies). He says this provides an enormous opportunity for QSR operators to appeal to customers on service elements they can control--while still growing sales. But there is a structural challenge franchisees must overcome.
"Customer service is a heads-up business, but there's a gravitational pull to become eyes-down to achieve throughput and efficiency. You need some exceptional people who learn to look up, smile, engage, and reinforce the positive--even if it's only a slice of pizza," says Edwards.
"When we think of service and hospitality I think the words get used interchangeably and they're not," he says. "We have incredible service standards, but rarely see true hospitality. The compromise is we won't see the true service standard."
He says these are trade-offs we've made as a culture: sacrificing customer service for order accuracy and speed. The good news for franchisees, he says, is that the bar is set so low, "Anything done thoughtfully in the consumer's interest tends to stand out."
Speed still counts, but it's no longer a big differentiator, says Dave Melton, who operates four high-volume Domino's Pizza stores in Manhattan, where speed is everything. "As long as you're within the 20- to 30-minute time frame, then you're providing what people expect. If you can consistently do 15 or 20 minutes, that's ratcheted up customer service," he says. Still, he adds, "I think speed has been commoditized."
When most elements of the customer experience become commoditized, consumers tend to be constantly looking for deals, pushing the price point, says Edwards. When that happens, "I feel sorry for the franchisees; margins tend to be so thin." And while he praises the "brilliant engineering" by franchisors and franchisees in operational efficiency and food quality, he says something is lost in the process.
While making helpful menu suggestions or pointing out the deal of the day matters, "Little things, along with showing some genuine enthusiasm for the product choices that guests make can go a long way," says Edwards. "QSR brands, no matter the specific type of food, are fighting for the same customers. To conveniently find great product at a good price with a little unexpected flair makes the experience stand out, and that really drives consumer loyalty."
In fact, the study found an average of only 15 percent of consumers received recommendations when visiting QSR sandwich brands. "Our study reveals that brands are often missing the mark by failing to provide menu recommendations, an important tactic in good customer service and in increasing check size," he says. "It doesn't take a lot of time--2 or 3 seconds--and can make all the difference in the world to a customer. The opportunity is to work efficiently and quickly, but change those few seconds to put a smile on someone's face. Great brands understand this."
"Customer loyalty management is the holistic approach to driving higher levels of loyalty through the culmination of all points of interaction with the brand. This includes what customers consider, buy, and come back for, combined with where they share their opinions and how they prefer to engage across both digital and physical environments."
"Customer Loyalty Management: Finding the Holy Grail of Marketing," TIBCO Loyalty Lab white paper, 2013
Training the front line
"You're going to generate loyalty when you consistently deliver what you promise," says Melton. "If customers see a pizza on TV and it doesn't look like that when it arrives at the door, there's a problem."
Melton, known for his ability to inspire exceptional customer-service performance in his employees, laid out his methodology in a book he co-authored, Hire the American Dream: How To Build Your Minimum-Wage Workforce into a High-Performance, Customer-Focused Team.
"Your front-line employees are really the most important element of service because they're the ones facing the customer and control the whole customer experience," he says. But how do you get them to care, to interact with the customer?
"As the owner of the business you're the most important person who affects the personality of your business," says Melton. With pizza delivery, the entire customer interaction takes just one or two minutes, so for Melton it starts with hiring. Do candidates show some personality in the first minute? Do they make eye contact? Do they have an outgoing, positive attitude? Explaining how these characteristics can help them earn more money each shift and advance in the company provides sufficient incentive for employees who get the message.
"You want to encourage them to interact with the customer, because when you can show your team members they're going to make more money by having loyal customers, they see what's in it for them," he says. Melton says there were some problems at first, but when he convinced a couple of key people to see that this approach worked, it drew others like them to the company and the business began to take off.
When you have a culture of getting the customer to say "Wow!" and show an entry-level pizza delivery person how this works in their favor, they buy into it--and they stay, says Melton. "They're coming to us because they want to make money. We have delivery guys who have worked for us many years and make great money. They're experienced, know their customers, and give them a good experience." He also encourages his managers to teach their teams to go out of their way to take special care of customers who order three or four times a month.
"Our customer feedback program is also a loyalty program," says Melton. "As I mention in my book, a customer who has an issue and has that issue resolved in their favor is more loyal to a business than a customer who has never had an issue, since their confidence that any issue they may have will be taken care of." The brand's website provides customers with the opportunity to rate the pizza, the delivery person, the entire experience, and whether they would recommend to a friend. "We've made it easy to give feedback about how we're doing, and it makes us better. We track whether we get a 1 through 5, and try to call back any score below a 3."
It starts with hiring
It's common practice to hire the best possible person for any particular position, and in today's economy employers can be more selective if they're willing to take the time. As competition heats up, good customer service can become a real advantage, and hiring right plays directly into that.
"There's always been an element around customer service, but today it's probably more detailed, specific, and better understood in terms of its importance in the overall equation to the success of your business," says Reetz. "Take a 16- or 17-year-old kid who never had a job or interaction with the public. They don't understand customer service, that they're on stage all the time, and that it has an impact on the restaurant. So there's a lot of awareness-building with new team members."
When it comes to hiring, Reetz cites the "hire for attitude, train for skills" approach popularized by Chick-fil-A, among others. "We can teach you how to make a pizza," he says. "We cannot teach you how to smile, be friendly, or groom yourself for the kind of public exposure you're going to have."
Second, he says, since no one can be perfect at hiring, he subscribes to the "hire slow, fire fast" philosophy. "If we identify a team member not meeting our expectations, we'll coach them on hospitality," he says. But there are limits. If, after coaching, a new employee cannot be brought up to operational and behavioral standards in a reasonable time, they must be let go, for the good of all.
At his company, employee training begins with computer-based training on the basics (e.g., food safety). From there, based on the position, employees are taken through training modules such as hospitality (e.g., how to answer the phone and take orders). The next step is "guided practice" where a manager or assistant manager takes the new hire to the actual position and coaches them through it. When they perform well enough, they can go out on their own.
"Our goal is every employee must be fully trained within 30 days," says Reetz. This is not only good for the customers, but also critical in terms of employee retention. "It makes them more likely to stick around."
Building a culture that supports this starts with hiring friendly people, Edwards agrees. "I'm surprised at how many brands don't pay attention to this. Find the right people who can deliver on the promise of what customers expect."
Bad service--whose fault?
The customer experience cannot depend on which employee or server they get, whether at a hair salon or a fast-food restaurant, says customer experience guru John DiJulius, founder of The DiJulius Group. "You must have customer experience systems that average employees can follow. The majority of employees will not be superhuman rock stars."
So why is customer service so bad? "Because of management and the company," says DiJulius. "We don't think it's the front-line employee." He says the level of an employee's customer service is predicated on how high their service aptitude is, and that comes from three sources: their previous life experience (not much with a young person); their previous work experience (their previous training, not always good); and their experience at their current job.
"Every company preaches customer service, but at the end of the day how much training are they giving employees on the hospitality side, as compared with the technical side?" he asks. "All the training given is technical, there's no soft-skill customer engagement being taught." With proper training, he says, a 16- or 17-year-old could be exceptional. "The company's job is to train and certify every employee on their service aptitude--just like they do for making coffee or a pizza," says DiJulius.
Rethinking loyalty programs
"Where companies fail miserably is they think a customer loyalty program produces customer loyalty, and it doesn't," says DiJulius. "Before you create a customer loyalty program, you have to make sure the experience is there. Simply rewarding customers is not a loyalty program. Sometimes companies use it as a crutch, but if the experience isn't there it can't take the place of the experience."
Instead, says DiJulius, think of it as a customer rewards program, not a customer loyalty program. "The only thing that creates loyalty is increased satisfaction from a consistent experience," he says. "I think they go hand in hand, but it starts with the customer experience. If the customer experience is right--and consistent--then we can talk about rewarding customers."
The surprising thing, he says, is that was the airlines who got it right with rewards programs. "They nailed it, but are struggling with the customer experience," he says. For example, at his John Roberts Spas, DiJulius rewards his repeat customers with a VIP program modeled on the airlines' frequent flyer programs. His has four tiers, based on a customer's total spending and number of referrals they provide.
Taking it a step further, he also uses his VIP program to boost sales. In early November he sends letters to customers saying something to the effect of, "You're $250 away from hitting Gold. Would you like to buy some gift certificates?" This drives people in to spend more at the same time it rewards them for it.
In his work with franchisees, DiJulius says he's shocked at the mindset of franchisees who don't think it's "fair" to reward some customers and not others. "You don't give less of an experience to any customer," he says, but you do reward loyalty. With airlines, for example, preferred customers get perks like early boarding or free bags, but everyone gets on the plane and arrives at the same destination.
Melton doesn't have a problem with rewarding his best customers. "I tell my guys, 'If you know a customer who's ordered 30 times, feel free to call them up and say we're going to send them a free artisan pizza tonight. Just training people to make a customer say 'Wow'--and for the amount of money we spend on marketing as a percentage of sales--when I can lock in a customer for the price of a side order or a pizza, I'm getting an incredible bargain."
Still, no matter how well your front line staff perform, when it comes to customer service, says DiJulius, "There's no ribbon-cutting ceremony to being world class. You never arrive."
Measuring Up
Jeff Reetz measures everything, including carefully tracking four key components that affect the quality of his customers' experience:
HQSC (overall hospitality, quality, service, cleanliness);
food safety (through an independent organization, in addition to his own monitoring);
CHAMPS (cleanliness, hospitality, accuracy, maintenance, product, service); and
repurchase intent.
"We take a rather absolute view of this last measurement," he says. "When a customer is completing a survey, one question is, 'How likely are you to recommend Pizza Hut to friends and family?' For all the transactions we do, we look at what percentage are 100 percent satisfied."
He makes sure not only to measure these things, but also to evaluate them. And thanks to his COO, he takes the individual measurements one step further, combining them into a single performance management system.
"Our COO put together a program that links together all the elements of what we expect from every position in the organization, and how it rolls up into performance appraisal and compensation," he says. "He linked together what were a lot of independent things, making sure all the elements of the scorecard, all the things we're tracking, are fed into the performance management system."
Every restaurant has a scorecard, every area has a scorecard, and the company has an overall scorecard. "This tells us sales growth, profit attainment, employee retention, the percentage trained in 30 days, those likely to recommend, CHAMPS, HQSC--all in one scorecard," says Reetz.
The system was rolled out at beginning of 2013. To help make it fly, it was created in coordination with the restaurant managers. "We got buy-in with the process," says Reetz. "You can't complain if you co-authored it."
Published: April 7th, 2014
Share this Feature
Recommended Reading:
Comments:
comments powered by

Disqus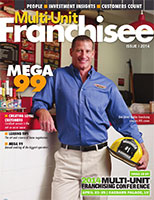 Multi-Unit Franchisee Magazine: Issue 1, 2014
Impressive numbers, outstanding support and incredible pizza delivery create an opportunity you can't afford to miss. Join the pizza franchise...
Cash Required:
$200,000
With more than 200 locations open or under development, Woof Gang offers best in class grooming, and a unique retail experience; our gourmet treats...
Cash Required:
$75,000