Making Their Day, Every Day: TravelCenters of America Serves Food, Fuel, and Smiles
John Ponczoch believes there is always a way to make someone's day.
Ponczoch, senior vice president of food operations and marketing for TravelCenters of America (TA-Petro) since 2010, is the recipient of the 2017 MVP for Multi- Brand Growth Leadership Award for continued success in operating multiple brands—dozens, in fact. TA-Petro, the largest full-service travel center company in the U.S., operates the TA and Petro Stopping Centers and employs more than 12,000 on the foodservice side alone.
"I think it's important to point out the uniqueness of our company," says Ponczoch. "We are not only a franchisee of 25-plus brands, we also franchise our brands and operate in more than 800 foodservice outlets." In addition to its franchised brands, TA operates 9 brands as franchisor: Country Pride (110 company, 3 franchised); Iron Skillet (55 company, 10 franchised); Quaker Steak & Lube (55 company, 35 franchised); as well as 6 other brands with 1 company site each.
The difference-makers for TA-Petro, says Ponczoch, are the company's management bench strength to promote from within, and its customer service approach to make every employee's and every customer's day better. "People are proud to be Daymakers," he says, referring to TA's signature customer service program, launched more than 6 years ago.
"We knew we were not treating our customers with the respect they deserved. We had shackles on our employees around policies and procedures they had to follow," says Ponczoch, a 30-year industry veteran. "We realized we just needed to allow them to be real human beings with our customers to make them happy, smile, and feel at home. How can you be the best part of someone's day? How do you go above and beyond for your guests and your employees? Take off the shackles and allow employees to think on their own and do what is right."
Daymaker is now deeply instilled in the company's culture and is being expanded to emphasize the approach with hourly employees. Ponczoch says the focus is constant to "preach and teach" and reinforce the message with training, feedback, and motivational customer videos that share the impact of the program.
"We try to teach our employees that everyone has a story in life," he says. "They may not be smiling or in a great mood, but don't make a judgment about them. You don't know what they are going through. When people understand that, they can make someone smile."
Name: John Ponczoch
Title: SVP Food Operations, TravelCenters of America
No. of units: 66 Popeyes, 54 Godfather's Pizza, 51 Subway, 38 Taco Bell, 32 Burger King, 30 Pizza Hut, 10 Starbucks, 10 Dunkin' Donuts Express, 9 Dunkin' Donuts, 8 Arby's, 6 Hunt Brothers Pizza, 5 Charleys Philly Steaks, 5 Pizza Hut Slice Bar, 4 Broaster's Chicken, 4 Piccadilly Pizza, 3 A&W, 3 Chester's Chicken, 3 Sbarro, 3 Wendy's, 2 Dairy Queen, 2 Baskin-Robbins, 1 each of Champs Chicken, Charley Biggs Chicken, Hot Stuff Pizza, Noble Roman's, Taco Time, Tim Hortons
Age: 53
Family: Married, 3 children, 2 grandchildren
Years in franchising: 25
Years in current position: 8 (30 with company)
Personal
Formative influences/events:
Growing up in a small town of 1,200 people taught me a lot about real life and provided me with experiences and people who influenced my life forever. It taught me the importance of the simple things in life: hard work, church on Sundays, family meals, family values, freedom, and feeling safe—simple, yet meaningful times when you had the time to really get to know and care about others. The pace of life was not full of anxiety, but more about connecting with others. You had real friends for life and could count on them every day, for everything. Much different than today, but when you can live by these values, people are surprised and respond in a very positive manner. Values and respect were part of everyday life. It was safe; it was real. Not all foods killed you and not everything was electronic. People were trusted and fun was had. I've moved 35 times since leaving this small town. My parents had a tough time keeping up with all my moving parts, but never did they discourage me from moving forward to the next opportunity. So influence #1 for me? Great parents and great support growing up (except for my high school counselor who told me I was in the bottom three of the class and not to have any expectations on making anything good with life).
Key accomplishments:
As a franchisee operator we have experienced continued year-over-year growth in both like sites and total sites for seven straight years. Typically, we outperform industry and brand averages, and when we partner with a brand it's a partnership and agreement we uphold to the highest standard of the brand. It's a must if you want to grow. And because we are both a franchisor and a franchisee, we understand how important this can be. To watch so many leaders grow and flourish in this industry from hourly positions to influential leaders. After 25 years, I have many on my team today who began in hourly functions and now hold key leadership roles.
Work week:
It's the restaurant business. When is it not seven days a week?
What are you reading?
Franchise Times, Restaurant Business, Nation's Restaurant News, Restaurant Finance Monitor, Transport Topics, the Bible.
Best advice you ever got:
Work hard and keep your nose clean—from my father, a man who worked hard his entire life to support his kids and give them any opportunity he could. High integrity and hard work and saved every penny he could find, all in support of giving his kids a better opportunity. That and get food delivered to the table: hot food hot and cold food cold. It amazes me today how many people fail at this simple idea. It's tough to execute every day, but when a restaurant does deliver this consistently they win. Last, our time here is short, what legacy do you want to leave? Don't wait to prepare for it or you will regret it. Life is brief.
What's your passion in business?
People. There is nothing more enjoyable than to watch a young, talented person become passionate and grow into leadership positions. Or, if not growing into a leadership position, then just seeing people do incredible things at the level in life they are comfortable in. Not everyone must be a leader, but everyone can make a difference in others' lives. I see it every day. It drives me each and every day. It's no different than watching your child grow and blossom into something special and you see it happen before your own eyes and happen very quickly. This should drive us all.
Management
Business philosophy:
Leadership is influence. No more, no less. We don't make people into leaders, but we influence people to do great things. Everyone is a leader to someone, whether that is a friend, co-worker, employee, child, or anyone you come in contact with in life. How many times have you regretted not taking the time to speak to someone, giving your child a few minutes of your precious time, giving an employee your undivided attention (versus multi-tasking), or not saying a kind word to someone in the military you pass, or not calling mom every week. It's leadership and you missed an opportunity to influence someone with just a little moment of your time. Second, you are only as good as your weakest link. When you take a young manager or leader and you get them to think about this, the reaction is amazing. Then (if you and they are honest), if they want to be a better leader they will do something about it. And they typically do.
Management method or style:
Avoiding micro-managing at all cost. It's not an environment that creates a positive culture or allows others to grow. I get that it can be effective in some businesses, but it's not my style. I want people to have responsibility and to be held accountable, but they must be able to make decisions on their own to grow. Mistakes made? Yes, you can count on it and should expect some, but let them grow and learn and develop. I expect people to work hard, but I also expect to reward them for success throughout the company. We are all in this together. Also, trust in others, trust in society. Don't judge. You have no idea what a person has been through. We all have a story to tell.
Greatest challenge:
The rapidly changing environment with technology, employees, food trends, logistics, eating habits, leadership styles, changing strategies, changing designs, social media, and great effective leaders. Each of these, although uniquely different challenges, is important and worked on every day in our organization.
How do others describe you?
I honestly don't know. I hope and believe they would describe me as passionate about life, about business, about food, about people, and that I have professional integrity and am a trusted leader they can depend on. Always available to all levels if something is needed. Maybe, trustworthy of others and I always try to see the good in people. They may also say I need to relax a bit more.
How do you hire and fire, train and retain?
Hiring is the toughest. It's a gut feel for me. It's looking someone in the eyes to get a sense of who they are, and it's hiring attitude over experience. It's hiring drive over knowing it all. At the end of the day I love folks who are stronger and smarter in their jobs than I could be. Everyone talks about the Millennials and how different they are, and how they must have a purpose for working in a job. Millennials are the future; we just have to adapt some of our teaching habits to stay relevant and give them a reason and purpose to work for you. Training is never-ending and must happen every day. When we stop learning, we stop growing, and when we stop teaching we should find a career we can go get excited about again. Firing is not always tough. When you get to that point and have done everything in your power to give someone success and for whatever reason it does not fit, it should be no surprise to the individual you are asking to leave. You know in your gut it needs to happen. And as bad as it may feel at the time you feel better immediately when it's done—and so do the other folks on the team, who probably felt it coming, too. If you are not improving from the bottom up, you are not improving. Sadly, firing is a necessary part of doing business. As long as you have done everything you can to help people before you fire them, many times you are doing both of you a favor.
Bottom Line
Annual revenue:
QSR, $180 million; FSR franchised, $10 million; FSR, $215 million; QSL, $37 million.
2017 goals:
Stay above the industry average in the QSR and FSR space with franchised brands. Continue to strengthen our bench strength for continued leadership and company growth.
Growth meter: How do you measure your growth?
For 2017, open 16 locations.
Vision meter: Where do you want to be in 5 years? 10 years?
I expect the brand to continue to grow both in same site revenues and also unit count growth. I hope the organization will continue to have me be a part of the influence that makes this happen. There is no reason to slow down at this time.
What are you doing to take care of your employees?
Everyone has an opportunity for growth. We continue to see people strive and grow into leadership roles at the site level, district manager level, and director positions. None of this works without great leaders. With more than 12,000 employees in the food business, we do our best to give them opportunities for growth or be a stepping-stone for their next career. Our front-line employees make us great—not what I do or what others do in HQ. I only wish we could recognize every moment they made it special for a guest.
What kind of exit strategy do you have in place? I'm not planning on leaving anytime soon, but when I get ready I expect there will be a number of talented leaders on my team who can fill the position. I'm sure whoever steps into this role will only make it better and keep it growing.
Multi-Brand Growth Leadership Award
Why do you think you were recognized with this award?
Our team does an incredible job managing more than 25 brands. Each brand is unique and is required to be operated to the highest standard of their company. We simply follow their rules of execution and add the best service we can to the guest experience. I hear from brands constantly that they love working with our people and love our professionalism from the ground up.
How have you raised the bar in your own company?
Again, this is about the level of leadership we have, the Daymaking culture we have, and the support we give our location managers. Ninety-five percent of our multi-unit managers have been developed from within. I have seen every level of employee grow into leadership roles. From servers to cashiers to dishwashers, and cooks, all grow into all levels of management, including many who are with us today in director and district manager roles. They know what it takes and they make it happen. When you see 15-year-plus passionate employees all around, you are in good hands.
What innovations have you created and used to build your company?
Because in so many of our operations we are the franchisee, we are not necessarily coming up with new operational procedures, but more operating the brand to the exact procedures and methods the brand dictates. We spend a great deal of time, money, and resources ensuring that our leaders have this knowledge and the support to do it right. We did develop "Daymaking," which we teach and train daily: we teach our leaders to be bold, work hard, hold themselves accountable, encourage others, leave their comfort zone, speak up, take action, be passionate, leave a legacy. Simply put, it's what Steve Jobs said: It had better be worth it—you don't get a chance to do that many things and every one of them should be truly excellent. Because this is our life and it's brief. We have all chosen to do this with our lives, so we better be damn good at it!
What core values do you think helped you win this award?
There is a respect for the industry, for our employees, and for our guests. When you have this value for all three and allow it to lead your decisions, you cannot help but succeed. The award is great and we are proud to have it, but we are even prouder of the thousands of employees and leaders who helped us successfully partner with so many national brands and represent them in a good fashion.
How important is community involvement to you and your company?
Our core company support annually is the St. Christopher Truckers Fund, whose mission is to help truck drivers and their families who have financial needs as a result of medical problems. Beyond this we allow our leaders and employees in the field to be involved with the local communities where they operate. Fundraising at all of the brands we operate supports local schools, sport teams, children, police officers, firefighters, USO, National Military Family Association, Wounded Warriors Family Support, Folds of Honor, and Alex's Lemonade Stand Foundation.
What leadership qualities are most important to you and your team?
Integrity, passion, inspiration, empowerment, accountability, and opportunity.
Published: October 19th, 2017
Share this Feature
Recommended Reading:
Comments:
comments powered by

Disqus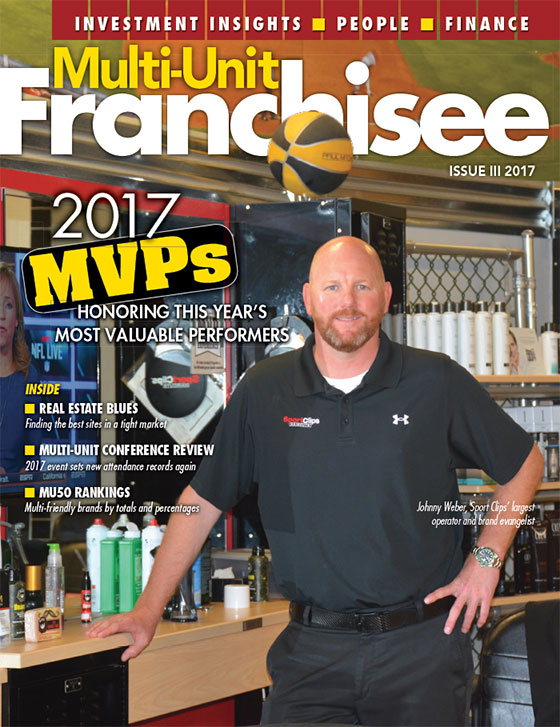 Multi-Unit Franchisee Magazine: Issue 3, 2017
With more than 200 locations open or under development, Woof Gang offers best in class grooming, and a unique retail experience; our gourmet treats...
Cash Required:
$75,000
With 5 locations currently open and several in the development pipeline, Bobby's Burgers by Bobby Flay has launched its full-scale U.S. and...
Cash Required:
$500,000