Married With Franchises: Couple Goes From Military Life To Franchising Life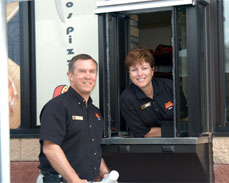 Kevin and Laurel Wilkerson are Marco's Pizza franchisees in Broken Arrow, Oklahoma. They like to do things together. Before starting their careers in franchising they were both in the US Army.
Kevin spent 24 years as an Army infantry officer before retiring in 2005 as a full colonel. Laurel served on active duty with the Army as an attorney for over 20 years before retiring in 2008. The couple has seven advanced degrees between them including a law degree and a Harvard masters.
Following his military career, Kevin worked for Lockheed Martin as a consultant and he and Lauren started a mergers and acquisition firm to help small business owners buy and sell businesses. When he learned of the opportunities with Marco's Pizza he decided to try out his entrepreneurial skills.
One of the biggest challenges the Wilkerson's have faced is finding middle level leaders who will assist them in maintaining the highest quality of product, service, and image they want to project and maintain for their business.
"We find great people at every level," says Kevin. "It is relatively easy to find crew and we have been blessed to find great managers. The intermediate level is the most challenging - those who are running your business for you on a shift but are not committed to making a career of it. This is a lot like our experience in the military where you are required to develop great leaders and many times the middle level young leaders are still uncertain if they plan to make a career of the military or serve their country for one tour and return to civilian life."
Another challenge - which Kevin says is also a lot of fun - is deciding on the marketing strategy at the local store level. There are so many opportunities in a community to market in local venues that it is a challenge for Kevin and Laurel to decide where their marketing dollars are best spent to reach their customers. While they certainly have assistance from the franchisor they are given latitude to make local store marketing decisions and are required to spend marketing dollars to grow their business. Kevin says you need a good strategy, and once you decide on your strategy the fun can begin with the creativity of the message.
"My wife and I are the area representatives for Marco's Pizza for most of Oklahoma, a portion of Kansas, and a portion of Texas. We have the exclusive right to open or sell Marco's franchises within this region. We currently own five stores ourselves, we have sold three stores over the past couple of years, we have several franchisees, and we have nine stores in the territory. We have a great product and are enjoying strong sales because of our great product. But we also recognize that no matter how good the product is - if the service does not match it won't matter. Even though we are multi-unit owners and area representatives, we are very hands on day-to-day at the store level as well as the above store level."
Kevin says his future plans are simply to grow. Kevin and Laurel have a 40-store development plan for Marco's Pizza throughout their territory. Currently, they have eight Marco's Pizza stores in Oklahoma and one in Texas. They have six to eight stores planned for 2013, and they will continue to look for great locations throughout the region.
"Great pizza sells, and Marco's Pizza is a quality pizza with dough made fresh daily in the stores, fresh cheese, and a special sauce recipe from the Italian-born founder," says Kevin.
He says he looks forward to sharing Marco's Pizza throughout the region, again and again.
Published: March 13th, 2013
Share this Feature
Recommended Reading:
Comments:
comments powered by

Disqus
Since 2012, BODYBAR Pilates has offered a modern take on Reformer Pilates in a community-centric environment. BODYBAR franchise ownership offers a...
Cash Required:
$200,000
At Radiant Waxing, we make it our mission to help people achieve smooth skin and beautiful brows in mere minutes.
Cash Required:
$100,000