Mega Bucks: Six Movers And Shakers Tell Their Tales
We are always on the lookout for big franchisees, the kind who don't run a half dozen units but dozens of units. They're powerful, dominant, and know how to be leaders in their business and communities. That's why again this year we have teamed up with FRANdata to create and publish our annual Mega 99 rankings.
We realize numbers alone don't tell the whole story, but they do provide a great starting point. The multi-unit franchisees on this list have worked hard, witnessed highs and lows firsthand, and poured themselves into creating empires known for their sheer numbers. Beyond the numbers are the stories of real human beings. It takes a unique individual to reach this level of franchising, one who can overcome obstacles, struggles, and failures, and yet rise from the ashes.
Business is so much more than revenues and profitability, which is why we asked six multi-unit operators to tell us more about themselves. Beyond their impressive accomplishments, we asked about their fears and failures, biggest mistakes, management philosophy, and their goals for the next 5 and 10 years. We asked them about their favorite tech toys, how they balance work and family, and what they're doing differently to ride out the economic turmoil and prepare for better days.
These individuals also provided their insights on the state of franchising, financing, marketing, and maintaining customer service even as they seek to reduce expenses. But it's also inspiring--and just plain fun--to hear from people who get up in the morning loving their work.
Talk about "mega" franchisees… Sam Covelli has 198 Panera Bread stores with 20 more under construction. But wait, there's more! He also operates 5 O'Charley's and has an agreement to build 50. His Covelli Enterprises has 20,000 employees and did more than $400 million in revenue for 2011.
Then there's Dawn Lafreeda. She operates 70 Denny's locations in 6 states (Texas, Missouri, Kansas, Illinois, Arkansas, and Oklahoma). Growing up, the California native told herself that she was going to be self-employed one day. Is she ever. Her operation generates $85 million per year and she's looking to grow.
Roger Mongeon spent 10 years as a chemical engineer at Union Carbide in his native Canada before chasing his entrepreneurial bent. He discovered his next-door neighbor was running a Weed Man franchise from home. Today, Mongeon operates 47 Weed Man units in Canada and is the U.S. franchisor for Weed Man, with 257 units in 35 states.
Diversity is the key strategy for Ray Harrigill. His Sunray Companies has restaurants (Bumpers Drive-In), tanning salons (Palm Beach Tan), fitness centers (Koko FitClub), and hotel properties (Hampton Inn). He's banking on membership-based businesses because they offer a more predictable level of cash flow than retail or restaurants can.
Next up, we've begun a new feature where we "reconnect" with franchisees we've profiled in years past, to catch up on what's been going on since last we spoke. In Tom Barnett's case, he's been battered by the economy since we profiled him in 2008, but he says he's determined to make it through. Now at 21 Burger Kings, 19 The Good Egg restaurants, and 6 Blue Burrito Grilles, he says, "I've been taught to never, ever give up. If you give up, you've lost."
Tommy Haddock has added 10 Bojangles' Famous Chicken 'n Biscuits restaurants since we profiled him six years ago. That brings him to 46 units in North Carolina and Virginia, where he says one of his secrets has been to stay plugged into the local communities.
No matter where they came from, or how they got into franchising, there's a fascinating real-life story behind every successful franchise operator. Whether you're a single-unit operator or have dozens of units across several brands, you're sure to find something interesting, educational, even entertaining in the stories of these six multi-unit operators. Maybe even a nugget or two to apply to your business or your personal life.
Time to grow!
Published: January 4th, 2012
Share this Feature
Recommended Reading:
Comments:
comments powered by

Disqus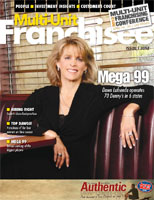 Multi-Unit Franchisee Magazine: Issue 1, 2012
Why open a dog daycare franchise with Dogdrop? Dogdrop is a modern brand that is technology-focused, offers unparalleled support as well as ease of...
Cash Required:
$100,000
Own a highly profitable business that impacts lives in your community by jumping into action as an Urban Air franchisee owner.
Cash Required:
$750,000