Multiunit rookies make up in attitude what they lack in experience
Conventional wisdom would say the best franchise operators are individuals with past business experience - or even better, previous franchising experience. But that may not be the case any longer. A youth movement is under way in the world of multiunit franchising.

Just ask Bareq Peshtaz, who turned 30 in July. Peshtaz is vice president of franchise sales for Desert Sun Franchising. He's also a multiunit operator for Desert Sun Tanning Salons. "I see it from both sides. It really makes a difference when you consider that corporate decisions affect me, too," he says. "My money is in this company."

Peshtaz, along with many other young entrepreneurs, are discovering that franchising can jump-start them on the road to business success. Certainly much more so than if they started a business from scratch.

People in their 20s may lack business experience and acumen, but with the right attitude they can plug into a franchise model that has been proven over time. A good system can be applied effectively even by those with limited business and life experience.

Of course there are obstacles for young, business-minded prospects looking at franchising. They often lack capital or access to capital to start up. And while boundless enthusiasm and abundant energy is a definite plus, it also can result in seriously underestimating the long hours and sweat required to open a franchise and keep it going in its early years.

On the plus side, youth does have its advantages. Many young people are eager to learn, believe in themselves, and want to work hard - for themselves. And many are discovering that franchising can provide them with the vehicle to succeed in business and make a life for themselves. An additional plus, especially in QSR: employees on the front lines are often young, very young in fact. Operators still in their 20s or 30s usually find it easier to relate to their teenage employees (who are, after all, the face of the brand) than older owners.

The five operators we spoke with have been quite successful at parlaying their strengths and overcoming their deficits. All are now operating multiple units and developing territories successfully, and have been kind enough to offer Area Developer readers their insights into how they're doing it.

From Kabul to Desert Sun
Bareq Peshtaz was born in Kabul, Afghanistan where he spent the first four years of his life before fleeing the Soviet occupation and moving to the United States with his family in 1981. His is an interesting journey to multiunit franchising.

With a college degree in cellular/molecular biology, Peshtaz spent a few years working for an import broker of commodity and specialty chemicals. He did well and was traveling the world managing an $8 million sales portfolio by his mid-20s. He acquired and refined a number of management skills and experience - and smartly socked away some cash during his half dozen years with the company.

"Eventually, I saw an opportunity in the tanning business," he says. "The demand was increasing and the opportunity was there [in the Pacific Northwest]." Teaming up with business partner Anthony Ridnell, Peshtaz jumped at the chance to get into Desert Sun early on, first as a licensee and then as a franchisee.

He and Ridnell purchased the subfranchising rights to Oregon and successfully developed the first four Desert Sun locations there before selling them back to the company when the founder, Max Ansola, asked Peshtaz to come on board as president of Desert Sun Tanning Salons. Peshtaz became president in 2006 and stayed on as vice president of franchise sales when Palm Beach Tan took over earlier this year, he says.

But how does someone so young achieve so much so quickly in franchising?

"I'm kind of an adrenaline junkie," says Peshtaz. "I thrive on excitement and lots of things going on at once." And, he adds, "I'm a quick learner."

Throughout his short professional life, Peshtaz says he has taken notes on important functions of business: sales, distribution, accounting, and operations. And, he says, "I think I know how to recognize good opportunities."

Today, Peshtaz is overseeing three of his own stores in the Seattle area and helping the company recruit new operators. "When I work with new candidates at Desert Sun Franchising I am a franchisee, so I tell them what to expect and what is realistic," he says. He explains to them that they can be remarkably successful but that it will take blood, sweat, and tears. But he also tells them that the franchise system gives them many advantages over trying to do it themselves - a recurring theme in the stories of all the young multiunit operators who spoke with us for this story.

Quick starter
J. Dapper never went to college. He bought his first house right out of high school and was intrigued by the amount of money to be made in real estate. "I quickly went from buying and selling residential real estate to selling commercial real estate to buying and selling shopping centers and, eventually, to building my own shopping centers," says Dapper, who also just turned 30.

While looking for new tenants for his commercial developments throughout the Las Vegas area, Dapper happened across Java Detour. "I thought they would be a good tenant for me," he says. "And they thought I would make a good area developer for them." It's turned out to be a "detour" made in heaven.

Dapper turned to a friend with experience in the coffee and fast-food segments for advice. They decided to undertake the task together. "I didn't have marketing, operational, or franchising experience," says Dapper, "but I teamed up with people who did."

Twelve months into his area developer agreement with Java Detour for the entire state of Nevada, Dapper has four locations open, four more in construction, and a very interesting approach to development.

"We've teamed up with someone in the automotive retail business and two of our next locations are going to be set up inside car dealerships," he says. Makes sense: service department customers often find themselves with time on their hands waiting for their cars to be serviced or repaired. "It's a captive audience," says Dapper.

Another location will soon be opened inside a large commercial office building in Las Vegas. Now he's working on a deal to be inside one of the casinos on Las Vegas Boulevard (the Strip). "From there, I'd like to see us expand outside Vegas to places like Laughlin and Reno," he says.

Incredibly, all of this franchise action has happened for Dapper only in the past year.

Dapper concedes that because of his age he's faced his share of skeptics, but says he also finds advantages in being so young. "I remember what it was like to have a part-time job and work for good and not-so-good bosses," he says. Call it the empathy factor. Dapper, too, says he believes young multiunit franchise operators can relate more easily than older folks to their typically young employees.

"Franchising makes a great business model for younger people who lack experience because you just have to apply the proven model and you can be successful," he says. But he also appreciates the value of those more experienced than he is.

According to Dapper, one of the keys to success is surrounding yourself with talented, smart, hard-working people. "I have a CFO, general counsel, a great admin person, and two critical partners - one who knows fast food and the other in the automobile industry. They've been great resources."

She's got it!
Candace Marek spent the early years of her career selling insurance and gym memberships. She loved being a part of the "feel-good industry" that helps people take care of themselves, stay fit, and look healthy. She also became curious about the franchise model of business.

"My husband and I decided we wanted to go into business for ourselves. We really liked what we saw in tanning salons and were intrigued by franchising," says the 29-year-old. They tapped a silent partner for some start-up capital and launched their first Planet Beach Contempo Spa in May 2004 in Raleigh, N.C. Marek was only 25 years old.

"It's been one of the greatest things we've ever done," says Marek. "We love the constant interaction with people every day." Marek and her husband, Brent, both spend time working in their salons daily. Their first store did so well they were able to buy out their silent partner and open a second store, in Durham, within 18 months. This past March, they opened a third in Raleigh, and in June they became area developers for the surrounding Wake County area. Plans call for them to open an average of four stores per year.

Marek has been so successful as a Planet Beach multiunit operator that the corporate office has asked her to handle the training for all the units in Wake County. "I've been a very hands-on operator, so I know the ins and out of running these salons," she says. Her forte, she says, is operations and staffing. Husband Brent, who came on full-time only a year ago, handles the financial side of the business. His background in the corporate world has been a perfect fit.

"We really like the way we can function as hands-on operators with three stores, but we'd like to help sell and manage more locations," says Marek. One of the couple's goals is to earn a good living and retire early.

She understands how some might question being multiunit franchisees at such young ages but she believes that "if you have it in you to be successful, and you're passionate, you're going to do just that, whether you have experience or not." Anecdotally, she admits there have been some awkward moments when she, as the boss, was younger than some of her employees.

Marek believes it's important for any young franchisees to be actively involved in the business. "Plan to be involved every day because nobody will have a passion for your business like you do."

By the time you read this, the couple will have welcomed the first new member of their family. Marek, who was expecting a child on October 15, says she planned to take a few weeks off, find the perfect nanny, and then be back in the salons doing what she loves.

"It's great being your own boss"
At 24, Andrew Zanowski is the youngest franchisee in this story. The former part-time personal trainer was studying finance in college when he began to dabble in real estate. "My dad works at a bank, and he had introduced me to some folks in the real estate industry. One of them had ties to franchising," says Zanowski. One thing led to another, and he wound up making the move straight from college to Max Muscle franchisee.

Borrowing some money, and with further financial assistance from his dad, he signed on and opened his first store in March 2006 in Maryland Heights, Mo., outside of St. Louis. Two more locations are under development and should be open within the next six months to a year. In addition, Zanowski has the rights to four more territories in the St. Louis area.

"My dad has kind of been my financial partner while I handle all the day-to-day operations issues," says Zanowski. He says it's interesting "to discover the stuff that you don't know that you don't know." And, he adds, for every one thing that he did know how to do, there seem to be nine more things he didn't.

Case in point: During his first few months of operation he elected not to do any advertising to try saving money. Mistake. "Once we started advertising it made a night-and-day difference for us," he says.

Zanowski thinks franchising is a great place for younger entrepreneurs. "The franchise model is perfect for young people who are interested in having their own business but don't have any experience," he says.

Lacking any "real world" business experience led Zanowski to create his own board of directors, which provides him a sounding board and a resource for making smart business decisions - and avoiding rookie mistakes. "These are people with experience, people I know and trust," he says. "I think of myself as being a great salesperson, but I don't know everything and I'm not afraid to ask for help."

In the early days, Zanowski says he spent 70 hours every week in his store. Today, he still spends time in the store daily, but has cut those hours in half. However, he says, it's important for young people to understand the commitment of time and effort required in owning and operating one or more franchises.

Today, Zanowski is flying high. His Maryland Heights store is ranked eighth among the system's 120 units, and he estimates 2007 sales to reach $500,000. In addition to opening two more Max Muscle sites soon, he continues to examine other concepts and brands. "I'm open to the idea of expanding that way," he says.

Any sage advice from the rookie? "Do your research, find the right fit for you, and work hard," says Zanowski. "It's great being your own boss."

After the deluge
Operating multiple McAlister's Deli franchises in New Orleans in August 2005 was a blessing and a curse. Business was good when Hurricane Katrina put one of Kyle Brechtel's locations under six feet of water. Another was located in the Harrah's Casino downtown. Neither was left in operating condition. To make matters worse, he was scheduled to open another location the week the storm hit. But Brechtel, only 24 at the time, did not succumb.

"We worked from 7 a.m. until 11 p.m. to get those stores back open," he says. He did, and they were more profitable after the storm than they'd been before it. Today, he operates both of those locations, as well as two more in the New Orleans area and another two in Illinois. Brechtel says plans call for another dozen before he's through. All of this at age 26.

"I'd gone to college in Louisiana and thought I might want to be in building construction," he says. "From there I found my way to real estate development, and rather naturally to franchising." He had no restaurant experience but his dad, through an associate, was familiar with the McAlister's concept.

His dad and another investor loaned him seed money to get up and running. "They're getting a great return on investment these days," says Brechtel. Having those investors behind him, he says, brought credibility to the table for him at the outset.

"I wanted to have my own business, and franchising offers that for people with little or no experience," he says. He concedes that he was "naive and didn't think I could fail - I was just going to be successful." But he had a couple more things going for him: he was familiar with the New Orleans market, and he had a cousin willing to step in and help him get the stores off the ground.

On the plus side, "being so young does have some advantages," he says. "I think I'm more in touch with relating to young employees."

And, as with his multiunit peers above, he knows making it on your own doesn't mean making it by yourself. "One of the keys to successful franchising is surrounding yourself with good people and creating a culture of success for everybody involved," he says. To do that, he relies on a director of operations, a training executive, and managers to oversee each location.

Brechtel says he stays involved with as much as he can on a day-to-day basis but is also actively seeking development of new stores. And like Zanowski, Brechtel says diversifying concepts could be in his future.

For now though, sales are up: his stores did $5 million in business last year. And as he achieves larger scale, he says he's starting to delegate management tasks.

"I think the key is to believe in yourself, have financial resources, and surround yourself with great people. You may be inexperienced, but you can be passionate."
Published: December 28th, 2007
Share this Feature
Recommended Reading:
Comments:
comments powered by

Disqus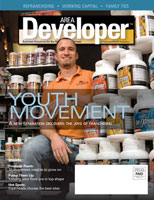 Multi-Unit Franchisee Magazine: Issue 4, 2007
At LeafSpring Schools, we differentiate ourselves by a proven approach to early childhood education, validated by more than 35 years of successful...
Cash Required:
$400,000
Class 101 college planning franchise helps high school students get into better colleges and qualify for higher amounts of scholarships and financial...
Cash Required:
$50,000