MVP Mauricio Fracon Comes to America. 2020 American Dream Award recipient
Name: Mauricio Azevedo Fracon
Title: CEO
Company: Three Colors Flag; Kiddie Academy
Units: 7 Kiddie Academy units, 6 in development
Age: 63
Family: Spouse, 2 children, 4 grandchildren
Years in franchising: 18 total, starting in Brazil; 7 in the U.S. with Kiddie Academy
Years in current position: 7
Mauricio Fracon is the 2020 American Dream Award MVP (Most Valuable Performer).
For more than 40 years, Fracon has had a passion for improving the lives of children by giving them access to quality education. Beginning in 1978, he was an integral part of opening Three Colors Flag schools throughout Brazil with his ownership team, Grupo Objetivo. Despite the lack of educational support from the Brazilian government, Fracon helped develop more than 80 schools in the country.
It was this franchising success and continued passion for education that inspired him to come to the United States and try to replicate that success with partner Marcos Pereira.
Through their combined experience, and with the help of resources available to entrepreneurs in the U.S., Fracon and Pereira decided to invest in Kiddie Academy because of its reputation as a leader in children's education. To date, they have opened 7 Kiddie Academy locations throughout Florida and have another 6 currently in the site selection process or under construction. The goal is to open 15 Kiddie Academy locations.
PERSONAL
Formative influences/events: I have been a part of teaching and a manager for schools for more than four decades.
Key accomplishments: I have been part of opening more than 100 schools in Brazil and the U.S.
Next big goal: To keep opening Kiddie Academy locations until we reach our goal of 15.
Hardest lesson learned: How to effectively manage schools and understand all the needs of teachers.
Best advice you ever got: You have to be resilient.
What are you reading/favorite business books? Conscious Capitalism: Liberating the Heroic Spirit of Business by John Mackey and Raj Sisodia.
What's your passion in business? To make things happen and get things done successfully.
MANAGEMENT
Business philosophy: Having a role through active participation and transparency is very important to me.
Management method or style: To be agile and lean.
Greatest challenge: I have high standards and want my schools to be recognized as educationally excellent and as one of the best places to work in every city we're in.
How close are you to operations? Hands-on, 100% involved in day-to-day operations.
How do you hire and fire, train and retain? I have an HR manager and a training manager who handle this. We fire only if it is impossible make things better.
COVID-19
What have been the biggest impacts of Covid-19 on your business? The schools operated with one-third of the students for several months. It was challenging, but we stayed open and kept working throughout.
MVP QUESTIONS
Why do you think you were recognized with this award? I attribute the award to the hard work of my team, our valued employees, and the wonderful communities where we are located. We do very important work, and to be recognized for this award is an honor. But the greatest honor is the feedback we get from our staff and the parents of children in our care.
How have you raised the bar in your own company? We put a premium on credibility.
What innovations have you created and used to build your company? We have implemented systems and measures for all processes within our company and schools.
What core values do you think helped you win this award? We have a culture of credibility and transparency.
How important is community involvement to you and your company? 100%.
What leadership qualities are most important to you and your team? Time management, strategic thinking, team-building, and emotional intelligence.
BOTTOM LINE
Annual revenue: $9 million.
2022 goals: To open more schools in our efforts to reach 15 locations.
Growth meter: How do you measure your growth? By revenue and the number of employees we have.
Vision meter: Where do you want to be in 5 years? 10 years? To have more schools open and to constantly be improving what we do.
What are you doing to take care of your employees? We treat everyone with respect, we continually train, we honestly value each employee, and do everything we can to provide our employees with opportunities.
What kind of exit strategy do you have in place? None.
Published: November 20th, 2021
Share this Feature
Recommended Reading:
Comments:
comments powered by

Disqus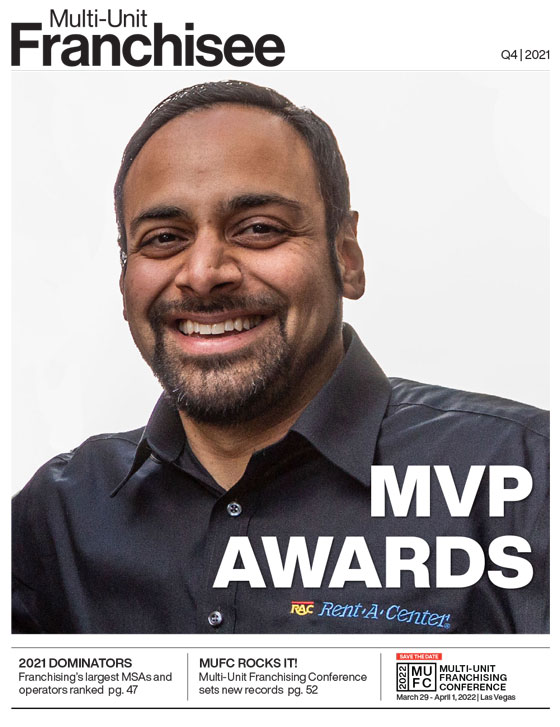 Multi-Unit Franchisee Magazine: Issue 4, 2021
Owning your own Pancheros restaurant is a chance to start a business without starting from scratch.
Cash Required:
$250,000
Cicis is an iconic, modernized restaurant that pushes the limits of the regular family dining experience. With unlimited opportunities for revenue,...
Cash Required:
$250,000