New China Franchise Law Impedes Franchising By Foreign Companies
Ninety days after the effectiveness of China's new franchise regulations, foreign franchisors and their lawyers are trying to sort out whether they can comply with the law, and if so, how. The Measures for the Administration of Commercial Franchising ("Measures") were adopted as a part of China's commitment to the World Trade Organization to open the Chinese economy to foreign investment. Although rumors about the forthcoming regulations had been emanating from Beijing for nearly two years, in late November the world was given 12 days to comment on draft Measures which would apply to "Foreign Invested Enterprise" ("FIE") franchisors. By the end of December, the Ministry of Commerce ("MOC") had promulgated revised franchise regulations which apply to both domestic and foreign invested enterprises, but which failed to address whether foreign companies may franchise directly into China.

What does the law do? Who is subject to it? How can franchisors comply with the law? The Measures create one of the most comprehensive franchising regulatory schemes in the world. They are intended to legitimize franchising as a form of business in China and to protect the intellectual property rights of franchisors. Not surprisingly, the law also is intended to provide safeguards for prospective franchisees. The law, while imposing disclosure obligations and mandating certain contractual provisions, does not impose restrictions on the franchise relationship.

Nonetheless, the Measures raise a plethora of issues, many of which emanate from the ambiguity in the language used. The MOC has announced its plans to draft and publish implementing regulations which will clarify many of the ambiguities. However, companies already franchising in China, and companies which are in the process of negotiating franchises there, are uncertain about whether their contracts and arrangements will satisfy the new law's standards.

Before the Measures were promulgated, franchisors were not permitted to franchise directly from another country into China. Rather, they either had to establish entities in China which would carry out the franchising (FIEs) or form joint ventures with Chinese partners who had foreign trading rights. Then, through a series of independent contracts, these entities would be awarded a license to use the franchisor's trademarks and technology and obtain supplies and other items necessary to carry on business in the country. Although the Measures are silent about whether direct franchising from abroad will be permitted, the MOC maintained until late April that the Measures do not permit direct franchising. But, as of April 30, Richard L. Wageman, an attorney with the Lehman, Lee & Xu law firm in Beijing, reports that an MOC official has told him that cross-border franchising will be permitted if the foreign franchisor satisfies other obligations prescribed by the Measures, including the experience prerequisites discussed below.

One critical issue which has captured the attention of foreign franchisors is the requirement that, as a prerequisite to franchising a business in China, a company must own and operate at least two such businesses in China for more than one year. The Measures permit establishing the unit through a subsidiary or a holding company, but they do not clarify whether a joint venture which is only partially owned by the foreign franchisor will satisfy the business ownership requirements. If a franchisor had master franchisees or unit franchisees in China prior to the Measures' effective date (February 1, 2005), Wageman advises that such a company is not subject to the two-business, one year experience requirement. Companies which have not already granted a franchise or otherwise operated two business units in China must meet the qualifications prescribed by the Measures.
Other Conditions of Franchising
Several elements of the law significantly impact the risk of franchising in China. Franchisors which designate a supplier for products or commodities for their franchisees will be liable to franchisees for the quality (or lack thereof) of the products supplied by those suppliers. The MOC has not explained the parameters of this duty or what a franchisor can do to protect itself from liability to franchisees.

Franchisors must possess the "ability to provide franchisees with long-term business guidance and training services." Whether an analysis of that ability is performed in a review by the MOC or by an arbitrator or court, the standard could be a tough one to meet.

As an independent obligation, franchisors must have a "good credit standing, and have not committed fraud by means of franchising." The MOC has related that it does not contemplate adopting a bright line standard for credit standing. Rather, the MOC will evaluate each franchising program as a whole. The MOC anticipates that competitors may challenge a franchisors' credit standing. Foreign franchisors will be able to rely upon the reputation and credit standing of foreign parent companies when applying for registration, according to Mr. Wageman. Whether guarantees will be required is not known.

American franchisors realize that fraud claims are a fact of life when disputes arise early in a franchise relationship. Will allegations of fraud, or even a settlement of fraud claims affect a company's ability to franchise in China? What if the American franchisor who is found liable for fraud is attributable to a former franchise sales person? Will that impact an affiliate's ability to begin and continue franchising in China? Mr. Wageman reports the MOC official has indicated that the MOC may review allegations and settlements relating to fraud by an affiliated company in the U.S. or elsewhere, but will focus principally on what has occurred in China. The MOC will evaluate whether fraud is significant before denying a company the right to franchise.
Franchisee Requirements
Article 8 of the Measures requires franchisees to have appropriate funds, premises and personnel for the franchise. Although this appears to impose a legal obligation upon prospective franchisees, franchisors may be concerned that they could be found to have violated the Measures if the franchisees they select do not ultimately possess the requisite qualifications.
Franchise Agreement Terms
Each franchise agreement must address at least fourteen issues. The Measures provide that the parties to a franchise agreement, "shall negotiate and reach agreement on franchise fees and deposits on the principles of fairness and reasonableness." Conditions for renewal also are supposed to be based upon the principle of "fairness and reasonableness." What extra-contractual obligations do these principles impose? According to Richard Wageman, what is "fair and reasonable" is to be determined by the parties. The MOC will not interfere in the negotiations or impose its own standards of fairness. He reports that this has been confirmed verbally by the MOC. Moreover, the MOC will not evaluate fairness and reasonableness of fees. Only through litigation may a party challenge whether the terms of its agreement violate the fairness and reasonableness requirement.
Disclosure Issues
Nine categories of information must be provided in a disclosure document, which must be delivered to prospective franchisees at least twenty days before the franchise agreement is signed. Besides specifying categories of information which must be disclosed, the Measures require both franchisors and franchisees to disclose "relevant information before entering into the franchise agreement and in the course of carrying out the franchise." As of this writing, the MOC has not decided what type of ongoing information must be provided to franchisees. However, the MOC officials have confirmed to Richard Wageman that no ongoing reports will be required to be filed with the MOC to comply with this requirement.

Article 19.2 of the Measures requires franchisors to provide an "investment budget breakdown for a franchised outlet." This disclosure could include both an initial investment budget, and a requirement to produce an operating proforma, i.e., "earnings claim." The same Article requires disclosure of information about the number of locations and "business status" of existing franchisees. The MOC has explained that this report pertains only to franchise entities operating in China. What is meant by "business status" is not clear.

As of this writing, the MOC had not determined whether a master franchisee is required to provide disclosures about all franchisees of its franchisor in China, in addition to disclosures about its franchisees. Article 19.1 requires franchisors to provide "details of financial reports and reports on tax payments audited by an accounting firm." The nature of audit required and requisite qualification for auditors, (only Chinese accounting firms, or foreign firms as well) is unclear.

Franchisors will be required to report on the number of franchisees whose franchise agreements have been terminated. Although the MOC has indicated that the period covered by the disclosures will commence with the effective date of the Measures, and will likely in the future extend only to three years from the date the disclosure is prepared, it remains unclear whether disclosures about terminated franchisees from outside of China must be included in the report. The MOC advises that the disclosures will pertain to franchise owners which are terminated, as opposed to franchised outlets or agreements which are terminated. A "termination" will be deemed to exist whenever a franchise relationship ends before the term of the contract expires.

Article 19.5 requires disclosure of "information relating to all lawsuits for the latest five years." The MOC has informed Mr. Wageman that disclosures are limited to "franchise related" lawsuits, but has yet to determine whether the disclosures will be worldwide, whether a materiality standard exists, the impact of confidentiality agreements, etc.

One of the most problematic disclosures franchisors are required to make under the Measures is written responses to prospective franchisees' requests for information. As we understand the initial MOC guidance, if a prospective franchisee inquires about earnings claims or business plans, or anything else related to the franchise, the franchisor will be required to respond in writing. The written response need not be filed with the MOC.

When marketing and promoting their franchises, franchisors may not "factitiously (sic) exaggerate the benefits the franchise may bring, or deliberately conceal that the franchise might in fact affect the interest of other parties" (Article 26). Beijing counsel suggests this may mean that franchisors may not fail to disclose "flaws in the operational model or products" being sold. The MOC suggests it may relate to uncertain ownership of trademarks, etc. It remains unclear whether this imposes an affirmative duty on franchisors to make disclosures about, e.g., known flaws in the franchising program, or about the profitability of its franchisees (or lack thereof).
Filing
Each January franchisors must report to the MOC about the franchise agreements which they have executed during the previous year. Reports must be filed with the MOC authorities in the Regions where the franchisor and the franchisees are located. In addition to the annual report, franchisors must file any trademark licensing contracts they have executed, before conducting franchising activities.

FIEs have additional obligations. They must register with the MOC by filing information about their business license and any approval certificates and amendments to them. They also must provide copies of their franchise agreements, disclosures and operations manuals. Following a review of not more than 30 days, the MOC will either grant or withhold approval. Unlike other franchise laws, the Measures empower certain franchise associations or chambers of commerce to "formulate industrial rules in accordance with this regulation and conduct industrial self-disciplining, provide relevant services to franchising parties and promote the development of the industry." These rules only will apply to members of the associations.
Conclusion
The Measures have attracted the attention of the worldwide franchising community. Notwithstanding the Measures stated objective of opening China to international franchising, the two-unit, one year experience prerequisite makes China the most difficult country for foreign franchisors to enter. Until ambiguity in the Measures is overcome by written regulations, even franchisors which already qualify to franchise in China will be forced to guess about whether their agreements, disclosures and practices actually comply with the standards.
Published: September 22nd, 2005
Share this Feature
Recommended Reading:
Comments:
comments powered by

Disqus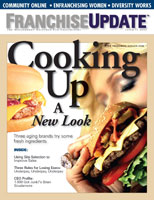 Franchise Update Magazine: Issue 2, 2005
Conferences
InterContinental, Atlanta
OCT 18-20TH, 2023
Our franchise management software helps increase unit growth, reduce opening time, track and improve unit performance, automate financial reporting...
Slick Marketers is reinventing franchise marketing with a hyper-customized and ultra-localized marketing approach with measurable results and growth...