New Liberty Fitness CEO brings experience, personal touch to growing company
Its All About The Relationships

When Linda Burzynski was offered the CEO slot at Liberty Fitness, the franchising veteran says she hesitated, in part because she didn't feel she was in the best shape, physically, to head up a health and fitness organization.

"I used to pray, 'God, help me lose weight, give me discipline.' I think this is God's little joke to help me lose weight. He said, 'Boo! I'll make you head of a fitness company,'" laughs the 50-year-old wife, mother, and career woman.

When her appointment was announced in May at the Carlsbad, Calif.-based headquarters of three-year-old Liberty Fitness, she said her new role is an ideal personal and professional progression, and a golden opportunity to affect women's lives positively. To put her money where her mouth is, she vowed to use the Liberty system to lose 40 pounds.

"It's unfortunate that so many women have their self-esteem tied to their body image," she says. "Being CEO of Liberty Fitness presents an incredible opportunity to motivate women around the nation to feel beautiful inside and out. When women are healthier and feeling better about themselves, they make better mothers, better wives, better friends, better neighbors, better professionals-better everything. Who wouldn't want to be associated with a cause like that?"

Burzynski is a familiar figure in franchising. For the past five years, she served as CEO of CM IT Solutions, a technology solutions franchise for businesses. Before that, she was president and COO of Molly Maid, where she focused on improving working conditions for maids as well as offering better opportunities to female franchisees.

CM IT Solutions started as Computer Moms, then began changing its name and focus from individuals to businesses. Burzynski brought a new person on board to help with the transition. "Gordon Bridge had an amazing background. He was VP of several divisions for IBM and ATT and was a great sounding board to help with the change of the company's focus to the business market. I didn't want to retire and was wondering if I should name Gordon CEO and become spokesperson for the company," she says.

"I've always believed in surrounding myself with incredible people-often more talented than I," she said in a phone interview from Liberty's new corporate headquarters in Austin, Tex. "Also, I didn't want to get so wrapped up in ego that when someone else who would make a better leader for the company came along, I wouldn't step out of the way."

Opportunity knocks
That's when she was approached by the Liberty Fitness principals, who were seeking a CEO to lead the 66-location company to the next level. She was impressed by the integrity of that group and with founder Liberty Harper, who started the company in 2002 when she was 25.

"I liked the focus on fitness, nutrition, and wellness under one roof," Burzynski says. "Over the years, I had taken pills, drank shakes-I realized that I am part of the demographic that Liberty focuses on (women 35 to 65). I just turned 50, and I can feel their pain. We're not lazy. We are just so overworked and stressed that we don't take good care of ourselves. And that means more than just working out. Liberty not only offers adjustable hydraulics so that you can build and grow, but it also offers a spa-like atmosphere. We have the infrared sauna, hydromassage, exercise classes such as Pilates and yoga. And we're adding treadmills and more machines."

Liberty Fitness will soon roll out its first line of supplements designed especially for women, and Burzynski has immersed herself in the study and research of women's health. Among her areas of interest? Natural hormonal replacement.

"So much of our mood swings have to do with hormonal changes. At Liberty, we offer the women a saliva test to see where their hormonal balance is. Were not about fads; we're looking at the whole woman because, as women, we impact lives-not only our own, but our children's, husband's, neighbors', and parents'. We want to help other women achieve a life balance to be healthy. It's not about thinner size. That can be a by-product, and that's good news, since obesity rates are off the charts in our country," she says.

Burzynski speaks enthusiastically about other new features, such as the website that offers a dietitian to members around the clock. Through the site, they can track their fitness schedule, build menus, print out shopping lists, and ask about food allergies.

While she's learning, Burzynski says she's already reaping the rewards of her new post, which she took on July 1. "It's amazing to talk to members. I hear everything from the woman who lost 100 pounds and never knew life could be so good to the 79-year-old woman hardly able to walk, who was moving with ease after working out with the fitness staff and using the infrared sauna."

Along with an ultra-high energy level, Burzynski brought the kind of experience the company needed. She immediately sized up the original clubs, most of which are in California. They were fairly small, less than 1,100 sq. ft., and focused on 30-minute circuit training. In recent months, that focus has been expanded into the threefold approach that makes it distinctive, Burzynski says.

With the newer, larger models (about 2,500 sq. ft.), Liberty expects to open three to four a month through the end of the year, bringing franchises awarded to a total of 25 for the year. Of the 66 locations, 48 were open as of mid-October. In 2006, plans are to add another 60 across the country. Liberty Fitness is currently in 16 states, with locations being set up in Ohio, Georgia, and Massachusetts. Burzynski's five-year goal is to have 1,500 clubs.

The estimated investment requirements for opening a Liberty Fitness club is $26,500 for the initial franchise fee for a single unit, with total opening costs ranging from $125,600 to $185,600. November saw unit price increases. The model is one that grows memberships and offers additional services for fees.

If her plans for Liberty Fitness seem ambitious, Burzynski's track record indicates the odds are with her. She started in direct sales with now-defunct Creative Expressions in her mid-20s. Before long, she was top regional director with responsibility for 1,700 people in seven states. When her family relocated from Michigan to Bethesda, Md., she joined Interiors by Decorating Den, an interior design franchise, where she stayed for 10 years.

"I cut my teeth on franchising there," she says. "I learned a lot of what to do and I learned from my mistakes as well. In my first year, we grew from 0 to 450 franchisees. I learned the reality of growing too quickly, that it's important to have consistent growth."

She praises then-CEO Jim Bugg, Sr., for moving her from one department to another. "That helped me better understand how to run a company. I served as VP of franchise development, senior VP of retail sales, and senior VP of operations. I got quite an education." Her most important lesson? Relationships are critical.

Relationships and respect
"Establishing relationships and having a very open communication style and systems is very important," Burzynski says. "It's also important to focus on the fact that you and your franchise partners have become we, and that it's less about us and them. It's also critical to make sure you're ready before you get distracted with international expansion. My experience with that was largely positive but I learned from mistakes there as well."

She left Decorating Den after 10 years, thinking she wanted to focus on public speaking. But she soon learned that being on the road 90 percent of the time wouldn't work when she had children in middle school and a husband recovering from leukemia.

Burzynski and her family decided she would accept the post as president of Molly Maid, and they moved to Michigan. Molly Maid was doing about $12 million in client revenue in 1995 when she arrived. That number grew to $86 million-plus in her five years there.

More important, she says, she learned all about the maids. She worked incognito as a maid for 10 weeks, learning lessons in leadership and gaining more respect for the women who built the company. Her goal became to raise the self-esteem of the maids and respect for the maids.

"Every one of us wants to have meaning in life. It was important for the maids to know that they are giving families the gift of free time and to recognize them for their efforts," she says. "We offered training programs and rallies for the maids. Many of the work force spoke other languages as a first language, so we offered English as a second language classes in the mornings before they went to work. We offered GED programs to help them get their high school educations. It was very rewarding. I loved my franchise partners and I loved the maids."

Computer mom to fitness mom
In 2000, Mike Maples, former senior executive vice president of Microsoft, approached Burzynski about an Austin company, Computer Moms, in dire need of leadership. "I agreed to become CEO and president, and, since it was an opportunity to put my money where my mouth was, I became a major shareholder. I still am," she says.

She hit the ground running, refacing, retooling, and turning the company around. It had focused on the residential market, teaching computer skills to senior adults. But the market wasn't there. The real potential, she learned, was in supporting small to medium-size businesses by outsourcing their IT. They changed the company name to CM IT Solutions, Your Technology Team, and the company cash flow became positive and began to grow.

After five successful years, she took on the Liberty Fitness challenge. Her decision to relocate Liberty's corporate office from California to Austin came after she explored the cost of living and doing business in California, she says. "When were expanding at the rate we are, it would be cost-prohibitive," she says. "Texas is centrally located, which is another advantage for our franchise partners."

The first Liberty Fitness in Texas will open in Arlington within the next couple of months. Right now, Burzynski is going back and forth to Arlington and focusing on serving existing franchise owners. She, the Harper family (Liberty is the director of training), company president Mark Franklin, and the staff, many of whom relocated from the San Diego area, are pulling out all the stops to get things rolling in Texas.

Meanwhile, Richard Cotton, chief exercise physiologist at MyExercisePlan.com and a consultant to Liberty Fitness, is serving as personal coach to Burzynski to help her reach her fitness goals. She's already feeling better, she says.

She jokes about the results of her BodyAge by Polar assessment. The tool, which is exclusive to Liberty, measures cardiovascular, dexterity, strength, body mass index, and weight. "My chronological age is 50, so I was embarrassed to learn that my body age is 55. But the good news is that after eating a proper diet and exercising, slowly but surely, I have the potential of reversing to a body age of 39. It's the best of both worlds: I get to keep the wisdom and lessons I've learned and have the healthier body of a 39-year-old," she says.
Published: March 9th, 2006
Share this Feature
Recommended Reading:
Comments:
comments powered by

Disqus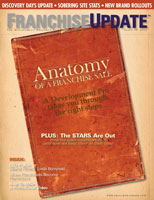 Franchise Update Magazine: Issue 4, 2005
Conferences
InterContinental, Atlanta
OCT 18-20TH, 2023
April 25 - April 28, 2023, Caesars Forum, LV. The Multi-Unit Franchising Conference is the premier annual event for the country's leading...
ApplePie Capital provides a fresh new approach to franchise financing that is focused on your growth and success.