Now That's Alarming!: Safeguarding Your Employees And Premises
In our previous column, we covered the first two elements of security and loss prevention when setting up a new business: site selection and employee screening. This issue we look at alarm systems.

Once you've selected a location for success and hired great employees for your team, it's time to turn your attention (and a portion of your budget) to protecting these valuable assets!

Certainly, the type of business you're conducting can determine the risk level and accordingly, the kinds of security tools you'll want to use. A jewelry store has a far different security profile and needs than a greeting card store or a fast-food restaurant. If the business is open late, has large cash transactions, or has high-value inventory, you may want to speak with a security consultant. At a minimum, review your needs with a crime prevention police officer.

For the most part, there are two basic types of alarm systems used in a retail or food service business. One protects the perimeter of the property against unauthorized intrusion or burglary when the business is closed. The second, often referred to as a "panic" or "robbery" alarm, is used when a crime is committed while the business is open.
1) Burglary systems
Again, there are two basic types. The first is a "local" alarm that sounds a siren or locally audible alarm when the system is violated. This kind of system relies on neighbors or nearby businesses to notify law enforcement that the alarm is sounding. It's effective if you have caring neighbors, but when was the last time you called the police when a car alarm was wailing?

The more common burglary alarm used by business is a "monitored" system where any alarm activation is communicated, generally by phone lines, to a licensed alarm monitoring station that calls the local police department. Most communities today require that alarm systems, as well as the monitoring centers, be licensed and registered with the police.

Components. Most alarm systems have a control panel and keypad at the heart of the system. The control panel receives signals (either wirelessly or hardwired) from various peripheral devices such as magnetic contact switches, motion or vibration sensors, and other burglary detection devices.

Magnetic contacts are typically used on doors or windows. One contact is mounted on the stationary component (door or window frame), the other on the moving component (window or door). When the contacts are separated, such as when a door or window is forced open during a burglary, they trigger an alarm. Magnetic contacts can also be used to sound a welcome chime to alert busy employees when someone enters the store.

Motion and glass-break/vibration sensors are used to detect movement within the protected space. Installation must be done carefully to avoid creating false alarms by placing the sensors too close to windows and glass-panel doors. Improper location may result in the detector reacting to vehicles or people moving past the business on the outside and create false alarms with police that result in fines and penalties.

Their primary value is detecting movement inside a building when an unauthorized entry occurs that does not activate the magnetic contacts. Vibration or glass-break sensors can be adjusted for sensitivity and used to detect someone breaking through a window or a wall.
2) Robbery/panic devices
Robbery and panic devices are focused primarily on personal protection. These devices ("bill-traps" in the cash drawer, handheld wireless devices, or hardwired emergency buttons at the counter, office, or other location) are interfaced with the control panel and offer another level of business protection if warranted by your business risk plan. This type of alarm activation should be used only when it's not safe or practical to pick up a phone and call 911.

It's important to train employees in the use of these devices to avoid false alarms or misuse. They're not to be used in lieu of calling police in events such as customer theft (shoplifting) or loitering. They are to be used only during an emergency situation such as a robbery or assault involving employees or customers, and only when safe to do so.
In most cases, activating the alarm system triggers a signal to the alarm monitoring company, which then contacts law enforcement. Police consider alarm activations as a crime in progress and respond accordingly. If the system is triggered in error, contact your alarm company immediately so police can be made aware. Many communities have false alarm ordinances that fine home or business owners that have too many false alarms, so train your employees and use your system correctly.

In addition, opening/closing reports can be obtained from the alarm company to ensure the alarm system is properly set every night and that no one is returning to the building without authorization. Opening/closing logs should be reviewed to make sure the business is open and ready to take care of customers during the hours posted.
Next time we look at video surveillance systems.

Rollie Trayte is a Scottsdale, Ariz.-based security consultant and former director of loss prevention for ConocoPhillips/Circle K stores. Gary Widman is president of Lekson Video Technologies, a supplier of security products and services.
Published: December 3rd, 2008
Share this Feature
Recommended Reading:
Comments:
comments powered by

Disqus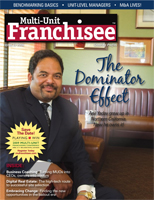 Multi-Unit Franchisee Magazine: Issue 4, 2008
High AUVs + 8-hour operating days in a food category that's not oversaturated = an eggs-straordinary life.
Own a franchise that takes you to the "Bayou" every morning and gets you home for dinner every night! Operating Hours 7 AM – 3 PM!
Cash Required:
$350,000