On The
At the end of January, following the headlines of optimism and encouragement that came with the presidential inauguration, came the harsh reality of job layoffs and plant closings in one company after another across the country. Home Depot announced 7,000 layoffs, Pfizer trimmed 19,000 jobs, and Caterpillar 20,000. In total, nearly 60,000 wage earners became unemployed, and while many enjoyed reasonable severance packages others were most certainly caught unprepared for the income loss that will follow.

They join nearly 100,000 others furloughed earlier in the month in a year many had hoped would soon show signs of recovery from the doldrums of a sluggish economy. By anyone's measure, it's a tough time that challenges every business--start-ups and small retailers perhaps more than most.

With economic hard times and rising unemployment, experts suggest the incidence of property crime and employee theft may be on the rise, even at white-collar companies. The Newark Crime Examiner reported January 25 that PricewaterhouseCoopers, often considered the bastion of business conduct, acknowledged more than $2.4 million in losses from employee theft.

Retailers have long known the perils of what the industry euphemistically calls "shrink"--employee, customer, and delivery theft by any other name. A recent Wall Street Journal story cited a New York-based consulting firm's compliance and investigation expert who confessed, "In leaner financial times, people have a tendency to give in to temptation to commit criminal behavior."

So what's a small business operator to do to protect their investment and profits in these meager times? The short answer is to never let your guard down. And while alarm and camera systems for retailers or fast food restaurants are good tools for managing loss, many of the best security tools are simply an owner's or manager's vigilance and dedication to the details of running the business.

With all these layoffs, is there a silver lining? Actually yes. The good news is that the ranks of full- and part-time candidates are now packed with well-educated (if not overqualified) candidates looking for work. By using proper screening and hiring techniques, you can pick the cream of the crop for your business.

The downside to this hiring approach is that you might find your new hire isn't content with wages far below what they earned with their "real job." You'll need to put strong deterrents in place so new employees realize there are dire consequences to violating employee policies with respect to recording all sales, taking or giving merchandise to friends or family, or finding other ways to compensate for their loss of income at your expense.
Saving your way to prosperity?
The short answer is, this rarely happens. Scrimping on loss prevention, security, and other tools that protect your business is a gamble at best. Make certain your investments into protecting your profits are prudent, and not sacrificed for short-term gain.

For example, at a convenience store or quick-serve restaurant, allow your employees to have coffee or fountain soft drinks. Yes, it's "grazing," but it's 80 percent gross profit margin isn't it? Do you really expect them to pay full retail? Give 'em a cup and let 'em drink!

Police coffee is another "Duh!" Most small restaurants, donut shops, and convenience stores allow on-duty, uniformed police officers complimentary fountain soft drinks or coffee--especially if it's in the officer's own travel mug. Encouraging police to frequent your business is always a good practice. Some departments frown on anything that looks like "gratuities" that curry favor, so make sure your practices are in line with local rules and expectations. Free car washes for marked patrol cars is another "police presence" issue that can help create the image of safety for your business. Take advantage of it!

Resist fake cameras and phony alarm signs. It doesn't take very long for employees, customers, or soon-to-be bad-guys to figure out your security system's fake. And most attorneys will advise that having a non-functional security system can create an "expectation of security" that fake cameras simply aren't able to deliver. (Note: not legal advice! )

You're not likely to put an "anti-virus" icon on your computer desktop and not install the software are you? So don't post signs that you use a security patrol, armored car pickup, or security alarm system if you don't. Criminals will "test" the system by breaking glass, or prying open a door to see if there's some type of response. Don't be surprised if such a test is followed by the real thing.

Be judicious about keeping up with security system updates and subscriptions on your business computer and point-of-sale terminals. There's good shareware out there, but don't sacrifice your sales and business records by letting your computer anti-virus, firewall, or backup systems grow old or dormant. A little bit of protection can go a long way toward keeping your business safe and your profits whole!

Don't be penny-wise and pound-foolish. Protect yourself and your employees from joining the ranks of the unemployed by being smart about protecting your businesses assets during these tough times. You'll be glad you did!

Rollie Trayte is a Scottsdale, Ariz.-based security consultant and former director of loss prevention for ConocoPhillips/Circle K stores. Gary Widman is president of Lekson Visual Communications, a supplier of security products and services.



Published: April 27th, 2009
Share this Feature
Recommended Reading:
Comments:
comments powered by

Disqus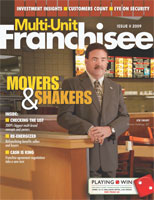 Multi-Unit Franchisee Magazine: Issue 2, 2009
It's time for a fresh start. Join Kona Ice today! We're a low-investment, fast-growing business with over 1,500 franchises in the last 12 years. And...
Cash Required:
$20,000
Blend opportunity with success and join the nation's #1 health and fitness smoothie brand today!
Cash Required:
$100,000