On-the-Job Training: Early Qdoba Franchisee Jumps in and Comes Up a Winner
When Indianapolis native Greg Willman and his friend Phil Salsbery talked years ago about forming a small investment company or owning and operating franchise concepts, they consciously omitted the restaurants category. "Neither of us knew anything about the food industry or had any experience in it," recalls Willman, who had worked in marketing and product development at large pharmaceutical, chemical, and medical device corporations.
Working in Denver in the mid-1990s, he found himself eating burritos three or four times a week at a busy new restaurant called Z-teca. The food was fresh, not expensive, and prepared quickly--and the long lines out the door didn't escape the notice of the would-be entrepreneur. (Z-teca would later become Qdoba Mexican Grill.)
"I had enjoyed working for others and had gotten some great corporate experience with lots of global travel, but I'd always thought I'd become an entrepreneur. With my antennae always up, I couldn't avoid seeing what was happening with Z-teca. I told my partner that I really thought Z-teca and this category had legs," Willman says.
Though the chain had only eight restaurants at the time, the partners signed their first development contract in early 1998 for 10 stores in the Indianapolis area. Willman moved back home to Indianapolis, and they opened their first four stores in 90 days, from October 1998 to January 1999.
"We dove right in," says Willman. "It was either the smartest or the dumbest thing we ever did--it almost put us under. We were small with no restaurant experience, but it ended up working out well and those stores all continue to do well."
Willman says he also didn't know a lot about franchising at the time, but that he did his homework and went into the deal with no preconceptions. "Getting involved with a company that only had eight restaurants was an experience in itself. They were still learning and building the model. We assumed they would have all the answers, and that didn't always turn out to be the case. But from the beginning, these guys have been terrific to work with and terrific partners. And since these were early times, we felt we had a voice in how the brand developed."
Twelve years later, Willman and Salsbery own 27 Qdobas in Indiana and South Carolina and expect to increase that number to at least 40 units over the next 5 years.
At the time they signed on, he says, the only franchises in the category were Z-teca, with 8 restaurants and Chipotle with 20. However, Willman's instincts proved to be on target. "I think this category resonates because the concepts live in the sweet spot where you can provide a casual dining setting with high-quality food at a marginally higher price than fast food, and within a similar time window," he says. "That's a combination of elements people are looking for. All the research tells us that people have no time, but that they aren't willing to sacrifice quality. These fast-casual concepts hit on that in a powerful way."
At the Indianapolis-based company, Willman, CEO and president, handles day-to-day management and operations, and Salsbery handles finances, raising capital, and researching new concepts and markets. "Our skill sets fit nicely, but the biggest mistake we made early on was failing to trust our instincts and our experiences. I think we listened too much to people who told us that restaurants were different animals and that none of our prior experience applied here," he says. "My partner came from a primarily manufacturing background. What is a restaurant but a mini-factory? So he brought a lot to bear. My background was marketing and new product development, so we actually did have a lot of important experience."
Willman, who believes in "sweating the details every day," says there is no deep, dark secret to their success. "We're not inventing anything or doing anything overly sophisticated--we're serving food. We're a meat-and-potatoes, blocking-and-tackling kind of organization," he says. "We try to be brilliant at the basics every day in every store so that guests have a great experience. We pay a lot of attention to doing that."
Their restaurants have survived the economic downturn "quite nicely," Willman says. "We reacted early and got focused on being cost-conscious and right-sizing where needed. As things have started to come out a little, we've been able to be pretty aggressive."
Three years ago, Willman and Salsbery added the Steak 'n Shake brand to their holdings, opening a new restaurant in Myrtle Beach. S.C. "Now that the new prototype store has opened in Rome, Georgia, and we know what it looks like, we'll be looking again at more development with them," he says.
The most rewarding part of his job, he says, is watching his team and 500 employees grow. "I take pride in the fact that we created this organization from a blank piece of paper and that it has enabled a lot of people to make more money and achieve more than ever."
Questions
Name: Greg Willman
Title: Co-owner, CEO, president
Company: 316 Investments LLC
No. of units: 27 Qdoba Mexican Grills;1 Steak 'n Shake
Personal
Age: 47
Family: Wife, 1 son and twin sons
Years in franchising: 12
Years in current position: 12
Key accomplishments:
Winners of multiple sales and operations awards with both Qdoba and Steak 'n Shake. Named one of the fastest-growing central Indiana privately held companies 4 of the last 9 years by the Indianapolis Business Journal.
Biggest mistake:
Listening to those who told us we had to approach running restaurants differently from other businesses we had been involved in.
Smartest mistake:
Opening our first four Qdobas in Indianapolis within 90 days of one another.
How do you spend a typical day?
I'm either in the office, meeting with staff and/or reviewing financials, ops, or marketing reporting, or in the field touring existing stores or potential new sites. I love to anonymously shop our stores.
Work week:
Seems like 24/7 sometimes. I'm usually in the office three or four days a week and then, the more we grow, the more I'm out in the field visiting stores and sites. With technology today, you can be pretty productive wherever you are, but mainly I want to make sure I'm accessible to our senior management team as much and as easily as possible.
Favorite fun activities:
Golf, boating, skiing, and attending kids' school, sports, and extracurricular events.
Exercise/workout:
Not nearly as much as I should, outside of chasing my kids around.
Favorite tech toys:
iPhone 4 and the store surveillance system I have in my office.
What are you reading?
Primarily Fortune, Forbes, leases, and franchise disclosure documents.
Do you have a favorite quote/advice?
I have two: 1) The definition of insanity is doing the same thing over and over while expecting a different result (Einstein, I think); and 2) There is nothing less efficient in business than doing that which does not need to be done at all as well as it can possibly be done (management guru Peter Drucker). I learned this second one in the first half of my career spent in corporate America before and after completing my MBA at Indiana University.
Best advice you ever got:
Do your current job as well as you possibly can and everything else will take care of itself.
Formative influences/events:
It was when I, as a kid, watched my second-generation German-American grandfather run an independent family farm after losing his right (dominant) hand in a farming accident. He was the hardest-working, most well-respected guy I've ever known.
How do you balance life and work?
I try to do that by making time to be home in the evenings when I'm in town and by attending all of my kids' school and extracurricular activities. We also spend weekends and holidays, when we can, at our lake house in Parke County, Indiana.
Management
Business philosophy:
Sweat the details because that's how you win.
Are you in the franchising, real estate, or customer service business? Why?
We're in the restaurant operations business.
What gets you out of bed in the morning?
It's walking into one of our restaurants when it's being exceptionally run and providing an outstanding experience for our guests. There's great energy there.
What's your passion in business?
My passion comes from knowing that we're doing right by our guests and right by our associates. That allows us to pursue everything else.
Management method or style:
I set direction, allocate resources, remove roadblocks, and actively assess and measure results.
Greatest challenge:
Scaling our model across multiple brands and significant geography.
How close are you to operations?
I interact with our operations management weekly, if not more frequently. I'm in our restaurants a lot.
Have you changed your marketing strategy in response to the economy? How?
We have utilized strategies and tactics allowing for more frequent dialogue with our guests, versus broadcast media and market-wide couponing.
How is social media affecting your business operations?
It hasn't affected our business operations so much as our marketing and relationship-building opportunities with our guests. It allows us to more consistently interact with our guests and for them to more easily interact with us--a more ongoing dialogue versus a more episodic approach. We can also interact in a more timely fashion. We can tell our guests what is happening in our stores now or what is about to happen, and they have the ability to provide us with immediate feedback, input or ideas. Texting and Facebook are our primary tools.
How do others describe you?
Focused. Impatient perhaps. Fair, I hope. Dedicated.
How do you hire and fire?
We hire on talent and interest and fire on attitude.
How do you train and retain?
We utilize career mapping tools and offer an initial training program along with ongoing touch points. We recently instituted a five-month reorientation program for hourly staff as we realized that we were losing a disproportionate percentage of folks at six months and that those who stay beyond six months stay for a significant time.
How do you deal with problem employees?
If over time, their best performance is average, it's probably not a good fit. If their performance over time moves between average and above average to great, that's a mutually beneficial scenario that we can both continue to invest in.
Bottom Line
Annual revenue:
Prefer not to say.
Growth meter: How do you measure your growth?
Comp store sales and new store openings.
Vision meter: Where do you want to be in 5 years? 10 years?
40-plus stores in 5 years and $50 million in revenue. That's about as far out as we're capable of looking.
How has the most recent economic cycle affected you, your employees, your customers?
It's forced everyone to reevaluate and accept the new normal. Guests are spending less and expecting more, and we're focused on and committed to providing that. Okay is no longer okay; excellence is required to thrive.
Are you experiencing economic growth/recovery in your market?
We're experiencing double-digit comp sales growth in both our markets with both our brands. Some others I talk to are not. We may be performing a bit stronger than the overall markets in which we operate.
What did you change or do differently in this economy that you plan to continue doing?
To steal from Jim Sullivan, we focus on being brilliant at the basics: great food, spotless environment, outstanding guest service. It's nothing new or different, we just narrowed our focus. Guests are dining out less and, in some cases, spending less when they do. Our brands are well-positioned to take advantage of this situation (fast casual gets trade-up from QSR and trade-down from casual dining) if we not only deliver but exceed our guests' expectations when they choose us. We viewed this as an opportunity to gain category trial from some new guests and to gain share with those guests who already dined with us.
How do you forecast for your business in this economy?
We look at our own internal trending, both current and historic, and ask ourselves why current trends should or shouldn't continue.
Where do you find capital for expansion?
Internally generated cash and a longstanding banking relationship.
Is capital getting easier to access? Why/why not?
Maybe somewhat easier versus when it was nearly impossible, but still very difficult. If you're an early phase company, I think it's still extremely difficult.
Have you used private equity, local banks, national banks, other institutions? Why/why not?
We've been able to satisfy our capital needs through internally generated cash and a longstanding national bank relationship.
What kind of exit strategy do you have in place?
No easily identifiable exit strategy apparent at this time.
What are you doing to take care of your employees?
We pay them well. We have provided extremely stable employment and growth opportunities for over more than a decade now, which is what we view as our most important function. In addition, we've had a general manager profit-sharing program from day one along with generous health insurance and 401(k) plans. We also provide park membership discounts, YMCA membership discounts, along with holiday parties, an annual offsite planning meeting, and the like. We also ask them to help take care of others through programs such as United Christmas Service and Habitat for Humanity.
How are you handling rising employee costs (payroll, healthcare, etc.)?
Healthcare is the primary challenge, and despite what's been reported over the last 18 months, it's getting worse and is going to continue to get worse. There don't appear to be any good solutions in this space right now. We're continuing to monitor events and assess our options between now and 2014. Our latest group health insurance renewal was not pretty.
How do you reward/recognize top-performing employees?
With aggressive profit-sharing based on a percentage of store-level profits and new, higher-volume stores, new store openings, and financial awards for sales achievement and recognition within their brand systems. We offer peer recognition on a "Wall of Fame" in our corporate office with pictures of each award-winning GM right outside our ops training room and GM meeting room, and we track and report on a variety of measures weekly. Qdoba is also working with the University of Phoenix now to give our employees 7 percent off tuition when they enroll in degree or certificate programs. They can also get credit for real-life work experience through the program.
Published: February 28th, 2011
Share this Feature
Recommended Reading:
Comments:
comments powered by

Disqus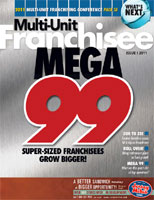 Multi-Unit Franchisee Magazine: Issue 1, 2011
We are looking for qualified, committed business owners interested in a franchise opportunity with a market leader.
$1M+ Avg. Revenue per Location. No medical experience necessary. Manage the manager franchise. Comprehensive training and support. Unique business...
Cash Required:
$75,000