Out of Site!: Technology Is Changing How Franchisees Select New Sites For Growth
Technology tools have become a mainstay for every multi-unit franchisee, used for planning, budgeting, forecasting, and many other daily activities. Today franchisees are embracing technology for demographic research and site selection.

Multi-unit operators and franchisors alike are availing themselves of many sophisticated web-based applications and desktop programs that provide highly specific data on local, regional, and national demographics sliced to order in an increasing number of ways. For example, a quick-serve operator in Denver can gather many types of information about a potential site based on address, ZIP Code, drive time, or mile radius. This data can be combined with myriad customer data such as age groups, household income and expenditures--and all in a matter of minutes.
The players
For multi-unit operators looking to get on the fast track with their expansion plans, SRC, geoVue, and ESRI are just three of the players offering up-to-date tools, analysis, and market data to their clients. SRC, for example, markets a tool called DemographicsNow, which can be customized for any franchise client. Arby's, Yum! Brands, Chipotle Mexican Grill, and California Kitchen are just a few of their franchise clients.

Dean Stoecker, SRC's CEO and president, says the company's web-based application helps customers locate strong prospective locations by providing in-depth market research data from 19 different databases analyzing traffic volumes, concentration of other retail businesses, and even the franchises' own proprietary data. Simply plug in the site characteristics criteria (based on responses to a series of questions) and a proposed location, and push a button. It's all crunched and compiled in maps, reports, and models, depending on how you want the data reported.

"DemographicsNow.com offers franchisees a complete and accurate resource for
property data and the ability to quickly visualize and analyze retail locations and
competitor sites," says Stoecker. Ultimately, the tool allows franchisees to create more insightful development plans and be better equipped to make strategic decisions on new locations.

Although he doesn't rule out the need to visit potential sites in person, Stoecker says today's technology not only shows how a proposed site shapes up on paper, but also allows franchisees to view aerial photographs of proposed sites and surrounding areas. "Technology can now provide an analysis that's both faster and scalable, yet provide answers in ways everybody can understand," says Stoecker.
Better info for better sites
"There's no question that technology now allows franchisors and franchisees to identify the strongest markets," says David Powell, vice president of sales and marketing for geoVue. "There was a time when you didn't have much choice but to rely on the local real estate agent on the ground." No more.

Optimal use of these tools, says Powell, requires a collaborative effort between his company and its franchise clients, which include Dunkin' Brands and Del Taco. "Most franchises know the habits and characteristics of their customers, and that's critical information for identifying top locations."

As the technology continues to evolve, it has moved from basic site selection to a more detailed market analysis that integrates ever more information from formerly separate databases. "It's much more complex and offers a clearer insight," says Powell. For example, geoVue provides a "market ranking and potential analysis" that essentially tells users which markets would be best to pursue based on their set of criteria. The firm's "market optimization" tool sheds light on how best to carve out territories, helping to eliminate encroachment and cannibalization. And its "site screening" tool helps evaluate locations based on demographic and competitive data.

The end result, says Powell, is that franchises are opening up more sites more quickly--and they are higher quality locations.

Based on their "perfect store" profile, franchisors can also use geoVue and similar tools to evaluate performance at existing units, says Powell. "They can help you decide where you might need to close a store because of changing demographics or other factors revealed through site analysis," he says.
Franchisors find it "ideal"
Andy Verostek knows a good deal about site selection technology: he uses it daily as market planning analyst for Del Taco, which has 500 restaurants throughout the country. "We use a desktop program that is also available in a web-based format," he says. "Real estate brokers and our franchisees call us with potential locations and we run the numbers."

Del Taco, which been using the system for about two years, views the service as an added bonus for its franchisees--and uses its company-wide meetings to showcase the system. Verostek says that although Del Taco doesn't charge franchisees a penny for the service, not all of them embrace the technology. The franchisor uses the technology for all its company stores, which account for 60 percent of total units, and corporate ultimately approves every franchised location.

One of the two tools Verostek uses determines optimum penetration in a DMA or region. If he examines a broader market such as Albuquerque, for example, it gives him an overview of the market's potential. The other tool he uses is more site-specific and maps such variables as where competitors and other Del Tacos are located. "We're running these numbers before we ever even consider breaking ground on a location," he says.

Like most users, Del Taco has created an ideal restaurant profile. "We know what a perfect area looks like for one of our restaurants. We've created a standard or benchmark, if you will," says Verostek. "We use internal data, licensed third-party data, and other public info sources to create reports. We try to make the reports easy to understand." That typically means an executive summary that explains how the proposed site measures up against the company's profile.

The system, he says, can completely analyze a proposed site and generate a report in as few as 15 minutes, 45 minutes at most (it might take longer if the site is located in a new development without street names, for example).

Verostek understands the technology has its place and its limits. "This was never meant to replace people on the ground visiting potential sites in person," he says. "But it does come alongside to increase accuracy and speed up the process."

Recently, a multi-unit franchisee called Verostek asking for help in expanding his territory. "I was not only able to give him three strong potential sites, I could even tell him which side of the freeway to be on," says Verostek. And of course, he could do it in minutes.

And, as geoVue's Powell noted, Del Taco has used its "perfect store" criteria to evaluate the performance of its existing restaurants. "You can use the tool to examine demographics and other variables and figure out why a unit is underperforming," he says.
Multi-unit franchisees "believe"
John Richards is a multi-unit Del Taco franchisee in Washington with two restaurants in the Puget Sound area and more on the way. Richards, who has a background in commercial real estate development, was so secure in his own site selection abilities that when he was ready to open his first Del Taco a couple of years ago, he submitted the location to Verostek, who booted up his program and gave it a look.

"I went to corporate and said 'I have the perfect location.' They ran the numbers, came back, and said, 'No, it's not, and here's why.'" It made a believer out of Richards.

Verostek worked closely with Richards to outline the successful characteristics of a Del Taco location, from the prime retail area to traffic patterns to consumer data. Armed with this new information, Richards went back and drove the Puget Sound area searching for potential sites that looked like matches. He then took those addresses back to Verostek, who would generate more reports.

"Sure enough, Andy was right," says Richards. "Don't get me wrong," he says. "I do my own research too, which helps me verify or argue with what Andy comes up with." He says he likes to "be on the ground, park my car at a site, and watch the traffic for a while."

Richards says real estate in his area is both expensive and hard to find. Choosing a bad location could be a critical error. The technology provides one more level of insurance against making that kind of mistake. "There's no easy answer for identifying the best locations, but this kind of technology definitely helps," says Richards. "And it helps save time, and time is money."
Multi-brand franchisees, too
InterOcean Coffee Company is a multi-unit operator whose portfolio includes Blockbuster Video, Palm Beach Tan, and, most recently, Dunkin' Donuts. Jim Riley is the company's chief development officer and another believer in using site selection technology tools.

"We just opened the first of 75 Dunkin' Donuts in the Phoenix area and are scheduled for another 50 in the Milwaukee market. We're at some stage of development with 26 units right now, and this technology is critical to our success," he says.

Riley says the technology allows InterOcean to accelerate the process of strategic planning. "We look at what is the potential penetration in the market. It's always different." From there, they determine and prioritize potential locations and index them from "1" on down. Finally, they assess how to properly distribute and space the locations for maximum impact.

InterOcean relies on the Dunkin' Brands site evaluation tool (geoVue), using MapInfo to couple that data with data from local real estate brokers in their markets. "We combine the findings and then merge that with our own POS data to get a better picture of where we should go."

Says Riley, "The more demographics we can add to the site selection process, the more three-dimensional view we can get." He adds that it's important the data be as current and accurate as possible.

"This technology can better position you against your competition if you have spent time up front putting together a strategic plan. If you're organized and aggressive you can get to the better sites first," he says. Riley says the job is not complete after the new site is selected and opened. "There's ongoing planning and validation. We store and mine these results for years to come."

Ultimately, site selection technology allows franchisees to identify top locations, get stores open fast, and with fewer resources. "Before we began using this kind of technology," says Riley, "it took nine months and extra staff to find a site and get it open. Now we can do it in half that time."
Open Late
Technology makes nearest Wendy's location just a touch-screen ad away

Earlier this year, Wendy's teamed up with in-venue digital music provider Ecast to use geographic technology to attract hungry late-night bar-hopping patrons.

The geo-targeted "Core Burger" campaign serves up interactive ads in the more than 5,000 bars and nightclubs equipped with Ecast's touch-screen music jukeboxes that are within one mile of a Wendy's location. The e-ads appear around the music on a touch screen. When an ad is touched, it expands into a "microsite" with sales-oriented information and directions to the nearest Wendy's.

Patrons also can enter a ZIP Code to find any of Wendy's thousands of other locations--and even to sign up to receive special offers from Wendy's by email.

"Our research shows that nearly half of Ecast users will stop off to get something to eat on their way home," says George Giatzis, senior vice president, advertising sales for Ecast. "The Wendy's campaign is a brilliant example of 'recency,' talking to the right audience at the right time and place."
Chipotle: Case Study
Technology provides the "quick-draw" on site selection

Finding prime, available real estate that meets company criteria and pulling the trigger on it before the competition does is a challenging task. Just ask executives at Chipotle Mexican Grill. For help, they turned to SRC, a geographic business intelligence solution provider.

Two of the goals were to increase the efficiency and scalability of its site selection process. The company's real estate managers were spending too much time with different laptop programs and static datasets to analyze revenue and target markets for each prospective restaurant site--one at a time. Further, there was no way to update the research process from the field, and site location analysis was inconsistent from one location to another. The company needed a better way to deploy more timely sales forecasting data and its complex site-selection model to its brokers.

"In addition to the accessibility of information, Chipotle understood the value and necessity of having real-time results," says Dean Stoecker, CEO and president of SRC.

Stoecker's company created a custom web application for Chipotle that uses a single, optimized tool to integrate the most current data and analytical information from previously disconnected procedures and programs. Chipotle's real estate managers now can apply their complex site selection model and sales forecasts for proposed restaurant locations in just a fraction of the time it used to take. The seamless, interactive system, says Stoecker, can be adjusted from the field or the corporate office.

It's a thrifty process too, he says. "Now Chipotle managers can do research and generate reports on a piece of dirt in a matter of minutes, not hours." Efficiency is systemic as more prospective locations are analyzed in less time, and better results have led to consistent and successful real estate transactions nationwide.

As Stoecker notes, "It all boils down to the speed of the deal being as important as the deal itself."
When You Lease Expect It
Control and manage your lease agreements with tech tools

The air conditioner at one of your Phoenix units has failed. The manager calls you and says it's so hot inside the store that customers are turning around and walking out. Your first thought is probably to call your local A/C repair business for what will probably be a costly service call.

Did you know your lease agreement may include a clause that you are not liable for A/C repairs? With new web-based lease administration technology, you could know that--and every other nuance tucked away in your contract--in a flash.

Most smaller franchisees simply file their lease away once it is signed. Now, a web-based support solution enables tenants to monitor lease portfolios, create comprehensive lease abstracts, and update all data as leases are amended and landlords change. This across-the-board access can allow franchisees to avoid costly mistakes in key functions such as contract dates, key lease clauses, cost allocations, reconciliation, and compliance issues.

This is exactly what Property Works, based in Decatur, Ga., offers franchise customers. Kimberly Finnegan, spokesperson for the company, says, "Often when a busy unit manager runs into a potential problem, her priority is to fix it and move on. The last thing a tenant wants to do is spend hours tracking down the lease and looking through the fine print. Yet by fixing the problem the franchisee may be jeopardizing future warranty protections."

REport ms, a web-based tool, contains a facilities management module that would have allowed the franchisee with the A/C problem to determine who was responsible for fixing it. By combining its software with the additional services of lease administration specialists who know where to find the savings in a lease, franchisees can save money and spend less time digging into their lease agreements.

Finnegan says it's not uncommon to realize thousands of recoverable dollars hidden in the fine print of lease agreements, adding that her company's web-based tools and lease management support services typically save clients--more than 25 different national brands--more than $125,000 cumulatively every month.
Published: February 16th, 2009
Share this Feature
Recommended Reading:
Comments:
comments powered by

Disqus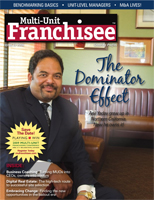 Multi-Unit Franchisee Magazine: Issue 4, 2008
The Drybar® brand, the category creator and a leading blow dry bar salon franchise, is seeking qualified owners.
Sky Zone created the world's first wall-to-wall trampoline park in 2004, bringing high-flying fun to guests across the globe. Now you can be...
Cash Required:
$500,000