Outstanding in the Field: Getting What you need, When You Need It
What franchisees want from corporate field support is pretty straightforward. Basic expectations include great products, marketing and brand support, ongoing training, site selection, purchasing power for goods and services, and participation in product and program testing. While those are the table stakes, what makes systems really successful and builds strong relationships between franchisor and franchisees is communication, consistency, and listening,
"For our organization, what's most important is for our field consultants to communicate the same message," says Spencer Smith, CEO of the Smith Group in Cortez, Colo., which operates nearly 50 Aaron's stores and 3 Rent A Wheel units across 8 western states. "We have 46 Aaron's locations, so we have 5 different field consultants from Canada to Mexico. We sometimes face the challenge of not having continuity of message. Consistency is key."
Finding the best ways to communicate, however, can be a delicate balancing act. "The challenge is finding the sweet spot," says Smith. "I've experienced both under-communication and over-communication, where there's so much white noise coming at us, especially in the email age, that the sweet spot seems to swing back and forth."
Don Davey, who operates 16 Firehouse Subs in Florida and Wisconsin and has signed a 10-year deal as an area developer for 42 more in his native Wisconsin, believes successful communication often comes down to good listening. "It's very important for the franchisor to listen to the franchisees. After all, we're the guys out there who've invested money in this brand and are living and breathing it every day. At Firehouse, I don't have a lot of complaints. They're good at listening to us."
Consider when Firehouse Subs corporate asked franchisees to increase their marketing spending by 2 percent. "That 2 percent came from our pockets, so we challenged corporate to help us offset the increase with cost savings elsewhere--maybe with better vendor pricing for food or software. So they set up a profitability committee and squeezed out that 2 percent in cost savings. That's how responsive they are," says Davey, a retired NFL player who received Multi-Unit Franchisee magazine's MVP Influencer Award for Former Pro Athlete in 2014, and was named the IFA's Franchisee of the Year in 2013.
Brooke Wilson, who with her husband Les owns nine Two Men and a Truck franchisees in North and South Carolina, Maryland, and D.C., says their business relies heavily on ongoing training, as well as on regular communication with the corporate field support teams to share best practices across the network. "A benefit of being part of a franchise system is that no challenge is unique," says Wilson. "We all deal with the same struggles and achievements, so sharing processes and methods that have proven successful eliminates trial and error and makes sense for everybody." She and her husband were named the IFA's 2010 Franchisees of the Year.
Ideally, field consultants and franchisees move in lockstep. But franchisors and franchisees are sometimes in different businesses, says Wilson. "As a system grows, the disconnect between corporate and local franchises can become more distant. Two Men and a Truck International and many other franchise networks have implemented strategies to limit the disconnect. Our FBCs spend a lot of time in franchise facilities and talking with franchisees and staff in an effort to really understand day-to-day operations, challenges, and successes.
"In addition, an elected representative body of franchisees regularly participates in business planning and policy update discussions with corporate, thereby providing opportunity for franchisee perspective at the corporate level. Although these measures aid in communication and mutual understanding, it's also important that both the franchisee and franchisor acknowledge each other's position and try to view circumstances from both perspectives. We do share the common goal of a successful, growing, and profitable brand, but accomplishing this shared vision requires a partnership and both pieces of the puzzle."
Training and HR
The challenge to franchisors is real. Examining a sample of 38 franchise concepts, FRANdata found that brands with a below-average ratio of both field support staff to franchised units and field support staff to franchisees tend to experience lower continuity rates and higher business failure rates, and that brands with an above-average support ratio tended to maintain a higher continuity rate than brands with a below-average support ratio.
Jacob Grosshandler, in a column for this magazine written when he was a research analyst at FRANdata (Q1 2014), put it succinctly: "Every unit closure represents a lower return on dollars allocated to development and training. In other words, if you are not adequately supporting your franchisees you are driving your ROI, earnings, and cash flow lower."
Davey cites an example of Firehouse corporate giving franchisees not only new products, but also the support and training that has helped them become more successful. "A lot of fitness people love our food but wanted something lower in calories. So after research and testing, Firehouse came up with a Hearty and Flavorful menu. We were excited, but franchisees wondered how to roll out this great idea in our restaurants," he says. "The field team came in, changed our menus, installed the new menu boards, and trained crews on how to make the menu. It was a smooth and seamless transition, and the menu is a hit."
Training also is near the top of Wilson's list of needs from Two Men and a Truck. "I am fortunate to be part of a system that commits a lot of resources to training, both initial and ongoing. No matter how great the training provided, franchisees will learn a lot from experience. However, it's important for us to utilize all the resources available to us, including corporate training, peer groups, and small-business networks," she says.
"Standard processes communicated at a corporate level must be tweaked to accommodate for market variance and personality. Finding the sweet spot in providing training at a general level while providing franchisees the opportunity to interpret and implement in a unique way can be tough," she says. "As a new franchisee, we wear many hats and are responsible for operations, marketing, sales, finance, and human resources. Because we are often self-taught in many facets of the business, it's helpful to have training itineraries with specific departmental focus and/or support in recruiting, hiring, and training department teams."
For example, Wilson says she and her husband have marketing-type degrees, are sharp when it comes to finance, and know operations like the backs of their hands. However, she says, "We are self-taught in human resources, an area of the business that provides significant risk, especially as our employee base grows and federal and state governments become more integrated. We recognize a need for someone smarter and more knowledgeable about HR than we are, but struggle with how to find the right person--and, once found, we are not equipped to train this person since they should know more than we do. In conceding to this fact and need, Les and I have hired third-party consultants to assist in identifying the specific need type and recruitment and development of this employee."
Sites, Processes, Procedures
Corporate help in finding the best sites is also of critical importance to franchisees, especially in the beginning, says Smith. "Site selection assistance is critical for the first few stores, but now that we're up to dozens of stores, I like to think our organization is as well dialed-in as the franchisor."
Wilson agrees that the franchisee should know more about their market than anyone else. "I think it's important for a franchisee candidate to research and understand the market of interest. A franchisor can help guide a candidate toward a market that meets the requirements for franchise development, but no one will know the community, market personality, and demographic better than the business owner," she says. "Understanding the wants and needs of a community is vital to a business owner's success in a franchise market."
Another topic of ongoing interest to franchisees is system processes and procedures. Smith believes that for every system, it is key to have "processes and procedures driven home in a productive way," he says. "The 'secret sauce' within the organization is having everyone doing everything the same way. With that being said, another value we get from our consultants is the sharing of best practices. In my view, there's a big difference between following the program and not reinventing it, and incorporating best practices from other franchisees and corporate divisions having success with them."
Wilson, who with her husband is co-chairing the IFA Franchise Action Network's Coalition to Save Small Businesses, is especially appreciative of Two Men and a Truck's benchmarking tools and business intelligence reports. "These are great. Participating in an open system of shared data with the ability to sort and filter content allows insight into my business, and benchmarking the data against other franchises with similar markets, fleet size, and revenue size helps to identify measures to strive for and franchisees to seek support from," says the 35-year-old entrepreneur, who credits her mother, Cecelia "Cece" Stewart, former president of U.S. consumer and commercial banking at Citibank, for her own burning drive to succeed.
Few franchisees would argue that they depend a great deal on corporate for marketing and brand support. When Firehouse voted "as a franchise community" to increase advertising spending nationwide, franchisees expected a lot from the national TV and radio ads and billboards they'd agreed to pay for.
"For the first time in history, from coast to coast, everybody in America is seeing our product," Davey says, citing the humorous Firehouse TV commercials featuring brothers and co-founders Chris and Robin Sorensen. "January was a fantastic month for us," he says. "If I were a mom-and-pop business involved in regional marketing, there would be no way to leverage all 800 other franchisees out there."
Smith, Multi-Unit Franchisee magazine's 2013 MVP Role Model Award honoree, also feels strongly that franchisees should be a part of testing new products, services, and programs. "It's important to do lot of beta testing before something new is rolled out. There are definitely nuances when it's rolled out in corporate and in the franchises," he says. "By selecting a division of corporate stores and some stores on the franchise side, it's easier to pinpoint problems quickly before it's rolled out to the entire system. It can save a lot of heartache and financial loss."
Davey has often volunteered his units to test items for Firehouse. "They own 30 stores and they test in their restaurants and also put it out for volunteers with franchises. We've tested items for them. Some have worked and some have not. But it's important for us all to go through this process," he says.
Negotiating better prices for products and services is another way corporate field consultants can have a major impact on franchisees, says Davey. "This is an area where they can really add value. Even within a local market like Orlando, which has 42 restaurants, they have successfully negotiated the prices of things like window washing, uniform cleaning, and even contractors building stores when they offered vendors all 42 restaurants in a nice contract," he says.
Says Wilson, "Two Men and a Truck offers a vendor partnership program that provides franchisees with a list of supplier referrals from qualified vendors that have a proven commitment to our franchise system in fields necessary to our business model. Open communication between franchisees and franchisors provides avenues for reference checks when pursuing new vendor relationships. Positive experiences with vendors travel fast; negative experiences travel faster."
Size matters
Though all franchisees aspire to success, their needs can differ depending upon their number of units and unique market challenges.
"When you're 2 or 3 units you need someone to teach you what to do, but when you get up to 30 or 40 units there are important little nuances within the culture that we're well aware of and seeing from the same viewpoint," says Smith. "We have a more global view."
"As a large operator, I face challenges that single-unit owners don't," says Davey. "To their credit, Firehouse and CEO Don Fox rolled out a large operators committee for those with more than five units. Twice a year we get together and talk about issues we face, such as how to train and what to pay district managers to oversee some of our restaurants, and how to comply with the Affordable Care Act. It's nice that the franchisor saw this need and gave us a forum for connecting with other large franchisees in our system."
Franchisors know that providing prompt and effective field support to franchisees is essential to the health of the system, says Davey. "The first thing would-be franchisees do is call up a system's franchisees to see if they're happy, making money, and getting support from corporate. Franchisors know the success of the brand starts with the franchisees. If they're not happy and making money, the system isn't going to be able to partner up with the best people."
Before becoming CEO at American Driveline Systems (parent company of AAMCO Transmissions, Cottman Transmission Systems, and Global Powertrain Systems) in September 2013, Brett Ponton was a franchisee. In fact his Heartland Jiffy Lube organization was the brand's largest franchisee, with more than 500 units.
"As a franchisee, you wake up every day trying to create value for your company, whether you're a large multi-unit owner or a small proprietor," says Ponton. "And as a franchisee, you expect your franchisor to be working on programs and initiatives that, at the end of the day, create value for you. That's the backdrop of what we're trying to bring into the company. Every initiative we launch is for the franchisee." And as a franchisor, he says, "Our key role as a franchisor is to grab the best practices from the body and share them with our franchisees."
American Driveline's support to franchisees includes training across three areas: technical, management, and ownership, says Ponton. "From the franchisee perspective, what makes great retailers is great people. I firmly believe it is our responsibility to provide the training to help develop good people and demonstrate to them a career path with the opportunity to grow both professionally and economically. As we provide these opportunities, we are rewarded with loyalty, more engagement, and better care of the consumer."
Another important development targeting franchisee success was the addition of Newnan, Ga.-based Global Powertrain Systems, which refurbishes transmissions. "This purchase directly helps our franchisees control their labor and inventory costs on their highest and most profitable ticket--transmissions--thus positively affecting their bottom line," says Ponton.
"This speaks to one of the requests we've gotten from franchisees to simplify the model and make it easier to execute," he says. And in February, American Driveline announced the opening of its new AAMCO University in Newnan, about 40 miles southwest of Atlanta.
Published: September 21st, 2015
Share this Feature
Recommended Reading:
Comments:
comments powered by

Disqus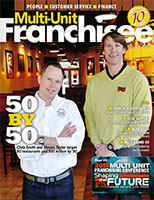 Multi-Unit Franchisee Magazine: Issue 2, 2015
The Drybar® brand, the category creator and a leading blow dry bar salon franchise, is seeking qualified owners.
Heyday is a fast-growing skincare company on a mission to provide expert skincare that empowers everyone to be their best self. Heyday is reframing...
Cash Required:
$350,000