Outstanding in their Field!: Six Multi-Unit Operators Tell How They Made It Big... Then Bigger
Some multi-unit franchisees take it to the limit. They're not content with one or two or even a handful of units. They want to rule the roost in their markets, their territories, and their brands. We like to call them Dominators. So once again we've lined up six top multi-unit operators--one of them approaching the 400-unit mark--to talk shop and share their stories with us. They've learned the ropes of franchising and aren't afraid to take calculated risks in the name of growth. After all, no risk, no reward.
With this group of dominators we've uncovered six more remarkable tales of discovery, transformation, and bare-knuckle expansion. Their stories reveal savvy operators willing to share some of their strategies, philosophies, and personal approaches to building and running a franchise organization. Their passion, dedication, hard work, and smarts have lifted them to the top of their game--and their stories are filled with payoffs generated by years of long hours, determination, and perseverance.
Though their journeys are unique, their common bond is a passion for their business, their employees, their customers, and their communities. Here's a quick look at this year's Dominators:
Greg Mooneyham is a natural risk-taker, which comes with the territory for this former Air Force pilot. But his decision to venture into the world of franchising in the fitness industry in the depths of an economic downturn was a calculated move. This 47-year-old is CEO of Atlanta-based JRG Fitness Operations, which recently closed a private equity deal to acquire 35 Snap Fitness facilities--making his company the largest independent North American franchisee of Snap Fitness.
Michael Knobelock likes to say he's been in sales his whole life. From selling newspapers as a teenager to creating his own restaurant concept last year (with another in the hopper), he can sell an idea and make it work. During the past two decades he's built a Southern empire that includes 34 Church's Chicken and 15 Little Caesars Pizza restaurants, and he operates his own full-service seafood/steakhouse restaurant, Dekkers Mesquite Grill.
Pam Wolfe was never afraid to roll her sleeves up and dive right in, chopping, kneading, and shredding ingredients in her Papa Murphy's pizza stores. "It's a great day when you can make pizzas all day long," says the 46-year-old. "That is the fun part." It's so much fun that she and her husband and partner Jim have expanded steadily and today operate 15 units throughout Minnesota, with annual revenue topping $8 million.
William Bruce is all about good vibrations. "My main thing is our people," says the 49-year-old COO of Abundant Brands. "We hire great people with the same vibration I have, that our company has, and our culture has. We have low attrition and that is a good win for us in all our restaurants." The good vibes are working for this former southern California surfer: his company's portfolio includes 241 Subways, 14 Costa Vida Mexican restaurants, 11 Roxberry Smoothies, and one Big Al's Bar-B-Q, dominating the state of Utah. Surf's up!
Guillermo Perales really defines a multi-unit franchisee dominator. When we last visited with him, he had 140 units across five brands. As of a few weeks ago, he was 2 shy of 400 units and looking for more. "We're in growth mode, yes," he says, a bit understated. This year alone, his growth mode has included adding 51 Arby's and purchasing 19 Burger Kings out of bankruptcy in the Dallas area, and adding 96 Burger Kings in central Florida. And talk about dominators: although he already has 72 Burger Kings in the Dallas area, his goal is to own all 96. Stay tuned.
Frank Bonanno could be called the Food Court of Las Vegas. His brands include Nathan's Famous, Häagen-Dazs, Johnny Rockets, and four Bonanno's New York Pizzeria restaurants (among others), which can be found in most major Vegas hotel/casino food courts, and his nearly 50 locations provide more than 700 jobs in the area. We last visited with Bonanno in 2010, but when we hear he was named 2012 Vetrepreneur of the Year by the National Veteran-Owned Business Association, we decided it was time to catch up. Still going strong at age 70, he says he may begin to slow down... but he has a business to run!
Along with the six profiles, we've included a list of the U.S. DMAs with the most franchised units, as well as the dominant franchisee organizations by region and by state. Thanks to FRANdata for gathering the information. Maybe it will inspire your own dreams of domination!
Published: September 21st, 2012
Share this Feature
Recommended Reading:
Comments:
comments powered by

Disqus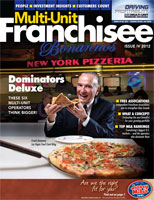 Multi-Unit Franchisee Magazine: Issue 4, 2012
Minuteman Press is the world's largest & number 1 rated printing & marketing franchise. Our business model features multiple revenue streams,...
Cash Required:
$30,000
Bad Ass Coffee of Hawaii brings an unforgettable brand, premium coffee products, and a proven business model to a booming coffee scene. We want...
Cash Required:
$100,000