Passion and energy drive franchise execs to new challenges
Steve Hockett was a successful Great Clips franchisee in the 1980s, and he'd be the first to tell you that he loved his job. The then 20-something had a knack for franchising. He was so good in fact, that within a decade he had worked his way up the corporate ranks and was serving as vice president of operations.

"I have a passion for the franchise model," says Hockett. "I like to see brands grow, and I like to be a part of that growth process."

While at Great Clips, he spent a dozen years in marketing and operations, both in the field as the regional director for the Great Lakes area, and later at headquarters as vice president of operations. As a member of the executive committee, he was heavily involved in establishing the strategic direction for the company. And while he was part of the management team, the franchise grew from 200 to 1,700 locations.

This success gave him a taste for life at the top and for franchise growth, appetites he took with him when he moved to FranChoice in 2002. As president, he focused on building what he refers to as "the premiere franchise consultant business."

While he liked the challenges at FranChoice, Hockett ultimately missed being on the franchise side. So in mid-2006, when the opportunity arose to take the reins at Rapid Refill Ink, Hockett was ripe for the challenge.

"What attracted me to Rapid Refill Ink was the fact that it's a smaller, growing brand, and it's in retail franchising," says Hockett, 45, who began as COO and now is president.

Hockett says he loves the retail franchising segment and cut his teeth on it in his days with Great Clips. "This opportunity was similar to Great Clips in many ways, and I knew that the strengths that I had cultivated at Great Clips would translate perfectly," he says.

Bringing maturity and structure to an emerging brand is something Hockett is comfortable doing. One of the first tasks he took on after coming on board at Rapid Refill was to centralize the corporate office, which had been divided between the Minneapolis/St. Paul area and Eugene, Ore. (It's now in Chanhassen, Minn.) "This move enabled us to become more organized and streamlined and build momentum much more quickly," he says. In fact, one of his regrets is that he didn't do it more quickly.

As with any change in management, Hockett has encountered challenges-some expected, some not so expected. "A small or fledgling franchise organization is going to naturally suffer from fewer resources in terms of things like capital and personnel," he says. "That can limit the timeliness and efficiency of the building and growth process."

He says it's important to understand who the franchisees are at a new and emerging concept. "Our franchisees are often young and relatively new to the business. They've got some learning and adjusting to do," he says.

Hockett says balancing the franchisor-franchisee relationship is one of his strengths as a leader. "Understanding the depth of the relationship between the two parties is crucial to operating a successful franchise," he says. He says franchise leaders must key in on what drives their franchisees, and ultimately help them achieve their goals.

To be a successful franchise leader, he says, it's critical to fully understand the unit economics of the system and be tuned in to what drives the business. "You have to be able to drill down and uncover the keys to each franchise system. Then you build support mechanisms and tools that help the franchisees, and ultimately the entire franchise, succeed."

And it's not just about enabling and supporting high-performing franchisees. Hockett is quick to point out that his corporate staff plays a vital role in the franchise's overall success-and says he's been able to retain most of his executives and add to the ranks in the new corporate office. A crew of 20 is now working alongside Hockett to build the emerging Rapid Refill Ink brand.

If Hockett's track record is any indication, "Rapid" will be more than just part of the brand's name.

One brand at a time
From where the enthusiastic Taylor Bond sits today, it may be surprising to discover that his franchise origins were as a Domino's Pizza franchisee.

Today Bond is president and CEO of Children's Orchard, the Ann Arbor, Mich.-based franchisor of new and used children's clothing, toys, and accessories. He's been at the helm since 2004. But like many franchise leaders, Bond has a history of conquering and moving on. This, in part, helps explain his newest franchise endeavor, Newcomers Welcome Service.

But first a little history. Bond's franchise experience dates back to the 1990s. After beginning as a franchisee with Domino's Pizza, he spent seven years at corporate headquarters in Ann Arbor, where he served in numerous positions including national director of market research and marketing director. He then spent seven years with Winmark Corp., beginning as a Computer Renaissance franchisee before working up to that division's president. Under Bond's watch, Computer Renaissance grew to more than 200 franchise locations with annual sales approaching $200 million.

In 2000 (like many others), Bond exited the franchise industry and founded an Internet computer company. As he readily admits, it was the worst possible time to enter that business. But he also says that experience sharpened his management skills, and among other things, "It gave me more of a technical background that I think many franchise execs lack."

In 2004, along with some partners, Bond bought Children's Orchard. He liked the opportunity because he was familiar with children-focused concepts-and says that he loves the challenge of "turning a sleepy organization into a top performer." He was also attracted by the brand's strong operational, financial, and legal infrastructure. Coming in, says Bond, he was eager to tighten operations and increase profitability and sales-trademarks of his tenure at Domino's and Computer Renaissance.

Children's Orchard recently launched Newcomers Welcome Service, a new franchise division. This home-based concept welcomes new residents to neighborhoods by personally delivering community information and special offers from local retailers and professionals.

Bond and his team have been developing the concept into a national franchise over the past several months. "I'm excited about the Newcomers Welcome Service because we get to build this from the ground up," he says.

In typical style, Bond is spearheading the initiative. As a leader, Bond says, he's developed the ability to break down a business into its simplest parts and analyze it. "What's the core concept? What's working and what needs to be fixed?" he asks.

Bond says his background in math, statistics, and finance is another advantage. "I think I understand these elements and at the same time I can communicate well with others." He calls it the ability to straddle both worlds-management and technology. Other strengths, he says, are his love of marketing and branding and his background as a franchisee.

Challenges, of course, are part of the game. Bond notes how many franchise organizations often suffer from a "legacy" syndrome. That is, they have always had a way of doing things and are often slow to change and adapt to new methods or ways. Bond believes franchise leaders need to be able to think fast, move fast, and act fast.

And while there's always an existing culture in place when a new leader arrives, his most recent landing was softer than he expected. "When I came to Children's Orchard, the team here was very receptive to the ideas and plans that I had," he says. And although smaller organizations typically have fewer resources, Bond notes they also tend to have less bureaucracy and red tape-which makes it easier to implement new plans and ideas.

"I really love to run companies," he says. "I love to fix things, to grow things. There are so many great franchise opportunities out there-more than I could get to in a lifetime."
Published: June 12th, 2007
Share this Feature
Recommended Reading:
Comments:
comments powered by

Disqus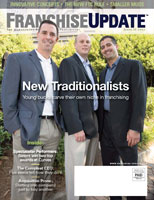 Franchise Update Magazine: Issue 2, 2007
The business messaging platform that lets you text from your office phone number directly on your computer, so you can actually get a response.
Support your multi-location brands and empower users. OneTouchPoint integrates localized marketing services and comprehensive brand management...