PE Buys Into Franchising: From unicorns to warhorses, M&A is on the rise
Private equity (PE) funds awash in capital face a growing need to put large amounts of money to work. Despite the strong pace of investment since 2014, PE dry powder, or uncalled capital, has been on the rise since 2012 and hit a record high of $2 trillion in December 2018 across all fund types.
Across all transactions and industries (franchise or otherwise), 4,754 deals worth $849.7 billion closed in the first half of 2019.
In the past 3 years, more than $600 billion of capital has been invested into buyout funds.
The number of U.S.-based sponsor-backed companies has grown by 5.3 percent CAGR over the past decade.
More than three-quarters of M&A executives at large private companies, and close to 87% of M&A leaders at domestic PE companies, expected to close a larger number of deals in 2019 than in previous years.
In recent years, PE in franchising has increased significantly. Our research services have been used by a growing number of PE firms as they seek to gain market insights to find brands (often in earlier stages of development), for due diligence information during the bidding process, and for business intelligence for strategic change following an acquisition.
Our research indicates that the number of franchise brands acquired by PE firms rose from 24 in 2012 to 60 in 2018. Over the same period, 87,488 franchised businesses were involved in PE-led M&A transactions.
Year

Franchise brands acquired by PE firms

Franchised units
involved in PE transactions

2012

24

15,404

2013

15

4,895

2014

29

15,300

2015

48

5,944

2016

35

14,003

2017

57

10,956

2018

60

20,986

Total

268

87,488
From unicorns to warhorses
Until early 2018, many PE firms targeted smaller, non-franchised "unicorn" chains with an eye toward consolidating them into their existing portfolio and franchising the concept at a later stage. Take the case of Fuzz Wax Bar, a Canadian concept with little presence. In 2018, Clear Summit Group (whose brands include Tutor Doctor and WSI) acquired a partial interest in the company intending to franchise the brand in the U.S. and beyond. In a crowded franchise space, which adds close to 350 new brands each year, it can be difficult for PE investors and their partners to spot unicorns with the best market potential.
The period since early 2018 has been one for "old warhorses." In 2017, the number of brands franchising for 10 years or more acquired by PE firms was about 64%. That rose to 69% in 2018 and 83% as of Q3 2019.
Examples of Legacy Brand Acquisitions by PE Firms (as of Q3 2019)

Brand

PE Firm

Started Franchising

Years in Franchising

Servpro

Blackstone Group

1969

50

Intelligent Office

Incline Equity Partners

1999

20

Jenny Craig

HIG Capital

1985

34

Hooters

Nord Bay, TriArtisan

1986

33

Budget Blinds

JM Family Enterprises

1994

25

Perkins

Elysium Management

1964

55

Abra Auto Body & Glass

Roark Capital Group

1987

55

Jimmy John's

Roark Capital Group

1993

26
Franchisees, too!
It's not just franchisors that are popular among PE companies. We are increasingly being asked by PE and hedge fund managers to assess large single-brand and multi-brand operators. Below are a few examples of big ticket franchisee deals in the past few years:
Argonne Capital Group has invested close to $530 million in various franchises, including the sole master franchisor for IHOP in Florida, and two franchisees in the system with operations in Texas and seven Western states.
Bandon Holdings, one of the biggest franchisees in the Anytime Fitness system, received a majority investment from the PE firm Fireman Capital Partners to help fuel its growth.
Health care real estate investment firm InvestSouth acquired in-home and hospice care provider Interim HealthCare of Greenville.
Chalak Growth Capital Fund acquired KFC/Taco Bell units in the Northeast. This transaction included 78 KFC units, 39 KFC/Taco Bell co-branded units, and 3 KFC/Long John Silver's co-branded units.
NPC International, one of the largest Pizza Hut franchisees, was acquired for $190 million by Olympus Partners.
Conclusion
Franchisees have gained the attention of PE firms attracted by the proven business concept, the potential for organic and rapid growth or an expansion (given the rise in resale activity among franchisees), together with the goodwill and strength of an established brand that franchise systems can provide. We do not see this trend slowing anytime soon.
Ritwik Donde is a senior research analyst at FRANdata. Darrell Johnson is CEO of FRANdata, an independent research company supplying information and analysis for the franchising sector since 1989. He can be reached at 703-740-4700 or djohnson@frandata.com.
Published: January 16th, 2020
Share this Feature
Recommended Reading:
Comments:
comments powered by

Disqus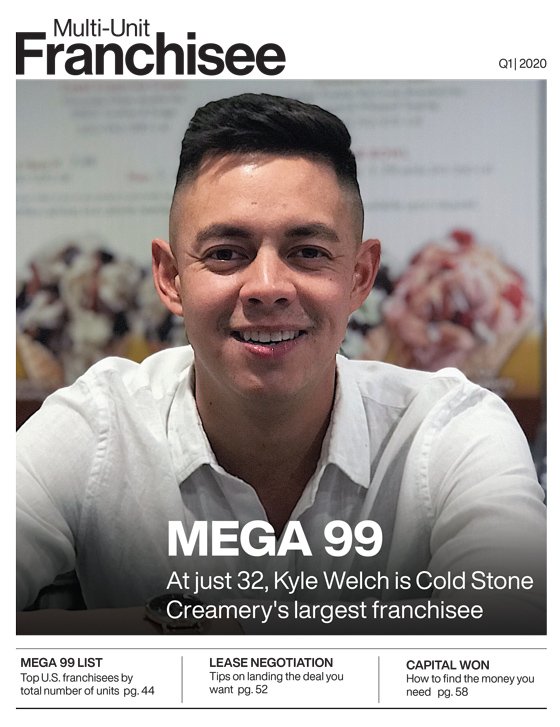 Multi-Unit Franchisee Magazine: Issue 1, 2020
Offering same-day service, a single low price, and a streamlined process that's simple to replicate, ZIPS is a standout in the garment care...
At LeafSpring Schools, we differentiate ourselves by a proven approach to early childhood education, validated by more than 35 years of successful...
Cash Required:
$400,000