Economic Downturn? What Franchisees Can Do Now to Be Ready
Signs over the last few months have shown that an economic downturn may be on the horizon. The federal government's policies in China are creating imbalances and disconnections in trade and global economic uncertainty. An inverted yield curve in the U.S., unpredictable global flash points, Brexit, and a contentious 2020 U.S. presidential election are all factors contributing to uncertain business conditions and hesitation around intermediate and long-term plans.
With more than 759,000 franchise businesses contributing $451 billion to the U.S. GDP, the franchise sector undoubtedly will be affected by an economic downturn. While many franchise leaders are taking a cautious approach toward the upcoming economic cycle, there are things franchisors, franchisees, and suppliers can do now to better position their business if a downturn does occur.
Communicate with key financial stakeholders. Transparency is important, especially during an economic downturn. No one likes surprises. Key financial stakeholders are much more forgiving and willing to be part of a solution if they are aware of problems early. Franchise businesses in need of cash flow relief can look to extend maturities and rework credit facilities to allow for interest-only payments. Now is also a great time to review loans and credit lines for opportunities to adjust pricing, collateral, term, and interest rate protection. Franchisees should communicate with their franchisor if they are at risk of missing development or remodel requirements or defaulting on financial obligations; franchisors may be able to offer temporary relief. Owners should also review their lease portfolio for opportunities to renegotiate leases or have landlords provide tenant improvement dollars for remodel projects. Marginal stores with no likely path to economic sustainability should look to actively renegotiate leases and/or make the hard choice to close the location (see feature, page 52).
Use tools to improve employee retention. While one of the positives of an economic downturn typically is reduced turnover, our next downturn may be different as unemployment is currently at a 30-year low. Talented employees may begin looking for new opportunities. To combat this, business owners can use behavioral hiring tools to help ensure they're hiring the right person for the right position and improving retention. There also are tools and technology available to help maximize employee shift flexibility, reduce overtime, and upgrade staff. The pace of technological change in the franchise and restaurant industry is creating winners and losers. Embrace new ways to hire, retain, and satisfy employees. New technology is enabling smart operators to better manage a challenging labor environment.
Engage a cost-savings firm. Cost-savings firms review business expenses and contracts to determine where owners can save money. These firms review such costs as electricity, gas, insurance, bank fees, trash disposal, and service fees. By engaging such a firm, QSRs, for example, can typically save between $200 and $400 or more per unit per month. Even small savings can add up considerably over time, which can improve profitability during a downturn. Cost-savings firms generally share in the savings over a set period of time and generally don't charge up-front fees. While finance executives may be reluctant to admit they missed a cost-savings opportunity, it's important to remember that it's difficult to monitor every opportunity. The best CFOs engage third parties to help improve the financial performance of their business.
Use a zero-based budget. Business owners often fall into the trap of budgeting for the same line items year after year. Just because you spent money in an area one year doesn't mean you need to spend it the same way this year or next. Every year, owners should look at each area of their business--utilities, inventory, contracts, etc.--to determine which costs are truly needed and which can be eliminated.
Consult a CPA or tax advisor. Many business owners aren't taking advantage of every tax credit available to them. A CPA or tax advisor can tell a business owner if there are any missed opportunities, like work opportunity tax credits, new opportunity zones, and other credits.
Look for growth opportunities. For franchisees with modest debt and strong liquidity, an economic downturn can be an opportune time to expand their business by acquiring assets and markets, as they have the advantage of being able to move quickly. They should look for expansion opportunities in desirable markets that may have been too expensive or unavailable previously. Business closures also can provide conversion opportunities. Franchisees who work with their franchisors early on can find closure and new build opportunities before others do.
While there may or may not be an economic downturn in 2020, there's no question that, if a downturn does come, it is beneficial for every franchise business to start preparing now.
Carty Davis is a partner with C Squared Advisors, a boutique investment bank that has completed hundreds of transactions in the multi-unit franchise and restaurant space. Since 2004 he's been an area developer for Sport Clips in North Carolina with more than 70 units. Contact him at 910-528-1931 or carty@c2advisorygroup.com.
Published: March 6th, 2020
Share this Feature
Recommended Reading:
Comments:
comments powered by

Disqus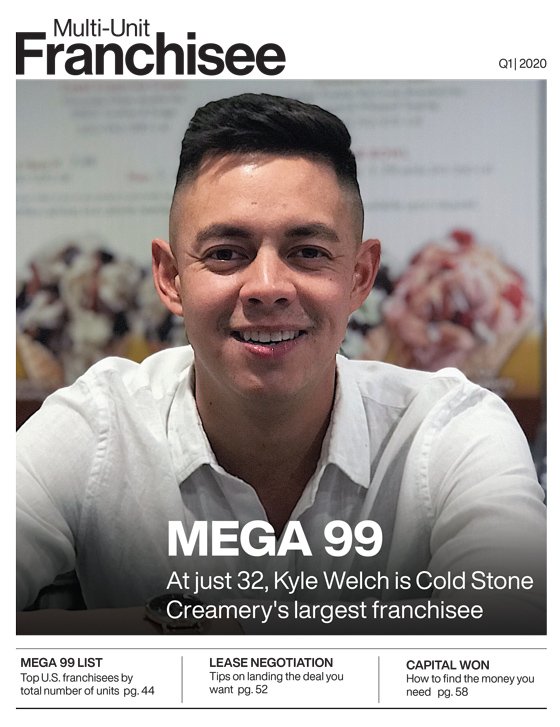 Multi-Unit Franchisee Magazine: Issue 1, 2020
Tropical Smoothie Cafe is a healthier, quick-casual restaurant brand with 1,175+ locations in 44 states. One of its key differentiators is what the...
Cash Required:
$125,000
Basecamp Fitness is empowering entrepreneurs to build an innovative fitness franchise in their markets while helping create happier, healthier...
Cash Required:
$250,000