Peak Performers: Steve and Joanne Reitz Aim for Perfect Every Time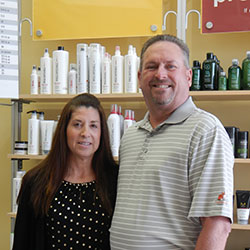 Steve and Joanne Reitz are partners in life and in franchising. Since we last checked in with him (2009, Q4) the two also have been partners in exploring. In 2010, with their teenaged son Matthew, they climbed Tanzania's Mt. Kilimanjaro (19,341 feet). "It was an amazing trip," he says. In fact, Joanne has been bitten by the exploration bug and has climbed several other mountains since, including Everest Base Camp in Nepal. But back at home, it's still business as usual for the husband-and-wife team.
When we last chatted with Reitz, he had 7 Supercuts salons in the Jacksonville, Fla., area and had just opened his first Five Guys Burgers and Fries restaurant in his territory of Western Oakland County, Mich. (Reitz, who now lives in Florida, grew up in Detroit. His brother, a contractor, still lives in Michigan and has handled the construction of Reitz's Five Guys units there.)
"It's been a tough market during the past 4 years," he says. "Restaurant sales have leveled off as there's been some market saturation for burger brands and the newness of the segment has worn off." Still, he's managed to open two more Five Guys locations in Michigan and added one Supercuts in Jacksonville. He hopes to open one more Five Guys location and at least one more Supercuts salon this year.
Reitz, whose growth has been calculated and conservative, says he's supported by two brands more interested in getting the right location with the right demographics and profitability than simply just adding stores for the sake of numbers. "That's important," he says.
Today, Reitz says, he's more focused on the operations of the Five Guys brand, and Joanne handles the Supercuts locations. "We have tried to focus more and more on the customer and the customer experience," he says. "We want to do it perfect every time, and that's how we differentiate."
Two knee surgeries have slowed Reitz a bit since we last spoke. But he's on the move again, enjoying a round of golf when he can, and watching his son pitch for his high school baseball team. He's also spent the last 12 years on the board of the Supercuts Franchisee Association and the Supercuts Advisory Council, which takes him to the company's Minneapolis headquarters six times a year.
Now 60, Reitz remains actively engaged in the business, but recognizes the slow march of time. He says, if his son is interested, he'd like to hand the business over to him in another 10 years. For now, he's focused on one customer at a time and delivering it "perfect every time."
Name: Steve Reitz
Title: President
Company: Reitz Enterprises
No. of units: 8 Supercuts, 3 Five Guys Burgers and Fries
Age: 60
Family: Wife Joanne, son Matthew
Years in franchising: 22
Years in current position: 22
Personal
First job:
On a Sealtest milk truck as a kid; high school teacher as a professional.
Formative influences/events:
Working in sales and marketing with Ford Motor Company, and studying with Dr. Deming there.
Key accomplishments:
Developed the training program for all of Ford's sales and marketing new hires.
Biggest mistake:
Leaving college to work in construction.
Smartest mistake:
Leaving college to work in construction because it taught me that I needed to go back to college.
Decision I wish I could do over:
Too many to list, but I haven't repeated too many of them.
Work week:
Seven days. Both of my business are open, and so am I.
How do you spend a typical day?
Check email, return email and phone calls, review previous day's sales, open mail, and process bills. Talk to my area supervisor on the restaurants. Visit one or two Supercuts locations, or as required to perform repairs.
Favorite fun activities:
Playing golf, working on golf clubs, and watching my son's high school baseball games.
Exercise/workout:
Not much lately. Two knee operations have slowed me down.
Favorite tech toys:
iPad.
What are you reading?
The Billionaire's Vinegar by Benjamin Wallace.
Do you have a favorite quote?
"It's not what you don't know that makes you foolish, it's what you know that ain't so." (Unknown)
Best advice you ever got:
Trust your instincts.
What gets you out of bed in the morning?
There's always something to get done, and there's always something I need to know.
What's your passion in business?
I really enjoy making or building something from scratch. A new location, a new incentive, or a new way to look at something.
How do you balance life and work?
Because I work out of the house, and because I share three corporations with my wife Joanne, the two seem to go together. It is getting harder and harder to separate the two, but I'm not complaining.
Last vacation:
Week of the 4th of July spent at my brother's lake house.
Person I'd most like to have lunch with:
Alive: Donald Trump; deceased: Ben Hogan.
Management
Business philosophy:
Treat your employees like family, and treat your customers like guests.
Management method or style:
Low profile. Empower the managers to act like owners. Trust but verify.
Greatest challenge:
To find and retain excellent locations for both concepts.
How do others describe you?
Probably as a nice guy.
One thing I'm looking to do better:
Do that life/work balance, and to be better organized.
How I give my team room to innovate and experiment:
Together, we identify opportunities, but the staff is assigned the task to develop an actionable idea to address the subject. I will sometimes provide suggestions or ideas.
How close are you to operations?
With Five Guys I am very close, with Supercuts, Joanne handles most of the operations stuff and I do the physical stuff.
What are the two most important things you rely on from your franchisor?
In the early days I relied on their recommended structure and construction recommendations. Now, I rely on their second-party observations and sometimes on providing best practices from other operators.
What I need from vendors:
Choices and the lowest prices possible.
Have you changed your marketing strategy in response to the economy? How?
Not really. We have been focusing on doing the basic things perfectly to keep customers at the front of our priority list.
How is social media affecting your business?
Good question, wish I had a good answer. We participate so as not to be left out, but I'm not sure what it does for us, and I won't quit just in case it's doing more than I think.
How do you hire and fire?
We do both with an eye on improving our operations. We try to hire future managers, and we fire people who won't or can't contribute to our improvement.
How do you train and retain?
I was attracted to both concepts because of the training that is provided and/or required. Everyone is offered training to improve their skills and knowledge of the business, and we retain because we provide a pleasant and professional work environment with growth and development opportunities.
How do you deal with problem employees?
We (usually the manager or direct supervisor) address the issues or behaviors with the employee, develop an action plan for improvement along with a timetable for resolution, and then follow up consistent with the timetable. Everything is documented as well.
Fastest way into my doghouse:
Disrespect a customer or co-worker.
Bottom Line
Annual revenue:
$5.2 million.
2014 goals:
To maintain year-over-year unit sales, but to improve efficiencies within each company to increase profitability.
Growth meter: How do you measure your growth?
It seems flat is the new up. We try to focus on each customer to ensure loyalty, so we always value the repeat customer measurements that are available. New customers represent our growth and growth opportunities going forward.
Vision meter: Where do you want to be in 5 years? 10 years?
In 5 years I'd like to be less involved in the day-to-day operations while still being involved in the big picture decisions. In 10 years I hope to be alive and healthy and have the business turned over to our son. If he elects to pursue a different career path, see my 5-year goal.
How is the current economy affecting you, your employees, your customers?
I feel each category is affected, and I feel we all make our decisions with more caution and more consideration for our options. In a tight economy even small decisions matter.
Are you experiencing economic growth in your market?
I think the real estate market is returning, but the retail energy is cautiously optimistic.
What did you change or do differently during the economic downturn that you are continuing to do?
I think we are being more selective in our hiring practices, which works better for both us and the employees.
How do you forecast for your business?
I forecast for staffing requirements and plan for internal development of my current and future managers. I don't do very well when I try to forecast for sales performance.
Is capital getting easier to access? Why/why not?
I don't know. I don't use outside capital.
Where do you find capital for expansion?
All internal.
Have you used private equity, local banks, national banks, other institutions? Why/why not?
Haven't used it. I try to pay as I go.
What are you doing to take care of your employees?
I try to create a work environment that is conducive to longevity. We offer limited health and dental insurance and a 401(k).
How are you handling rising employee costs (payroll, healthcare, etc.)?
We look constantly for the best deal in all of our vendor options, but we are limited by how much is really in our control. We work closely with our insurance providers to find ways save money and to prevent claims.
How do you reward/recognize top-performing employees?
We are in the locations regularly, so performance recognition occurs in person on a regular basis. Incentive or contest winners are also congratulated in person, usually by Joanne.
What kind of exit strategy do you have in place?
None yet. I'm still having a lot of fun.
Published: June 2nd, 2014
Share this Feature
Recommended Reading:
Comments:
comments powered by

Disqus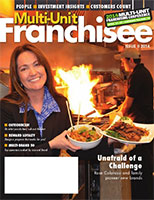 Multi-Unit Franchisee Magazine: Issue 2, 2014
Get A Piece Of The Booming Cannabis Market Without Headaches.
Cash Required:
$1,000,000
When simplicity is the essence of your business model, clients and owners benefit. Clients want a predictably wonderful experience with every visit....
Cash Required:
$100,000