Phil Greifeld, Huddle House
After 10 years in Atlanta, Phil Greifeld hasn't lost much of his New York accent. But after a stint as chief executive officer of the Huddle House chain, he has developed an appreciation for shirt-sleeve weather in winter, and for some of life's simpler pleasures -and smaller places.

"My travel is not glamour travel to New York or Paris,'' says Greifeld. "My travel is going to towns like Gun Barrel, Texas and Big Stone Gap, Virginia.''

With Huddle House, a 40-year-old company that traditionally has located its restaurants in smaller markets in the Southeast, such locales have proven to be the path to continuous growth. The company is now up to 390 franchises and 180 franchisees, with recent openings in Virginia, West Virginia, and, yes, Gun Barrel, Texas.

Recent recession years did nothing to blunt Huddle House's growth or profitability; the company's seven new franchises in Missouri have posted the firm's highest daily sales average.

Plans are under way to open Huddle House stores in Ohio this year-proof that the Huddle House brand is geographically transportable, he says.

"When there's a softer economy, we just keep chugging along,'' Greifeld says.

Part of the reason is the company's focus on smaller towns, he says. While fast-food competitors such as McDonald's and Burger King and the like tend to stick to interstate highway locations, Huddle House actually likes to leave the beaten path, says Greifeld.

"A lot of our towns average 7,000 to 8,000 folks,'' he says. "When we see these places, they're sweet spots for us.''

In such places, a Huddle House restaurant becomes more than a fast-food or casual dining restaurant for customers, Greifeld says. "For some people, we become a steakhouse,'' he says. "In those towns, we develop something of a universal appeal."

For Greifeld, a 43-year-old Long Island native who begins each day with a cup of Huddle House coffee, and ends the night on each road trip with a call to his wife and college sweetheart, Carolyn, the secret to the company's success is simple if not exactly easy.

"At the end of the day, what we try to do is to advance the brand,'' he says. "We continue to just say we're going to get better every day at what we do.

"We buy land, so we're in the real estate business; we purchase food, so we're in the distribution business. We have training for our staff. Whatever we do, we do to get better.''

The overriding corporate goal, Greifeld says, is to continue to improve as a company. "I'm a big believer in the saying that quality begets quality,'' he says. "That makes our execution better, and it builds culture and teamwork. The focus is, how do you advance the Huddle House brand?''

There are always difficult choices to be made, Greifeld says. Working with a chain of individual franchise owners can be demanding and at times confusing.

"Day in and day out, you can't please everybody all the time," he says. "I tell our people, if you're ever faced with a tough decision, use the brand as your moral compass. Do what is best for the brand.''

Greifeld joined Huddle House 10 years ago as chief financial officer, shortly after the company was acquired by a group of investors with whom he was familiar. In 1999, he moved up to CEO, and promptly began making changes, such as developing and testing a new interior design for the restaurants.

"Some people thought, 'What is this guy doing to our brand and our image?''' Greifeld says.

But after much research and several prototype designs, testing in several different markets proved the new Huddle House decor to be a success. Sales at those franchises went up by 30 to 40 percent, Greifeld says.

"It's still the same footprint, but the décor is completely different,'' he says. "It's expanded our customer base, attracting more women as customers.''

Greifeld also upgraded his restaurants' food quality and menu offerings, and developed a computerized point-of-sale management and inventory system for Huddle House stores.

"But the biggest thing we've done is to continue to invest in our people,'' he says. "You can go out and develop a great restaurant concept, but if you don't have the right people in place, it won't work.''

Business always has been his passion, says Greifeld. Even as a youth growing up on Long Island, he found himself drawn to the business world. While still a teenager, he accompanied an older sister to some of her classes at Harvard Business School. He didn't really understand much of the material, Greifeld says, but found it fascinating nonetheless.

"I love business,'' he says. "Not just the business I'm in. I generally have an interest in business. I read the Wall Street Journal every day, to keep up on trends. It's a hobby of mine."

Greifeld likes to surround himself with similar personalities. "I like people around me who are equally inspired about business," he says.

"Remember, we're also in the food distribution business, so I have strong opinions about the oil industry, about taxation, about wages. Business is so global; so are my interests."

In college, at the State University of New York at Oneonta, a small school located in upstate New York, Griefeld majored in economics with a minor in accounting. That also is where he met his future wife, Carolyn, when both were in school taking classes before their senior years.

"Come to find out, we lived 40 miles apart on Long Island.''

Now married 18 years, the couple have two daughters-Britt, 14; and Kelsey, 12. "They keep us busy,'' Griefeld says.

Not that Griefeld has much time to spare from his work at Huddle House. But he always finds time to block out his calendar for unannounced visits to franchises all over the map.

"Listening to our customers is the best market research we can do," he says. "And I enjoy it."

At times, Griefeld says, he grabs his vice president of operations and takes over a store for a week to 10 days at a time. "We do a lot of unannounced visits," he says. "If people know I'm coming to a store, they'll do a lot of things differently."

On some mornings, Griefeld says, he gets up, doesn't shave and throws on casual clothes to drop in on a Huddle House near Atlanta and mingle with customers.

"Our customers are not shy about telling it like it is,'' he says.

Most days, however, find him in his office at Huddle House headquarters in Atlanta. Like this morning, when he is just off the telephone, after attending to a franchise opening in Kentucky… no, make that Missouri.

"I can't keep up," he says. Growth has been just been that constant and rapid.

"Sometimes I like to look back at where we were 10 years ago," when he and a new management team took over a franchise company that had been historically profitable but in need of change and refurbishing to compete in the 21st century.

So far, Griefeld says, the challenge has been met and the results have been pleasing. But there's always a new goal to meet.

And another cup of Huddle House coffee waiting each morning.


Tom Steadman is a newspaper reporter in Greensboro, NC.
Published: April 25th, 2005
Share this Feature
Recommended Reading:
Comments:
comments powered by

Disqus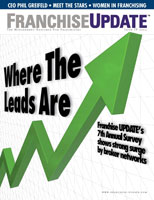 Franchise Update Magazine: Issue 4, 2004
Sociallybuzz, founded in 2009, is the #1 Social Media Marketing Agency to help franchisors and franchisees increase their revenues, drive sales, and...
Hub by Thryv is an end-to-end client experience platform custom-built for franchises. Its ready-to-use business apps help franchisees view their...