Previously Owned: Used Equipment Saves Costs, Boosts Profits
Ken Greene has a secret. When he gets ready to open a new Honest-1 Auto Care franchise unit in New York (34 now and counting), he knows how to save up to 60 percent on the cost of his equipment.
That's significant when you're talking about the thousands of dollars (or tens of thousands, depending on your concept) of equipment required to open and sustain a new restaurant. How does Greene do it? He buys used equipment, everything from ovens to stainless steel tables to coffee machines, and more. It's a similar strategy to what automobile buyers discovered a few years back. A slightly used vehicle with low mileage is still a quality vehicle and comes at a fraction of the price of a new vehicle. Smart multi-unit franchisees are applying this same line of reasoning to buying equipment for their growing operations.
Whether cash-strapped start-ups or veteran multi-unit operators who want to get the most bang for their buck, more franchisees are turning to people like Fred Phillips.
"Buying used equipment for your franchise locations is a smart idea," says Phillips, president and CEO of Restquip, a company that resells used restaurant equipment from its 1 million-square-foot warehouse in Northern California. "Franchisees can still get great equipment while saving a significant amount of money that can be poured back into their operations."
Phillips, who's been in the business since 1991, has worked with a number of franchise companies and franchisees over the years including Arby's, KFC, Wendy's, Golden Corral, and Burger King. Lately, Restquip has been buying a lot of Burger King equipment from units that have closed or gone out of business. He then resells the equipment--typically to other Burger King operators--who are expanding and want to keep it frugal. It's a perfect fit--literally. Same-brand equipment, specs, and sizes translate very cleanly from one unit to another.
Repair and resale
Neal Sherman is president and CEO of The Advantage Group (TAG), a 23-year-old company in upstate New York that specializes in repairing and reselling used equipment. This is no small operation: the company occupies 2.5 million square feet on 1,000 acres at a former military base.
"We work with large chains and franchisees and franchisors to supply a lot of back-house equipment," says Sherman, "everything from cooking, beverage, refrigeration, mixers, pizza ovens, fryers, and coffeemakers." His franchise client list includes Church's, Little Caesars, and Applebee's.
Like Restquip, Sherman's company offers franchisees an alternative to higher-priced new equipment purchases. "We provide an effective way for growing franchisees to reduce their capital equipment expenses," he says. Also, he says, by refurbishing and selling old equipment, the environment is not in danger of having more old equipment dumped into landfills and more resources, materials, and energy devoted to building new equipment. According to Sherman, franchisees can typically expect savings of "30 to 45 cents on the dollar buying used versus new equipment."
"Used equipment is going to be half or less what you pay for comparable new equipment," says Phillips. "If you're going to have to borrow money to buy equipment and the interest rate is 15 percent, why not get what you need used for $6,000 rather than buying it new for $12,000?"
Need more incentive? According to Phillips, some new equipment manufactured today is simply not on a par with its predecessors. "Some of the older Hobart equipment is by far better quality than some of the comparable new stuff being manufactured today," he says.
Sources and solutions
The Advantage Group has access to many franchise restaurants that are transitioning, remodeling, or just closing. This puts a lot of used equipment into the marketplace, says Sherman. Yet there is a strong need and market demand for used equipment--especially when it can be redeployed within the same system. Restquip does essentially the same thing, says Phillips, mining liquidations, foreclosures, and even eBay.
Both scour all kinds of auctions for good used equipment--and both warn this is not a task to be undertaken lightly. Years of experience has qualified these companies in the fine art of discerning the quality of a variety of used equipment. Phillips says Restquip has "field scavengers" all across the company who watch for closing units and equipment for sale.
The Advantage Group not only refurbishes equipment at their huge facility, they also repair equipment at existing franchise locations. If a growing franchisee buys a closed unit, any of Sherman's 1,200 repair associate contractors nationwide can arrive onsite and repair malfunctioning equipment.
Both Phillips and Sherman say they offer their customers guarantees on all equipment purchased. "Generally, anywhere from six months to a year," says Phillips.
Still, some franchisees look to bypass middlemen like Phillips and Sherman and visit local and online auctions themselves in search of used equipment values. That's fine, say both Phillips and Sherman, but you'd better know what you're looking at.
Phillips tells of a customer who purchased three Taylor ice cream machines online for use in a new yogurt shop in California. "Codes here do not allow water-cooled equipment, only air-cooled. He was assured by the seller in Florida that the machines were air-cooled and not very old," says Phillips. "We received the machines in our warehouse for him, and surprise, they were actually all water-cooled, and built in 1985." The customer paid for the machines, shipping, and then paid Restquip to convert them to air-cooled. "That process increased his cost far above what he would have paid us for the correct machines."
Professional advice
Phillips and Sherman agree there can be some limitations to used equipment. For example, many franchisors frown on purchasing used equipment. It could hurt the quality of the brand and its products, they reason. Other franchisors demand specific brands and equipment that can only be purchased new. McDonald's, for example, requires the purchase of only new equipment.
The buying decision also may depend on the location. Says Phillips, "If you're building a new location from the ground up, it may be best to go ahead and purchase all new equipment. But, if you're moving into an existing location or taking over a unit, used probably makes sense."
Sometimes a mix of new and used equipment is a perfect match. Generally speaking, both Phillips and Sherman recommend staying away from used refrigerator-type equipment or smaller equipment that includes compressors. "The natural lifecycles on this kind of equipment are just too short, and this stuff is not that expensive to buy new anyway," says Phillips. However, stainless sinks and tables, for instance, which have no moving parts, can last for years. That makes a great used buy. If a Burger King franchisee can find the right brands and same models in good used condition that the franchisor requires, buying used makes sense.
And as already mentioned, anything purchased directly from a seller or through an auction is simply going to fall under the banner of buyer beware. "If you are not familiar with the equipment you are looking for, how it works, and how to know its condition, then you're taking a risk," says Sherman.
That risk is critical to any discussion concerning buying used equipment. Ultimately, you do not know how it was used or maintained, nor how much life is left in it. It may last a few years or just a few months--a gamble many franchisees are willing to take.
As for the upside of buying used, Phillips says, "Purchasing used equipment can be the difference between making money or not making money."
Corporate likes it, too
Ken Greene has been operating Bruegger's locations throughout New York for the past 24 years. He has 34 units open and also operates 5 Great Northern Pizza Kitchen restaurants--one of his own creations. In what some might dub a stroke of genius (or at least foresight), he began buying used equipment about five years ago.
"I would buy almost everything used if it always met my specs and I could get it in the size I needed," says Greene. He estimates that he buys about 60 percent of his equipment used. He has relied on bank financing, leasing companies, and his own cash for purchasing, and says he has not had any issues with lenders balking at the purchase of used equipment. "But I do have a long history with these folks," he adds.
Greene's restaurants require ovens, refrigerators, stainless steel tables, and coffee machines, among other daily use equipment. He says he's not afraid to buy used in most cases because he's spent two dozen years around the equipment and knows what to look for--and what to avoid.
Basically, he says, he looks for structurally and functionally sound equipment. "Refrigeration equipment is a whole other beast," he agrees. "You just understand that at some point--probably sooner rather than later--you're going to have to replace compressors."
Bruegger's corporate doesn't mind that Greene purchases used equipment--if it meets corporate standards. "As long as the quality of products that we deliver is up to snuff, they don't even care what brands of equipment I buy."
Greene is cautious about dealing directly with sellers and auctions. "The equipment is generally only as good as the people you are buying from," he cautions. That's why he buys from equipment resale and refurbishing companies like Restquip and The Advantage Group, although he says auctions can sometimes offer better prices. At auctions, he buys basic equipment with nonmoving parts, such as shelves and tables. But with higher-dollar items, it's a bigger risk-reward decision.
"What I like about working with The Advantage Group is that they can fix, move, and replace equipment throughout our system of restaurants," says Greene. He also finds used equipment an attractive buy because prices are generally negotiable. "It's really a matter of supply and demand and being in the right place at the right time."
When it comes to buying from a supplier like The Advantage Group, another plus for Greene is, "I can walk through their warehouse looking at all the various equipment and come across a machine that maybe I'd never thought about using and realize, 'Hey, I could use this!'"
Greene also is conscious of the upside of reusing and recycling--another reason he likes to buy used equipment when he can. "It's nice when something can be fixed up and refurbished and used again," he says. "I feel like I'm doing my part to keep more waste out of landfills."
Heavy equipment, light price
Jim Henkel is a multi-unit franchisee with three Honest-1 Auto Care locations in Minnesota. He's also a pioneer in buying used equipment within the Honest-1 Auto Care system.
"I brought this idea to the franchisor a few years back and they saw the value in buying used equipment," he says. "They encouraged me to talk about the advantages of buying used equipment, and now other franchisees in the system are doing it, too." After all, cost-savings in fixed expenses increase profitability.
Things are little different in Henkel's world than they are with a restaurant franchise. He's not buying ovens, refrigerators, and coffee machines, but higher-priced automobile hoists, tire and wheel alignment equipment, and A/C equipment. The advantage for him is that most of the equipment he buys is long-lasting--20 years or more--which makes purchasing it used a great choice.
He does most of the buying himself, directly with the seller. He shops local and national auctions, online (eBay and a few auto equipment-focused auctions), equipment brokers, and equipment leasing companies that have repossessed equipment and are looking to unload it at a significant discount.
"Most of my used equipment purchases are 'as-is' so you really have to know what you're doing," he says. That's one of the reasons he likes to buy from brokers when he can, as they often provide a short guarantee on the equipment. It's also why he stays away from some types of used equipment. "Computer-based or electronically controlled equipment is very risky to buy used, so I usually don't do it unless I can actually see it in operation."
One drawback of the used equipment route, Henkel says, is the sometimes lengthy process of searching out equipment and finding what he needs in good working order. "It takes time to find the really good deals," he says.
Henkel says that the used equipment he buys can require some cleaning and occasionally minor rehabilitation. He calls it "TLC," but because he can save up to 50 percent of the cost of buying new, this is a minor inconvenience he can live with. Besides, he estimates that around 75 percent of the time there's no maintenance at all needed. It's ready to go. He says he's even paid as little as 25 percent of the list price of a new product when he found it used. And although he often has to pay to have the equipment shipped to him, this cost is nominal compared with the savings he finds.
He admits that he's been burned a few times on some purchases of used equipment--but that's just part of the risk/reward gamble he takes, and says the payoffs have far outweighed the losses.
New Building: 60% Off!
Franchisee saves big on "unopened" modular unit
The 14- by 54-foot modular building had been constructed for a corporate Checkers restaurant that never opened. The building was sitting, unused, in a warehouse in New Jersey when Checkers contacted Michigan franchisee Mike Burkhardt.
"I got a call from corporate saying they had this unused modular building and wanted to know if I'd be interested in it," says Burkhardt. He was looking to expand his operation, so his answer was a resounding yes.
Burkhardt was able to acquire the building for about 40 percent of the cost of a new one. The only drawback was that it needed to be brought up to Michigan code and shipped across the country to its new home in Wyoming, Mich.
"The cost of having it shipped here was reasonable, and I hope the cost to bring it up to code will be nominal," he says. The building was set in place in mid-April. He plans to have the new unit open by June and is expecting to employ about 35 full- and part-time employees.
"I got a used but never opened building for a fraction of the cost of trying to open with a new building," says Burkhardt. "I think that makes a lot of economical sense."
Published: July 6th, 2010
Share this Feature
Recommended Reading:
Comments:
comments powered by

Disqus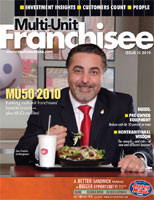 Multi-Unit Franchisee Magazine: Issue 3, 2010
A one-of-a-kind concept with wood-fired pizza and a self-pour taproom wall serving beer, wine, and mixed cocktails. Great for the semi-absentee...
Cash Required:
$250,000
Join the growing $658 Billion dollar grocery industry. Save A Lot is the nation's leading independent grocery chain. Our proven licensed model...
Cash Required:
$300,000