Who Doesn't Like to Punch? Jabz Boxing Founder Kimberlee White goes National
Kimberlee White remembers doing a circuit-style boxing workout at a studio several years ago. She loved the workout but didn't care for the male-dominated environment. She wasn't alone. It turned out this was a common feeling among many women, and it became the impetus for a business idea.
White and her business partner Len Hayko bought a small warehouse in Scottsdale, cleaned it up themselves, and brought in a welder to build a boxing ring. When they opened their first Jabz Boxing studio in 2012, their goal was to create a full-body circuit-style workout that used boxing-inspired exercises and was designed specifically for women. They hoped to provide great workouts, great instructors, great music, and a great environment. The concept was a local hit, word spread, and a business was born.
"When members started approaching us about opening another location nearby we knew we were onto something," says White. She and Hayko borrowed some money, created an FDD, and sold their first franchise the following year.
Local growth soon expanded to regional growth, and in 2019 the concept went national. Today there are more than 20 Jabz Boxing studios open from Arizona to as far away as Delaware, Pennsylvania, and New Jersey. In January the company announced a 5-unit deal for additional locations on the East Coast.
Many of their franchisees are former clients who were looking for a relatively low-investment business opportunity, she says. Opening a studio can cost less than $150,000. White says the emerging brand is looking to break ground in more markets and hopes to see open another 10 to 14 units open this year.
Jabz focuses on developing fitness, not fighters. "Our workouts combine cardio, strength training, core work, and plyometrics to help give clients a full body workout to maximize results and meet all of their fitness needs," says White. Certified trainers help guide and motivate women of all sizes, ages, and body types though an energetic and personal workout experience. There are never more than 16 women in a class.
White, who grew up playing sports, sees herself as a kind of coach for the brand. "The coaches I saw that were happy, exciting, and positive were the coaches who had the best-performing teams," she says. "It is so important to communicate with your team, to be flexible, and to also have empathy and compassion."
Her goal is to have several Jabz Boxing locations in every state, and says she believes boxing for fitness is now more popular than ever. "People are starting to realize that boxing training is a full-body workout that includes both strength and endurance training. Plus, who doesn't like to punch?"
Name: Kimberlee White
Title: Co-founder, CEO
Company: Jabz Franchising
Units: 20+
Age: 34
Years in franchising: 6
Years in current position: 4
Leadership
What is your role as CEO?
My role includes supporting and supervising staff, promoting their growth, educating myself on the latest and greatest fitness trends (going to seminars, reading articles, attending conferences), managing all the company's operational aspects, analyzing data and metrics to determine the performance of brand and studios, establishing policies that promote a positive culture for the brand, and to reflect on and analyze data from current marketing efforts.
Describe your leadership style.
It includes being outgoing, enthusiastic, and optimistic, while at the same time being direct, analytical, and systematic. I strongly believe your brand/company is a reflection of you as a person. If I want Jabz to continue to grow and thrive in the way that I envision, I need to set that example by practicing what I am preaching. My goal is to have passion and enthusiasm for Jabz radiating from my body so that it's contagious to those around me, including my Jabz team.
What has inspired your leadership style?
Growing up, I was very involved with sports. The coaches who were happy, exciting, and positive were the ones who had the best- performing teams. I view myself as a "coach" to my team. It is so important to communicate with your team, to be flexible, and to also have empathy and compassion.
What is your biggest leadership challenge?
Sometimes I second-guess myself when comparing myself to other leaders who have far more experience than I do.
How do you transmit your culture from your office to front-line employees?
We have a very streamlined onboarding process in place when bringing on new employees in the corporate office, and even for new hires within the studios. We start by sharing the history of Jabz and how we started in a warehouse on an $18,000 student loan. We want our team to understand we are extremely passionate about Jabz and our mission to empower all women. Sharing the evolution of Jabz with new hires helps them feel they are part of something very special, therefore building equity in their hearts for Jabz. We also never stop training. Everyone needs a refresher on expectations. Last, communicating feedback with the team is crucial for making sure your brand is being represented well.
Where is the best place to prepare for leadership: an MBA school or OTJ?
I have learned most of my skills from being on the job. To be a good leader, you really have to understand people. Every person and situation is different. Being exposed to different situations and learning from other leaders has made the most impact on my leadership style.
Are tough decisions best taken by one person?
How do you make tough decisions? I think tough decisions should be thought about and then talked through with your closest team members. When presented with a decision, I work out the pros and cons on my own and then open the conversation up to my team and take their input into consideration.
Do you want to be liked or respected?
Being liked as a leader is nice, but being respected is more important. It is much more important that people respect you as a person for the decisions you make and your reasons for making them, as well as the way in which you conduct yourself at work.
Advice to CEO wannabes:
Hard work pays off! Surround yourself with a great team and treat them like gold. Remind yourself daily why you do what you do every day. Take time to reflect on all your hard work. This will help refuel your tank on days where you are exhausted.
Management
Describe your management style:
I manage my team like a coach. I establish clear goals and then, as a team, we break the goals down into mini-goals that must be accomplished to reach the big goals. We have weekly meetings with a set agenda to make sure everyone is on the same page and accomplishing their tasks for the week. As a manager, you have to stay positive and proactive and let your team know their opinion is valued. I am constantly thanking my team for all of their hard work and often rewarding them with gift cards, thank-you notes, or their favorite drink from Starbucks.
What do you think makes up a good management team?
A good management team needs to have good intentions and lead by example. While being firm and setting boundaries, it is also important to appreciate your team and make them feel valued.
How does your management team help you lead?
I could not do what I do every day without my team; they are my lifeline. Knowing that I have a strong team behind me gives me the courage and confidence to make tough decisions and also to take risks.
What makes you say, "Yes, now that's why I do what I do!"?
Whenever I receive a text or email from a client thanking me for creating Jabz and sharing how much Jabz has changed her life on so many levels, it gives me the chills! I save all of these emails, texts, and notes in my "Jabz Journal."
Personal
What time do you like to be at your desk?
By 9 a.m., after a Jabz workout of course!
Exercise in the morning? Wine with lunch?
I always work out in the morning. After a long day at work it is hard to head to the gym. I have lunch in my office with my teammates.
Do you socialize with your team after work or outside the office?
Yes, but not too often.
Last two books read:
Girl, Wash Your Face: Stop Believing the Lies About Who You Are So You Can Become Who You Were Meant to Be by Rachel Hollis; The Woman Code: 20 Powerful Keys to Unlock Your Life by Sophia A. Nelson.
What technology do you take on the road?
iPad and laptop.
How do you relax/balance life and work?
I love spending time with my husband, my 3 dogs, and my pet pig. We love watching football on Sundays and being lazy by the pool in the summertime.
Favorite vacation destination:
Maui.
Favorite occasions to send employees notes:
I am a note sender. I love sending notes for little things.
Bottom Line
What are your long-term goals for the company?
To have several Jabz studios in each state. When individuals think of "women's fitness" and "community" I want them to think of Jabz!
Are there any trends in the industry that you foresee having an impact on your brand?
I think women are finding or making time to focus on their health and fitness more today than in the past. I am happy we can provide a fun, effective, and inclusive environment that women can come into for a quick workout. I also think "boxing for fitness" is being sought out now more than ever. People are starting to realize that boxing training is a full-body workout that includes both strength and endurance training. Plus, who doesn't like to punch?
How do you measure success?
When I see our Jabz community growing and our owners and clients are sharing success stories and thanking me for starting Jabz, that is how I measure success.
What has been your greatest success?
I think it has been being able to make all women feel confident and comfortable at Jabz. Often there is a certain perception about a "gym" and what kinds of clients go there. We have clients of all different ages, skill levels, and fitness levels, and I love that.
Any regrets?
No regrets, just lots of learning experiences.
What can we expect from your company in the next 12 to 18 months?
We will be expanding in four or five more states including Maryland, Florida, Delaware, Utah, and Colorado, opening up approximately 10 to 14 more units.
Published: March 27th, 2020
Share this Feature
Recommended Reading:
Comments:
comments powered by

Disqus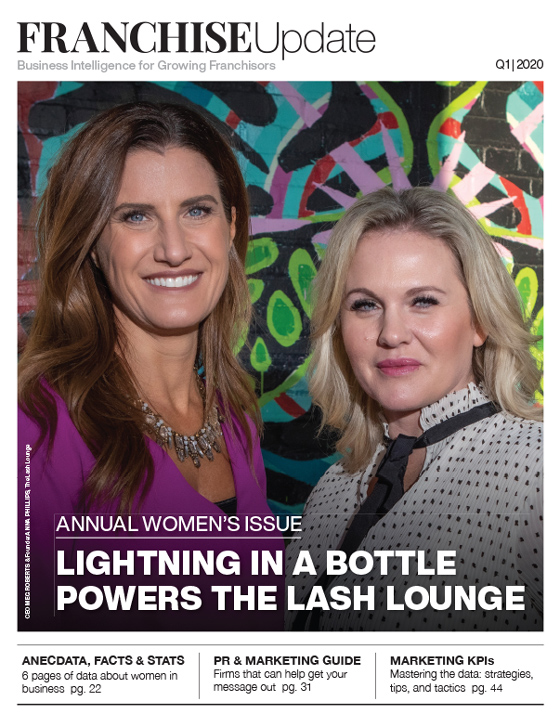 Franchise Update Magazine: Issue 1, 2020
More than 15 years of passion and fascination with the franchise system. Thanks to having met many Franchisees, today I can help new ones and those...
MSA provides domestic and international franchise advisory services to franchisors and companies seeking to establish franchise and licensing systems.