Putt-Putt: Revamping a 60-Year-Old Brand
New model preserves the best, adds new attractions
When I purchased Putt-Putt in 2004, I realized the primary challenges associated with a 50-year-old brand would be 1) to experience continued growth, and 2) to reinvigorate the brand to appeal to a younger consumer base by delivering more value to our customers.
Since its founding in 1954, Putt-Putt flourished and experienced significant growth throughout the 1950s, '60s, and '70s with its golf-only concept. In the '80s and '90s, the brand continued to grow with the addition of arcade games and other attractions. The recent efforts to rebrand have evolved over the past 10 years, developing into a modern, cost-effective concept to revitalize the brand in ways that will result in future growth.
The redesign and rebranding of our Putt-Putt franchise model into the new-and-improved Fun Center concept was based on the idea to build on the best of the Putt-Putt brand, which is its tried-and-true game of skill, its iconic status, and its ability to become part of a town's community life. We also knew that Putt-Putt Golf alone would not attract the volume of kids and families we needed to continue to succeed, so we evaluated existing and new attractions and identified the key elements needed to make our new prototype attractive to consumers and provide the financial success necessary to our franchisees.
Every element of the new Putt-Putt Fun Center concept was measured against our vision to offer families a safe, wholesome entertainment option and provide investors with a proven, profitable model. Parents welcome the opportunity to have a facility for their kids where there is a clean, wholesome environment that has multiple outdoor attractions and is less expensive than the larger amusement parks.
Within the Fun Center concept, we tried to develop a model that required less land than the larger family entertainment centers and that incorporates the lead product, Putt-Putt Golf, into that mix. The new model incorporates all the attractions on approximately 3 acres of land. We believe the Fun Center concept will result in an increase of our franchise sales.
The redesign of the Putt-Putt franchise model not only incorporates new attractions and numerous upgrades, but also includes new operating systems to take advantage of current technology. While Putt-Putt Golf continues to be one of our main attractions, we now have electric go-karts, bumper boats, batting cages, laser tag, and bumper cars, as well as arcades, party rooms, and a concession area.
Social media is embraced and integrated into our Fun Centers through the Putt-Putt scorecard app, the photo booth (linked to Facebook), and our robust marketing efforts delivered across multiple social platforms. In addition, we updated the brand identity and implemented a new 365-day marketing plan for franchisees, along with new employee training emphasizing customer service and our Ten Commandments of Culture.
Our redesigned prototype Putt-Putt Fun Center is in Fayetteville, N.C., the birthplace of Putt-Putt. This new prototype was built specifically to Putt-Putt's new standard, with our management team supervising every aspect of construction and operations. The prototype is environmentally friendly, tobacco-free, and handicapped accessible. The prototype has been successful for the franchisee and was the focus of our 60th anniversary celebration this past June.
Moving forward, our staff is dedicated to being an industry leader by continually evaluating new attractions, operating systems, and programs to ensure the success of our franchisees and deliver an exceptional customer experience. We will continue to attend conferences and meetings where new attractions and technology are introduced, as well as follow industry trends. Every new franchise built will incorporate the latest knowledge we have gained through our experience and research.
As a franchise organization, we want to continue to expand our system. We have identified multiple locations in the Southeast that will enable us to achieve that expansion. We are pleased to announce construction began this fall for our new Putt-Putt Fun Center in Asheville, N.C., scheduled to open in spring 2015. Based on the success and profitability of our new prototype, we are confident this expansion will occur rapidly in our target markets.
David Callahan is a successful entrepreneur and banker. Since 2000, he has been the CEO of Putt-Putt, where he is the majority shareholder and driving force behind the brand's recent growth and new look.
Published: June 8th, 2015
Share this Feature
Recommended Reading:
Comments:
comments powered by

Disqus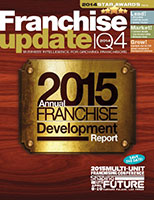 Franchise Update Magazine: Issue 4, 2014
Conferences
InterContinental, Atlanta
OCT 18-20TH, 2023
Clayton Kendall provides franchise communities nationwide with comprehensive branded merchandise programs leading to greater brand exposure,...
UMI has over 23 years of experience supporting fast-growing multi-unit brands. From strategic planning to design, execution to analysis, UMI...