Rallying for Growth: Checkers Embarks on Aggressive Expansion
Rick Silva developed a passion and understanding for business early in life. The son of Cuban immigrants, he watched his mom and dad start their own small business from scratch in Miami. He learned about customers, competition, inventory, procedures and processes. Most of all, he learned about hard work and dedication.
"Watching my parents run that business taught me a real passion for operating a business and being successful," says the 46-year-old Silva--key characteristics that are aiding his tenure as president and CEO of Checkers Drive-In Restaurants, which includes more than 800 Checkers and Rally's restaurants in the U.S.
Silva has been at the helm of Checkers since early 2007. That's when he was lured away from his management position at Burger King by the leadership style and philosophies of the private equity group that had just purchased Checkers.
"I liked the way they operated and the vision they had," he says. "They were interested in processes and procedures and measured results, but also in the people and products that it took to achieve goals and be successful."
His 13 years at Burger King taught him a lot about succeeding in franchising. He had served as president of Burger King's Latin America region, and as senior vice president, U.S. company operations, where he oversaw more than 600 company restaurants. During his final years with Burger King, as senior vice president, franchise operations, he oversaw more than 3,300 franchise restaurants.
Silva hit the ground running at Checkers and hasn't looked back. He says one of the organization's core values under his leadership has been: "Have the courage to be bold and grow." He and his team work hard to live up to that standard every day.
When he arrived at Checkers, Silva evaluated his management team and decided to bring in some new executives because, as he says, "The number-one key to success is a great management team." Another characteristic of his leadership style is setting high standards. He says people can achieve more than they think they can. He is not afraid to set lofty goals because he believes that challenges individuals to do whatever necessary--even change their entire approach--to reach those goals.
During the past five years, Silva has implemented new systems and processes that have increased system efficiencies, enhanced the menu, and driven growth at Checkers. Under his leadership, the brand has doubled its late-night business from 10 to 20 percent of sales; added wings and desserts to their burger-driven menu; and developed multiple building formats to allow franchisees to open new restaurants in new trade areas with less investment and higher returns. And, says Silva, the brand's guest satisfaction scores have increased every year since he arrived and are at an all-time high.
Checkers is now on the edge of significant expansion. At just over 800 locations, the brand is aggressively looking for new operators and fast growth in many major markets across the country. "The big chains are already saturated in most of these cities, but we're just getting started," he says. "The time is right because our customers tell us they love our food but need locations closer to them."
And just how many Checkers locations would Silva like to see down the road? "Three thousand," he says. After all, as he also says, "Have the courage to be bold and grow."
Name: Rick Silva
Title: CEO, President
Company: Checkers Drive-In Restaurants
Brands: Checkers and Rally's
Units: More than 800
Age: 46
Family: Wife and two children
Years in franchising: 18
Years in current position: 5
Leadership
What is your role as CEO?
To focus on providing the vision and strategic direction for our growth.
Describe your leadership style:
I'm a strong leader with very open and direct communication.
How do you transmit your culture from your office to front-line employees?
It starts with the corporate values we adopted and live by every day and begins with me. Examples include the following: "Do the right thing." "Passionate about serving others." "Obsessed with excellence." "Courage to be bold and grow." "People first with pride and respect." I include these values in every presentation I make to the organization. Spending time in our restaurants with our employees, franchisees, and guests also helps me share my vision and culture across the organization.
Where is the best place to prepare for leadership: an MBA school or OTJ?
Although a strong education is helpful, the best place to learn about effective leadership is through business and personal experiences and by observing and learning from other leaders. Some people are born with more natural leadership skills than others, but great leaders work hard at it.
Are tough decisions best taken by one person?
It depends on the decision. First, never shy away from the tough decisions. In fact, seek out the tough decisions because that's usually where the big risks and big rewards are. As a leader, you need to face those decisions, understand them, and provide the necessary leadership to get to the best answer. Sometimes that requires you to step in as the leader and make the decision yourself. In other cases, it might be best to allow your team to work through the issue and arrive at the best decision aided by your coaching and leadership.
How do you make tough decisions?
The resolution has to be consistent with our values and drive the interests of all of our stakeholders: guests, employees, franchisees, and shareholders.
Do you want to be liked or respected?
I'd prefer to be respected for my values, professionalism, and commitment to our stakeholders.
Advice to CEO wannabes:
Hire smart, hard-working executives with strong values. If you're the one coming up with the best answers, your team is not strong enough or your management style is keeping the best ideas from coming out.
Management
Describe your management style:
I believe in hiring smart executives with lots of passion and a strong work ethic, as well as managing with an open and collaborative style. That allows us as a team to achieve results that would be impossible to achieve individually.
What does your management team look like?
Smart, flexible, diverse, passionate, and hard working.
How does your management team help you lead?
They challenge me and each other. They trust each other so we can have open communication to find the best answers.
Favorite management gurus and books:
I prefer business periodicals like the Harvard Business Review and keeping up with the latest business and trade news.
What makes you say, "Yes, now that's why I do what I do!"
When I see an executive or employee achieve something they never thought they could achieve. That moment is incredibly satisfying and rewarding for me.
Personal
Exercise in the morning?
Yes! When I'm at home, I'm up at 4:45 a.m. for a workout. I feel best when I work out in the morning.
Wine with lunch?
Never, but I love wine with dinner on weekends.
Do you socialize with your team after work or outside the office?
We spend lots of time together at work and during our business travel. We enjoy each other's company, have lots of laughs, and know each other very well. That said, we all have healthy personal lives so weekends are typically spent with family and friends.
Last two books read:
What Matters Now by Gary Hamel.
What technology do you take on the road?
BlackBerry, iPad, and laptop computer.
How do you relax, balance life and work?
I exercise, spend time with family, and participate in local auto track events.
Favorite vacation destination:
Triple Creek Ranch in Montana.
Favorite occasions to send employees notes:
Anniversaries and birthdays.
Favorite company product:
A Big Buford with fries finished off with a Strawberry Cheesecake Sundae.
Bottom Line
What are your long-term goals for the company?
We want to take everything we learned in 2011 and apply it to 2012 and beyond. Our long-term goal is to grow to 3,000 restaurants while maintaining a commitment to our values and stakeholders.
How has the economy changed your goals for your company?
It forced us to find new ways to grow our sales, profits, and spur new restaurant growth.
Where can capital be found these days?
Many business people and investors are sitting on cash that they need to invest. A Checkers/Rally's franchise is a great place to invest that capital.
How do you measure success?
Results, not activity.
What has been your greatest success?
I'm proud to have created and developed an outstanding leadership team at Checkers/Rally's.
What can we expect from your company in the next 12 to 18 months?
We'll continue to evolve and grow in order to find new ways to increase restaurant-level sales and profits while adding new restaurants to our system.
Published: June 25th, 2012
Share this Feature
Recommended Reading:
Comments:
comments powered by

Disqus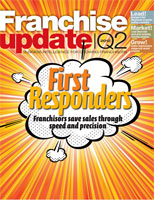 Franchise Update Magazine: Issue 2, 2012
Conferences
InterContinental, Atlanta
OCT 18-20TH, 2022
The Titus Center for Franchising, one of Palm Beach Atlantic's Centers of Excellence, offers a concentration in franchising to business students.
Franchise Update Media (FUM) is the trusted resource for the franchise industry. For 30+ years, FUM has been the leader in providing valuable...