Relationships Rule: Tropical Smoothie Cafe targets 1,500 units by 2025
Name: Charles Watson
Title: CEO
Company: Tropical Smoothie Cafe
No. of units: 915
Age: 43
Years in franchising: 22
Years in current position: 2
You might think of Charles Watson as a Tropical Smoothie Cafe Renaissance man. Hired in 2010 to serve as vice president of franchise development, he went on to serve as the brand's chief development officer, interim CEO, and in 2018 was named CEO. He's one of the most tenured employees at the company and played a key role in launching the brand's development and franchise sales team a decade ago. Today, his role as CEO finds him responsible for the brand's strategic vision and overall performance.
Under his leadership the fast-casual cafe concept has grown to more than 900 locations in more than 40 states. Also known as TSC, the company not only weathered the Covid in 2020, it turned in a record-breaking year in terms of franchise sales, signing 250 new agreements, 70% of them to existing franchisees; opened 98 new cafes; and has a full pipeline going into 2021. TSC also hit a major milestone by opening its 900th location in November.
Coming up through the TSC system, Watson says he was fortunate to have built strong relationships with both the franchisees and corporate team. That's important, he says, because one of the brand's core values is: Relationships Rule. "I consistently work to incorporate that into my leadership style. The best conversations and, ultimately, decisions are driven by trusting and personal relationships. We are all in this together and our success is built on our relationships."
As a first-time CEO, Watson says he's had to learn to view the business from a thinking versus a doing perspective. "It was not possible for me to get involved in every project, so I had to learn to let go and delegate," he says. "We are a better company when I let leaders lead and when we make decisions as an aligned group."
What's next for Watson as he guides TSC in 2021? "Our goal as a brand is to reach 1,500 cafes in the next 5 years with franchisees who average $1 million in sales," he says. With the collaboration of the TSC corporate team and the franchisees, whom he calls the heart of the brand, Watson thinks it can be sooner than that.
"Those franchisees help my team and me identify the right path forward for the brand and then we execute, or chop wood as I call it, day in and day out. If you do that long enough, success is inevitable."
LEADERSHIP
What is your role as CEO? I was named permanent CEO of Tropical Smoothie Cafe in December 2018 after being interim CEO for 6 months, but I had been with TSC for more than a decade at the time. As one of the most tenured employees, I helped launch the brand's development and franchise sales team more than 10 years ago. Now, as CEO, I'm responsible for the brand's strategic vision and overall franchise performance.
How has Covid-19 affected the way you have led your brand? My approach and that of my team was to attack the pandemic with an opportunistic mindset. There's the old idea that you can view a crisis as "Opportunity is now here" or as "Opportunity is nowhere." We chose the former. Our actions during the worst of the pandemic were 100% a team effort and our franchisees were relentless in driving their businesses and serving their communities. The partnership with our franchisees went to a new level, one that will continue to serve the brand in the future. We were able to work together and be nimble, making major short-term decisions in 24 to 48 hours to drive week-over-week performance. These efforts embodied our core value of Relationships Rule. We leaned on that value heavily during the worst of Covid-19. Before becoming CEO, I served on our development team for a decade, so I am very fortunate to have created strong relationships with many of our franchisees along the way. Our franchisees are, quite simply, the heart of our brand, and the need for constant and deep communication with them was a key component of our getting through together. Our franchisees took everything we threw at them—new operational procedures, our smoothie giveaway to healthcare workers, our new focus on digital transactions (plus a huge increase in webinars and emails from me!)—in stride, which only reinforced my passion for this brand and the people behind it.
Describe your leadership style. At a high level, the roles I focus on in my position are brand strategy/direction and people—call it Chief Strategy Officer and Chief People Officer—for both TSC employees and franchisees. As I mentioned, Relationships Rule is a core value for our brand that I consistently work to incorporate into my leadership style. The best conversations and, ultimately, decisions are driven by trusting and personal relationships. To me, this allows us to know one another not just as colleagues or business associates, but as people. Once that foundation is built, amazing things can happen. I am available to all franchisees at any time. They have my email and cell phone number. We are all in this together and our success is built on our relationships.
What has inspired your leadership style? Like many others, I'm a big proponent of Patrick Lencioni's 5 Dysfunctions of a Team. And like him, I firmly believe that trust is the most important element of a successful brand, so much so that it's the foundation of our culture. We use TRUST as an acronym: Transparent, Responsible, Unique, Service-oriented, Tenacious. Each of these words represents what we, as individuals, should bring to our brand every day. TRUST is at the core of what we do. I am also a history buff and look to George Washington, Ulysses S. Grant, and Winston Churchill for inspiration, especially given the myriad of challenges they came through to lead under incredible duress.
What is your biggest leadership challenge? As a first-time CEO, learning to view the business from a thinking versus a doing mentality was a challenge. The success of our brand is about the talent and drive of our executives and support center team. It was not possible for me to get involved in every project, so I had to learn to let go and delegate. Again, it's trust in the team and giving them the autonomy they need to lead our brand. We are a better company when I let leaders lead, and when we make decisions as an aligned group.
How do you transmit your culture from your office to front-line employees? At TSC, all but one of our cafes are franchisee-owned, so the success of the brand is 99.9% driven by the franchisees. With one corporate-owned location, we have to rely on our relationships with our franchisees and our communication channels to get a great sense of unit-level issues. To do that efficiently and effectively we have set up a system of committees across the business led by a franchisee council. I am eternally grateful for this franchisee involvement and commitment to the brand. It gives me the feedback I need daily to make decisions in the best interests of the brand in its entirety. Driving our culture to the crew members and franchisees is done through co-op meetings, system webinars, our convention, and frequent communications, just to name a few.
How can a CEO help their CMO develop and grow? Let them run… until you need to pull them back. Brand marketing, with its inherent need to understand both the brand's customers as well as trends in food, is an incredibly wonderful challenge. It cannot be met without taking some chances, spending some dollars, and trying new and improved tactics to show an ROI. In short, be agile, be aggressive, try new things, and then measure the results. My role is to foster that mentality and work with my CMO to see what's working and what isn't... and maybe set a guardrail or two.
Where is the best place to prepare for leadership: an MBA school or OTJ? As someone with an MBA, I would say OTJ! While I thoroughly enjoyed my experience getting an MBA, what I know now is that what I really got was a basic, broad framework for understanding the different disciplines in business. While helpful, we all tend to work in one field that requires deep knowledge, and I think that is best learned on the job.
Are tough decisions best taken by one person? How do you make tough decisions? As CEO, I hold myself accountable for tough decisions and their results—good or bad. However, I believe it's imperative to have a great team behind you working toward a common goal. I'm fortunate to have an incredibly talented team of executives and support center members I trust completely to provide the knowledge and insight needed to make those tough decisions. I will only ever be as good as the team around me, and so I hire people a lot smarter than me!
Do you want to be liked or respected? I think everyone would like to be both. But again, we go back to my belief that Relationships Rule. People are at the heart of what we do every day, and I think all long-lasting, successful relationships with others are built on both trust and respect. Those are the catalysts for having a meaningful impact on the lives of those around us, whether between franchisor and franchisees or among our crew members and guests. Given my focus on relationships and my belief that we are all just people, I fall on the side of being liked, which I know is not the usual answer. I believe if you are liked, you can get more out of your team because there is that foundation of trust. For me, I always worked harder and better for the people I liked because I didn't want to disappoint them. It's like a parent saying, "I am disappointed in you" having so much more impact than being angry.
Advice to CEO wannabes: I have two big takeaways from what I've learned over the years. First, there's no substitute for hard work. Second, you have to be a sponge and be open to learning all the time. There is always someone who knows more than you and does something better than you. Seek out that person out and pick their brain. People are happy to give of themselves to help if approached in a humble manner.
PERSONAL
What time do you like to be at your desk? I have been taking my son to school while we've worked from home during the pandemic, so I get back home at about 8:15. Then I am right to my desk in my home office (my guest bedroom!).
Exercise in the morning? Wine with lunch? I prefer exercise in the afternoon/evenings after work. I played football in college so my excuse when I (frequently) miss a workout by staying at the office or on the computer too long is that I worked out enough back then. I know, not a very good excuse. And I don't drink. I had my fill in my twenties!
Last two books read: The Challenge Culture by Nigel Travis, and The Splendid and the Vile by Erik Larson.
What technology do you take on the road? I always have my iPad for reading, my laptop for work, and my Bose SoundSport earbuds for calls and occasional music.
How do you relax/balance life and work? I play golf to remind me I am better at work. I also have a 5- and 7-year-old, so I mostly just chase them around and drop them off at various sporting events and birthday parties.
Favorite vacation destination: I love to visit the beaches in the panhandle of Florida, where Tropical Smoothie Cafe started!
Favorite occasions to send employees notes: When an employee pops into my mind for any reason, I like to send a check-in "How ya doing?" email. If something has happened in their lives, good, bad, or indifferent, I like to write a note and leave it on their desk. Covid has hurt me here!
Favorite company product/service: Zappos, convenience; Orvis, lifestyle; Range Rover, style (no, I don't drive one!).
MANAGEMENT
Describe your management style: The success of our brand is about the talent and drive of our executives and support center team. As CEO, I know that it's not possible for me to be part of every decision or initiative. That's why I surround myself with a team I trust and can confidently delegate tasks to. With a strong level of trust, flexibility, and ongoing communication, our leaders are empowered to lead.
What does your management team look like? I've always believed it's important to put people in the positions that help bring out their unique strengths and natural talents. Whether that is franchise development, marketing, operations, and so on, the people who make up our leadership are in their positions because they know it best, and I trust them. Each is an expert in their respective category, and with our strong level of internal collaboration I'm proud to provide them with the resources they need to successfully take this brand to the next level.
How does your management team help you lead? One of the biggest reasons for this brand's success is the people I have around me day in and day out. The entire corporate team is just as committed to bettering our brand and seeing our franchisees and their cafes thrive as I am—now more than ever! Their honesty, passion, and dedication to our brand inspires me daily.
Favorite management gurus: Do you read management books? I've read so many helpful books along the way, but I have to go back to Patrick Lencioni's Five Dysfunctions of a Team as the most influential because it includes the principles I use the most. As I've mentioned, building trust among your team is the driver to the rest of your brand's success and has to be a part of your strategy if you want to continuously grow.
What makes you say, "Yes, now that's why I do what I do!"? Simple: when someone asks me what I do and I say I work for Tropical Smoothie Cafe and they respond, "I love that place!" That to me is the simplest way to see that all our work is fully coming together to delight our guests. It means we are in fact fulfilling our mission of Inspiring Better.
OPERATIONS
What trends are you seeing with consumer spending habits in your stores? It's no secret that consumer spending habits have shifted immensely across the fast-casual space as a result of the pandemic. We find ourselves in a unique position as consumers strive for new ways to eat healthier without sacrificing flavor, because that's exactly what we offer at our cafes. We're dedicated to consistently introducing new menu items and promotions for our guests, and their loyalty has only increased in recent months. With our made-to-order smoothies, flatbreads, wraps, sandwiches, and more, our guests have plenty of options that keep them coming back. We are seeing increased party sizes, which equates to increased check averages, and increased use of our digital channels.
How is the economy driving consumer behavior in your system? The shift away from dine-in business across the restaurant industry was something no brand had experienced before the pandemic. Fortunately as a fast-casual concept, our business model incorporated operational procedures for carry-out business before the pandemic. And while the dine-in part of our business was initially affected, we were able to quickly mobilize a more convenience-based model to meet the new needs of our guests and sustain business for our franchisees. In the beginning of 2020, pre-pandemic, our digital sales were at 24%. Once we implemented curbside, third-party delivery, and our own TSC Branded Delivery, our digital sales quickly increased. At many cafes now, digital sales make up 35% of their total sales, and our best performing cafes are seeing 65% in digital sales.
What are you expecting from your market in the next 12 months? Guests will continue to expect convenience, and consumer habits have been changed. Digital and contactless options will continue to be in demand, even as things start to open up and we return to "normal." For the first half of 2021, I believe we'll see more of the same as we are now, but into the summer I hope we will start to see the industry climb back. Our goal is to continue focusing on our visibility and accessibility in the marketplace to stay top of mind for consumers and prospects as we execute in serving our guests and increasing our footprint.
Are your franchisees bullish or bearish about growth and adding units? Our franchisees are the heart of our brand. Their passion and dedication have only become stronger during these times, and we couldn't be prouder. The growth we experienced last year was a reflection of our support to our franchisees and to their all-in attitude to do whatever it takes to be successful, despite the hard hit our industry took. This resulted in another record-breaking year from a franchise sales perspective. We signed 250 new agreements, 70% of them to existing franchisees. Additionally, we opened 98 new cafes and have a very healthy pipeline going into 2021. Most notably, we celebrated our 900th cafe opening in November and expect our 1,000th this fall. These milestones speak to a brand driven by the growth of our incredible franchisees. Their dedication and passion for the brand continue to move us forward.
Are commodity/supplies costs any cause for concern in your system? It's certainly something we continuously watch. Last year was "choppy," but we have been able to manage our basket of goods so that franchisees have not seen an aggregate increase supply costs. We have to work very hard to do that, and it happens because we have a very dedicated supply chain team that understands that what they do directly affects our franchisees' profitability. We also have great vendors who work closely with us to support our growth.
How are political/global issues affecting the market and your brand? TSC is a family and we are here to foster a supportive and inclusive community among our franchisees, crew members, guests, and communities. Our vision is to Inspire Better, and we can't do that if we don't work together to create a future free of inequality and injustice of any kind in our communities. Earlier this year, we made that stance abundantly clear with our system and then followed that with a message to our guests. Internally, we've revisited our diversity, equity, and inclusion strategy, and we shared that path forward with our system earlier this month.
BOTTOM LINE
What are your long-term goals for the company? Despite the challenges we faced in 2020, we have seen record-breaking results and positive feedback for our response to the pandemic, and I believe we will come out stronger than we've ever been. Our goal is to reach 1,500 cafes in the next 5 years with franchisees who average $1 million in sales. I believe we can get there sooner, though. Our vision is to Inspire Better, and our mission is to become the most beloved restaurant brand by sharing the fun and craveability of the tropics. An altruistic, yet straightforward, humble, and hardworking culture like ours is something that attracts passionate franchisees. Those franchisees help my team and me identify the right path forward for the brand and then we execute, or chop wood as I call it, day in and day out. If you do that long enough, success is inevitable.
How has the economy changed your goals for your company? We want to meet our guests where they are, and right now that is through digital sales. Post-pandemic, the use of innovative technology to reach guests will be integral to our strategy. I also anticipate much more community outreach from our franchisees. During our first smoothie giveaway in April, franchisees saw firsthand just how much of an impact a small act of service could have and jumped at the opportunity to donate to front-line workers and spread a little sunshine. In 2020, we donated more than 250,000 smoothies to healthcare workers and first responders to bring them a little sunshine. We also donated $125,000 to the American Nurses Foundation and Covid-19 Response Fund. These actions by TSC and our franchisees will further establish us in the communities where we operate and drive our business.
Where can capital be found these days? We are fortunate to have relationships with several third-party lenders that remain confident in our brand and our franchisees.
Growth meter: How do you measure success? By the unit-level economics and profitability of our franchisees, as well as by the satisfaction of our guests and their awareness of Tropical Smoothie Cafe.
What has been your greatest success? Putting more than 500 entrepreneurs into a business that is allowing them to reach their personal and professional goals. Being a small part of the American Dream is an incredible honor.
Any regrets? Yes, I should have started an online business selling books about 25 years ago! But seriously, none right now. My successes and failures have made me who I am, which I hope is enough to keep me in this position, which every day brings me joy.
What can we expect from your company in the next 12 to 18 months? Growth and innovation. As I've mentioned, we signed 250 franchise agreements in 2020, 70% with existing franchisees. Even during the pandemic, we were able to open 98 cafes last year. And despite Covid-19, our comp sales are at more than 7% year-to-date. Expect more from us in 2021 and beyond, just with bigger numbers. We'll also continue to offer new menu items and limited time offers, and our menu innovation team is hard at work crafting new products we know our guests will love and that will bring them back to our cafes again and again.
Published: March 23rd, 2021
Share this Feature
Recommended Reading:
Comments:
comments powered by

Disqus

Franchise Update Magazine: Issue 1, 2021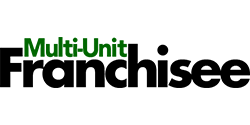 Published quarterly, Multi-Unit Franchisee Magazine is dedicated exclusively to Multi-Unit Franchisees. It delivers vital information and business...
Leasecake is location management made easy – from lease contracts and licensing agreements to ASC 842 compliance. Never miss a deadline, stay ahead...