Respect for the Heart of the House
Teamwork and collaboration drive Bob Johnston at Melting Pot Brands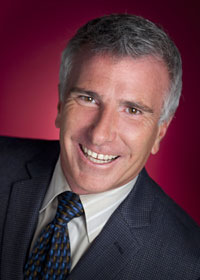 Johnston continued to work his way through every position at the popular fondue restaurant, where his brothers, Mark and Mike, were early franchisees. In 1985, the three brothers combined resources and purchased The Melting Pot concept and its five restaurants. Twenty-seven years later, they have built the brand into 144 North American restaurants and have 29 international units under development.
In January, Johnston left his post as president of The Melting Pot to become CEO and chair of Tampa-based Front Burner Brands, whose concepts include The Melting Pot and two original brands: Burger 21, a fast casual restaurant tailor-made for franchising; and GrillSmith, a refined casual, open grill restaurant not currently being franchised.
The brothers opened their first Burger 21 in November 2010, a corporate store in Tampa. In September 2011 they launched a national franchising program, beginning with a focus on Florida and the East Coast. Their initial goal for 2012 was to have 30 franchise deals signed by year-end, one or two of them open, and two or three corporate stores open in the Tampa Bay area.
Now in steady and careful growth mode, the leadership team at Front Burner are looking at different concepts, as well as the possibility of acquiring a small company, much the way they bought The Melting Pot.
Johnston, who describes his leadership style as collaborative and people-centric, continues to work closely with his brothers: Mark, chief concept officer and visionary for the restaurant side of the business, and Mike, who sits on the board and has been operating Melting Pot restaurants since 1979. "The biggest benefit of working with family is the level of trust, belief, and confidence that exists," he says.
Q&A
Name: Bob Johnston
Title: CEO, Chair
Company: Front Burner Brands, Inc.
Brands: The Melting Pot (144 in North America and 29 under development in Canada, Mexico, the Middle East, and Indonesia); Burger 21 (2 company stores, 2 more about to open, and 5 franchised locations licensed and in development); and GrillSmith, 6 (all company owned)
Age: 48
Family: Wife Katina, children Megan and Thomas
Years in franchising: 27
Years in current position: President of The Melting Pot from 1985 until Jan. 2012 when I stepped into the CEO position for Front Burner Brands.
Leadership
What is your role as CEO?
The most important aspect of my job is that I get to work with an excellent executive leadership team. We share the vision and strategic direction for the organization as a whole, but I also see my role as supporting those team members in whatever way is necessary. Occasionally, that means removing roadblocks, acting as a sounding board, proving out ideas with them, or helping them with specific challenges or tough decisions.
Describe your leadership style.
Collaborative and people-focused, because I believe you don't get anything done unless you have an excellent team that believes in your mission and operates from your culture.
What has inspired your leadership style?
A number of people have been inspirational. Two of them I have to mention are my brothers, Mike and Mark, without whom I would not have had these opportunities. In addition, there are people in both the restaurant industry and in franchising for whom I have a lot of respect and who have helped me in one way or another to develop into the leader I am. Probably because of that mentoring and support, I approach leadership and management the way I do.
What is your biggest leadership challenge?
I struggle at times with accountability. I don't always hold people as accountable as I should. It's certainly the area in which I could most improve. I'm aware of it and working on it.
How do you transmit your culture from your office to front-line employees?
That's something we do very well, especially when you consider that we're in the restaurant environment, where a lot employees tend to be part-time or transitory. We have clearly defined principles, and we've trained our team members on how to use those principles to guide their actions and how they handle their guests or vendor partners. This is not something people get in orientation and then forget, it's reinforced every day. One of the organizations we studied was Ritz-Carlton--we borrowed their idea of giving everyone a "credo card" that contains mission, vision, and principles. The biggest thing we do when coaching and counseling or addressing behavior that needs correcting, is to start from that card and compare and contrast the behavior with the things we should be doing.
Where is the best place to prepare for leadership: an MBA school or OTJ?
I only have one frame of reference, and it's on the job. While I did not have the opportunity to participate in higher education, I do believe that education is extremely valuable, and I encourage our team members to pursue educational opportunities wherever they can. I try to educate myself through active participation in the IFA and other professional organizations.
Are tough decisions best taken by one person?
I don't believe in an autocratic style of leadership, so I would say no. It's not always possible, but I would prefer to talk with the person or persons involved with a particular issue and try to come to mutual agreement about the best course of action. Even in cases where I make the final call because we're not all in agreement, I want to make sure I've listened to every person's viewpoint and that every person is fully heard. That's as much for my benefit as theirs. I value their input--they're experts in their areas--and use it in making a final call.
How do you make tough decisions?
Most often, we work through it and benefit from varied points of view.
Do you want to be liked or respected?
Respected.
Advice to CEO wannabes:
Come as close to walking in your franchisees' shoes as you can. You can't relate 100 percent once you've stopped being a franchisee, but you need to come as close as you can.
Management
Describe your management style.
The way we go about managing anything--change, people, or profit center--is always with a focus on two things: 1) people, and 2) objective. If you have the right people necessary to get the job done, make clear your business objectives, and offer the right support, you'll get the result you're after.
What does your management team look like?
Our executive leadership team is an experienced bunch of people who are a whole lot smarter than I am. Not all have franchise experience, but most do. Most also have restaurant experience. I wanted to prevent our becoming an inbred organization, so we went outside and brought in people who have more experience in certain areas than I do. For example, our CFO came from accounting and retail. We need the experience and diversity at the life stage we're in.
How does your management team help you lead?
They help in a lot of ways, but two come to mind. They are very supportive. We can say anything to each other when we're collaborating and brainstorming, but once the decision has been made, they are very supportive of me and of each other. This allows us to speak with a single voice. What also helps me as a leader is that they have the guts to challenge me and tell me when I'm off base or even dead wrong. It's nice to work with people like that. The last thing you want is a bunch of people in a room who are supposed to be addressing issues but are actually there to hear how smart they sound.
Favorite management gurus? Do you read management books?
I actually learn more by interacting with peers one-on-one than by reading a book.
What makes you say, "Yes, now that's why I do what I do!"
One time I say that is when I see a franchisee succeed--in particular one who started as a team member in the heart of the house, or serving guests in the dining room, and grew through the organization to get where they are. Maybe that speaks to me more because that's how I did it. The second thing is seeing how loyal and engaged and passionate our Melting Pot guests are. When I read the emails and letters from guests, I scratch my head and say, "How can we be this fortunate to have guests so engaged that they'll sit down and type out a full-page letter about how much they enjoyed their dining experience?"
Personal
What time do you like to be at your desk?
I like to spend as little time as possible at my desk. I would rather be at the small round table near my desk with a couple of team members working on the issues of the day.
Exercise in the morning? Wine with lunch?
I do lots of cycling: stationary bike during the week and mountain biking on the weekend. No wine at a work lunch for me.
Do you socialize with your team after work/outside the office?
We do that as a company. We have family and belonging events throughout the year. We purposely create fun things to do together to encourage the kind of environment we're striving for. The bigger we get, the harder it is to do that. (Front Burner currently employs around 600.)
Last two books read:
I've been looking at National Geographic's Hiking in Western North Carolina, and I also just finished I Wanted Wings: A Tail Gunner's Story by Gary Hill, and Laura Hillenbrand's Unbroken, which is a fabulous book.
What technology do you take on the road?
Smartphone, tablet, and often a laptop.
How do you relax/balance life and work?
I'm still working on that. I relax by biking and hiking and spending time with my family. I've been married 27 years and have two kids I'm really close with. I have a large extended family--five other siblings and a mom who just turned 90--so I try to spend as much time with them as I can.
Favorite vacation destinations:
The Abacos in the Bahamas and then western North Carolina.
Favorite occasions to send employees notes:
I'm not a big birthday card person--that doesn't seem very special to me since everybody would get one. I try to look for positive occasions to send a note or call and tell an employee what I saw and how it hit me.
Favorite company product/service:
I love any food or beverage that we prepare in our restaurants. But I would also say I am really proud of our franchise development process. We are careful not to refer to it as franchise sales, because that doesn't aptly describe what we do. The biggest thing we're doing is just purveying information so the two parties--the candidate and the franchisor--can make good business decisions.
Bottom Line
What are your long-term goals for the company?
We're in growth mode and are growing carefully in a thoughtful and strategic manner, and in a way that always allows us the opportunity to execute with excellence and to respect the role of franchisees in our future success.
How has the economy changed your goals for your company?
I don't think the economy has changed our goals. Our growth has slowed and sales have had some negative impact, but we didn't retreat into a shrinking mode for viewing opportunities for the organization. In contrast, we allowed some of the challenges tough economic conditions created to cause us to look at things differently. An example is our increase in international growth for The Melting Pot. We started in Canada and are also developing in Mexico, in the Middle East, and Indonesia. We also are looking at new concepts, like Burger 21, which will provide vehicles for excellent growth opportunities for us and for our franchisees as well.
Where can capital be found these days?
It's available. We are starting to see more opportunities with regional lenders and local banks than in the past. That has not been one of the first places we'd refer a new franchisee to, but now we do.
How do you measure success?
I would say you're successful if you get what you go after and build people up along the way.
What has been your greatest success?
There have been many successes, but my latest, greatest has been my success in putting together an executive leadership team responsible for day-to-day successes.
Any regrets?
Wish I was a little taller (laughs). Seriously, I see no value to regretting things.
What can we expect from your company in the next 12 to 18 months?
Steady and careful continued growth.
Published: September 13th, 2012
Share this Feature
Recommended Reading:
Comments:
comments powered by

Disqus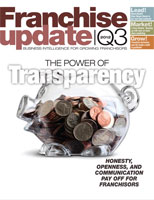 Franchise Update Magazine: Issue 3, 2012
Slick Marketers is reinventing franchise marketing with a hyper-customized and ultra-localized marketing approach with measurable results and growth...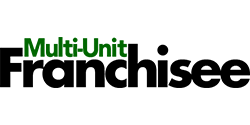 Published quarterly, Multi-Unit Franchisee Magazine is dedicated exclusively to Multi-Unit Franchisees. It delivers vital information and business...