Restaurants on the Run: Is Technology Making "Eating In" The New Normal?
Mike Geiger knows how to shake things up and get the job done in today's digital world, where "eating in" is increasingly displacing dining out as a consumer choice. Geiger, a multi-unit franchisee of Moe's Southwest Grill, is set to open the brand's first all-digital ordering restaurant, in Pittsburgh's Oakland neighborhood. With a smaller footprint and scaled-down seating, the new restaurant will feature four self-service kiosks.
The new design for the fast-casual Mexican brand--Geiger's 11th Moe's--follows the recent transformation of his downtown Pittsburgh location, where online sales soared more than 400 percent after the addition of a full food operations section and a separate entrance for mobile and pick-up orders.
"We completely flipped the Moe's Market Square downtown experience upside down," says Geiger. "We were able to establish this full secondary operation where anyone who places a third-party order or orders through our app will not have to swim upstream. It has its own salsa bar and Coke Freestyle machine. You get the full Moe's experience, and at noon on a Friday people can still get in and out in 45 seconds."
For franchisees, doing takeout and delivery right requires a creative shift in mindset to overcome the technical and operational hurdles involved and leverage opportunities in an industry undergoing seismic change.
More than half of restaurant spending will be off-premise this year, according to investment firm Cowen and Co., which projects that--for the first time on record--money spent on takeout, deliveries, and drive-throughs will surpass spending for dining inside restaurants. This off-premise surge, buoyed by technology-driven changes in consumer habits and the rise of apps and third-party delivery services, is expected to account for as much as 80 percent of the industry's growth over the next 5 years.
Alex Canter, founder of the online restaurant fulfillment and management solution Ordermark, sees this changing face of the consumer landscape as the e-commerce phase of the restaurant industry.
"Brick-and-mortar restaurants have been forced to become digital businesses," says Canter, a fourth-generation owner of the famed Canter's Deli in Los Angeles. "It is really critical to get it right and figure out how to have the maximum visibility to tap into all the different revenue streams that are available."
What off-premise success looks like varies by brand, franchisee, and location, and typically includes a combination of in-house and third-party tools. As with any winning recipe, it takes trial and error to find the right fit, particularly when it comes to technology.
"You're not going to find the right technology in your first attempt, or the first version of anything created," says Geiger. "Over time, you are going to outgrow technology, or new technology will surface that vastly improves your operation. More than anything, sometimes you are just not using the right technology and you need to admit it isn't a fit for you, your operation, or brand and can move on to another one."
Golden opportunity
Billy Sewell, a Golden Corral franchisee with 28 restaurants in 6 states, jumped into the online ordering and delivery game with both feet in late 2018. Along with online ordering, Sewell's slate of third-party delivery partners includes DoorDash, Grubhub, Uber Eats, and ezCater.
"We also have our catering and to-go menus in front of the consumer, and have hired local store marketing catering to business-to-business," says Sewell, president of Jacksonville, North Carolina-based Platinum Corral. "We have 10 stores where we push it on a weekly basis and have conference calls every week or two to monitor where they are, because we see opportunities. I would safely say that in my business overall, it was probably a $3 million to $5 million gain in 2019."
Sewell's online ordering approach for the brand's buffet-style concept evolved from a traditional menu listing to a platform that offers customers a flexible way to create their own family-style bulk order. There were learning curves that came with developing the to-go package and estimating operating costs such as labor needs and food prep time.
These discoveries propelled Sewell to seek new ways to drive business. "The opportunities are endless if you take care of the customer," he says.
In the past 18 months, he has purchased 10 catering vans and a catering trailer, creating additional opportunities for corporate business, weddings, and special events. He's also found a novel way to produce ongoing revenue working with Meals on Wheels, and has two stores in North Carolina providing more than 1,500 meals a day.
"Once we figured out off-premise, there were other opportunities for it," says Sewell, who was a district manager for the brand before becoming a franchisee. "Golden Corral was basically flat last year, and I was up 2.5 percent.I would say a good 1.5 percent of it was from my motivation to try to figure this out."
Digital by the numbers
Toast, a provider of restaurant management and POS systems, surveyed 1,253 restaurant owners, operators, and staff, along with 1,030 guests across the U.S. Technologies cited as most important to the guest experience, respondents included wifi availability, online reservations, and consumer ordering programs.
Toast's Restaurant Success in 2019 report also found that, in the previous month, 51 percent of guests surveyed had ordered directly through a restaurant website, compared with 38 percent who had ordered from a third-party online aggregator site like DoorDash or Grubhub, and 29 percent who had used an app for a restaurant or food ordering service like LevelUp.
For franchisees worried about their eroding profitability, it's an off-premise dining highway filled with bumps and potential potholes. Third-party delivery fees range from 15 percent to 30 percent on every order. Franchisors may also call for associated costs to upgrade or remodel store operations. The quality of third-party delivery services can also vary by locale--or delivery person.
Delivery dilemmas
Lana Tran, who operates five Togo's sandwich shops in Northern California, says that with so many competitors jumping on the delivery bandwagon, you can't escape using third-party delivery in today's marketplace. Tran prefers the cost savings that come from her brand's 24/7 online ordering system, but she also understands the value of incremental sales and new customers third-party delivery provides--despite the costs.
"Third-party delivery cuts into the bottom line significantly because they are taking 20 percent and, then, on top of it, you have to pay your franchisor as well, so there is very little left at the end," she says. "We are just hoping to get bigger orders and make up for that in volume. You have to embrace it or you are going to give that piece of the pie away to your competitors."
Still, Tran, who spent 8 years in human resources before franchising, does the math and gauges the performance of each provider. "Some third-party deliveries are better than others," she says, and no longer uses third-party delivery for large orders or catering requests after problems with drivers showing up late or poorly showcasing the brand.
"We don't want our corporate customers to see someone who doesn't represent Togo's," she says. "We want the orders to be delivered by someone in a Togo's uniform and be more professional."
Mixing it up
Even with delivery and all the choices available for how to do it, franchisees still must navigate the various ways customers might find them and consider all possible ways to reach customers, now that they're moving toward fewer in-store visits.
"Every single market, in every single city, has a different balance of power when it comes to third-party delivery," says Canter, whose family now operates two additional delivery-only locations. "It feels like a lot of franchise organizations are overlooking the importance of these local providers and players.They should be giving franchisees full authority and autonomy to choose whatever it is that is important to them in their ZIP Codes."
However, for operators focused on providing a seamless experience by adding new technology tools and suppliers--and trying to make all the pieces fit and work smoothly together without adding too much complexity or cost--implementing an off-premise mix of in-house and third-party services also presents numerous operational challenges.
Patrick Guay, owner of four Mooyah Burgers restaurants in Connecticut and Massachusetts, works with the leading platforms available in each of his locations. Although participating in third-party delivery adds sales he wouldn't otherwise have, Guay says it definitely adds a layer of complexity to his operations.
"When the delivery platform is not integrated with the POS, we need a dedicated tablet for each partner," says Guay. "There also is the additional time it takes to enter orders manually. On the back end, there are additional accounting challenges to deal with weekly, or monthly payments from working with the delivery companies."
Guay credits his franchisor for support. The move to integrate DoorDash into the loyalty app brand-wide has helped improve efficiency and made it easy for customers to order and gain points. Mooyah also uses Dispatch, a platform that unifies brands, service providers, and customers, for direct integration into its POS system.
Guay says Mooyah helps defer costs by rebating a portion of royalties related to delivery orders so he isn't paying twice for these orders. He also works with the corporate marketing team to build programs with the delivery platforms to increase awareness and help drive promotions.
Making it work
It's this multiple third-party management dilemma that Canter was trying to solve for his own family business when declining sales forced him to look for new business outside Canter Deli's four walls.
Delivery was a huge success, quickly accounting for up to 30 percent of company revenue, a $2 million annual boost. It also added up to huge headaches.
"Unfortunately, the staff hated me because we had nine tables, two laptops, and a fax machine just to manage all those incoming orders," Canter says. "We were messing up orders left and right, and drivers were showing up to pick up the food we hadn't even started making yet."
His story, too familiar to many restaurant franchisees, resulted in the creation of Ordermark, which allows restaurants to connect to multiple delivery services and platforms through a single online dashboard and device.
Seizing off-premise opportunities requires franchisees to adapt their operations in big ways, but in small ways too."There are lots of points for errors, so it is really important to get the food out efficiently and fast and to the right person," says Canter. "From an operational perspective, I have found it is important to label the bags going out the door with the printed-out ordered ticket, which is why we chose a printer as our product."
Mooyah's Guay has also changed the way orders are labeled to reflect the name of the consumer. And he's added interior signage to his restaurants to make it easy for drivers to see where to pick up orders.
Expanding opportunities
While Geiger doubled the size of his Moe's restaurant in Pittsburgh's central business district, his new, all-digital 15-seat location allowed him to take advantage of smaller prime real estate near the University of Pittsburgh and Carnegie Mellon campuses. The kiosks, the first of two all-digital Moe's set to open in the first quarter of 2020, will accept credit cards, Apple Pay, and university ID cards. A POS register will also be on site. Geiger expects to learn plenty from his new venture.
"It's going to give us a lot of great new insights into our guests, the time of day, day of the week, ordering methods, and ordering habits," he says. "We see a lot of value in whatthe digital world can offer us."
What's ahead
With expected third-party delivery consolidation, growing talk of ghost restaurants, autonomous delivery vehicles, and the increased use of AI and robotics, the future of delivering the "eating in" experience--still in its early days, despite its surge in popularity--is expected to be one of constant change for some time, and franchisees must learn to master the art of flexibility.
"The dining experience we offer 2 years from now will be radically different from the one we offered 2 years ago," Guay says. "Different modes of shopping, ordering, and eating will continually evolve to meet the demands of our customers."
Published: March 31st, 2020
Share this Feature
Recommended Reading:
Comments:
comments powered by

Disqus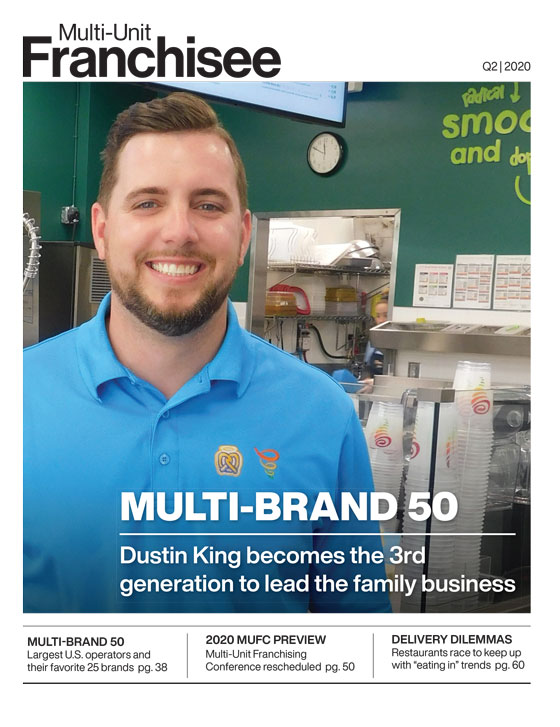 Multi-Unit Franchisee Magazine: Issue 2, 2020
Join the growing $811 Billion grocery industry. Save A Lot is the nation's leading independent grocery chain. Our proven licensed model provides the...
Cash Required:
$300,000
Blend opportunity with success and join the nation's #1 health and fitness smoothie brand today!
Cash Required:
$100,000