Rider on the Storm: From 25 to 50 Restaurants In 4 Years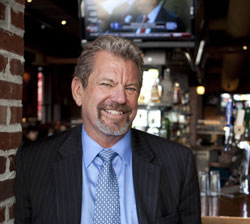 Things have been good for Greg Cutchall during the last four years. He's doubled the number of restaurants he operates from 25 to 50 units. And this from a guy who said he never wanted to go into the restaurant business.

That's because a young Cutchall watched his father and uncle struggle to make ends meet with their two A&W Restaurants and told himself he would never go into that business. Today, the 60-year-old Cutchall has not only entered the restaurant business (42 years and counting), he's done extremely well, providing a good life for his family and opportunities for his thousands of employees throughout the years.

"Nothing is more rewarding than being in a restaurant you helped create and seeing engaged, happy employees operating a restaurant that keeps customers coming back," he says. He now operates 50 restaurants in five states, experiencing the most growth with Paradise Bakery & Cafe, which he's grown from four locations to 17. He's also added Sonic, Domino's Pizza, and Twin Peaks to his library of brands.

Never one to miss a promising opportunity, he's fueled some of his recent expansion through conversions. His first was turning one of his Famous Dave's units into a Rock Bottom Restaurant & Brewery. He says the move made good economic sense and was successful.

"I next converted my oldest Famous Dave's restaurant into my first Twin Peaks," he says. "That change caused sales to more than double at that location." But he was far from done with conversions, which is how he got into Domino's in a kind of two-for-one move. After acquiring a group of nine Sonics, he converted a poor performer into a Domino's and turned it into a moneymaker.

The economy has been on a wild ride since we last talked with Cutchall in 2009, but he's weathered the storm rather well. Not only has he added brands and doubled his number of locations during the last four years, he's done it in territories where restaurants have been popping up like wildflowers.

"The landscape for restaurants has been saturated in all of our markets," he says. "In Omaha, for example, our population has increased 2 to 3 percent since 2000, but the number of restaurants has increased by 500 percent. The good news is that it does force us to get better every day, and more people are eating out than ever before."

Cutchall says he hopes to consolidate in the near future and reduce his numbers, so he can focus more intently on fewer, more centralized locations--but jokes he's been saying that for years. "I don't measure growth by the number of locations anyway," he says.

Just because he hopes to scale back doesn't mean he's getting out of the restaurant business. "I'll own and operate restaurants until I die," he says.

Name: Greg Cutchall
Title: President, CEO, Founder
Company: Cutchall Management Company (CMC)
No. of units: 17 Paradise Bakery & Café; 15 Sonic; 7 Famous Dave's; 4 Tin Star; 3 Domino's Pizza; 2 Twin Peaks; 1 Rock Bottom Restaurant & Brewery; 1 Burger Star.
Age: 60
Family: Wife and 3 children
Years in franchising: 42
Years in current position: 24

###

Published: August 14th, 2013
Share this Feature
Recommended Reading:
Comments:
comments powered by

Disqus
Blaze Pizza, the recognized world leader in fast, artisanal pizza, is looking to add to our team of top-tier franchise partners.
Cash Required:
$500,000
Executive Care is more than just a Senior Care company. We are a full-service home health care company serving clients from infants to seniors. Our...
Cash Required:
$99,000