Selling franchises was simpler 20 years ago - but not better!
Life was easier for a franchise sales person in 1987. There were fewer media, fewer regulations, and what prospects knew about your brand was mostly what you told them.

It was a print world then. Franchise sales people had Entrepreneur magazine, which owned the lion's share of national magazine advertising. The Wall Street Journal was for the higher end, larger investment buyers, and also national. Large metro papers like the Atlanta Constitution or LA Times would handle the local markets.

Then you had your shows. There were the Don Palladino franchise shows, which were sold and eventually became the Blenheim or MFV shows, which includes today's IFA show. They were just local shows, often biweekly, and business opportunities were allowed in then. People were selling chinchilla farms and karaoke franchises right next to the Molly Maid booth.

Going to the carnival
I remember one day at a Don Palladino event... the lady who was selling those popcorn-making machines that you see in bars and restaurants was there. The machine caught on fire during the show and smoke was billowing up through the room! The trade shows were like a three-ring circus during the 1980s. In some ways, it was kind of cool.

There were a few franchisors participating in those shows because you had qualified buyers there, and you stuck out like a shining star among the licensing and business opportunity programs. It was a whole different environment then. The professionalism obviously was not at the level it is today. Franchising has grown up since then.

Secondary recruitment sources
You had a few franchisors using business brokers, too, which was a source for incremental lead generation in target markets. There were two systems I dealt with: VR Business Brokers, along with Corporate Investment Business Brokers. Today there has been an explosion of these services with FranChoice, FranNet, E-Source, BAI, FranchiseInc. and several other professional franchise consultants available to help produce qualified buyers.

Back then, PR agencies were a good resource for generating franchisee success stories, which could produce more leads and provide testimonial reprints for franchise recruitment packages.

There were vertical ways you could market, too. I sold quite a few franchises for our direct marketing concept through Sales & Marketing Management Magazine. And of course there were referrals sales through existing owners and customers.

That was pretty much it. Media planning for recruiting was not complex. There weren't that many choices, so it was very easy to determine what sources to use compared with today. In fact, it was kind of a no-brainer: you'd run an ad in Entrepreneur, Wall Street, do some local advertising, a franchise show, and maybe take a look at business brokers.

The '80s environment provided a tremendous advantage to larger franchise companies because they could afford to advertise nationally. It was much tougher for startups then. Most of the smaller, up-and-coming franchises could not afford to advertise outside their local market.

Today it's much easier for smaller and start-up brands to have a presence in the marketplace. For three or four hundred bucks, you can be on a Web site and generate leads across the U.S. and internationally. Today a new, bootstrapping franchisor can generate franchise leads worldwide before the ink is dry on their initial registrations. Yesteryear there was no way to do that outside of your local market. Now, the smaller guys can compete with the big boys.

Beyond tin cans and string
The structure of how we did business also was much more simplified 20 years ago. There was no Internet. There was no voice mail! Fred DeLuca of Subway was the first I knew to install a voice mail system for his fast-growing network. Up to that time, there had only been answering machines, used for after-hours calls.

At the time, everybody had a secretary or administrative assistant who would answer the phone. The salesperson was dedicated only to selling, and because we didn't have computers, you never typed your own stuff. Your assistant did all that. You never were responsible for responding back other than by phone. Fax machines were not used much, if at all.

If someone wanted information about a franchise, they had to call or write a letter to the sales department. Telephone was king. It was the hotline to success. Sales people would live or die by those call-ins. Without online and other communication channels existing today, buyers really had no easy way to get information on your franchise, unless they called or attended a franchise show.

Power shift
The Internet explosion hit franchising in the later '90s. It greatly benefited buyers, providing them with unprecedented access to information and intelligence. And it's more than just surfing your Web site. Today you can order a UFOC without talking with a franchisor. You can see what the scoop or gossip is about a franchise on the Internet. You can Google anything: the officers of the corporation; press about the company; industry rankings of the franchise. It's amazing. Consequently, franchisors are now going online to check out their reputation through chat sites, blogs, etc. and see if they're being praised or whacked!

Today's buyer is asking, "What can your opportunity really do for me?" They are much more discriminating and savvy than 20 years back, because now they can be. Knowledge is power, and this has brought change. "I don't need or want to call you now. I can do my own investigation first, and then choose which franchises I want to consider. And then I'll send you an email, so you have to call me."

No more paper napkins
Paper napkin deals were still taking place 20 years ago. However, that era was just ending as the FTC was coming down hard on areas of illegal earnings claims.

Once, after a trade show in Cincinnati, I was in the hotel grabbing lunch and there was a franchise sales guy in a meeting with a prospect. He was offering different scenarios to the wide-eyed prospect. "Gosh, you know the potential income is unlimited. If you do this-this-this, you can make $50,000 a year. If you do this-this-this, who knows, maybe $250,000. It's up to you."

Thank goodness the FTC began making some major sweeps, cracking down on business opportunities and franchisors. Handcuffs were not spared during these raids. And then, the FTC got real smart and declared earnings claims could be disclosed in franchise UFOCs. No more excuses for back-room conversations or dirty napkins. With the ability to provide Item 19 information, sales people could provide financial information and not rely solely on their franchisees to make statements. Recently, the FTC has provided even greater latitude for Item 19 disclosures, encouraging more concepts to help prospects project earning potentials. By the mid-'90s most of the white-shoe salesmen were gone.

Changes in recruitment
As a result, modifications in the sales approach were taking place. As buyers became better informed, the sales process itself had to become more buyer-driven, and less the used-car salesman approach: "This is the greatest deal going. You better get in fast because I have only one territory left in your marketplace and I'm only in town today..."

The slick sales guys were becoming dinosaurs, dying off in the '90s. Some of them were phenomenal at the art of selling. But they weren't really interested in changing their ways, and they moved on to other selling opportunities.

I recently spoke with a veteran franchisor from that era. He admitted he was one of the "tin men," but survived the shakeup by going straight. If he didn't, his franchise program would be growing daisies at his gravesite today.

Savvier buyers and sellers
Buyers today are far more elusive, discriminating, and cautious than buyers in 1987. They do a lot more research comparing concepts because it's all easily available to them. They are looking at 2, 3, 4, or more concepts. If they've decided to pursue a business in the children's category or the sandwich business, within 10 minutes they can have all the names, emails, and phone numbers of the major players.

The days of the "fog-the-mirror" test are gone, which meant if you can breathe we'll sell you a franchise. Today it's more a case of holding up two mirrors: take a good look at yourself before you grant the franchise, and make sure the candidate looks closely in the mirror before they commit to a partnership.

In today's market, the process of selling must be a mutual investigation, controlled and led by you. It's not a hard sales approach, it's a systematic process focused on finding if the fit is right between buyer and seller.

Also, with the significant growth of multiple-unit owners and area developers today, you have more professional business owners coming into the industry. The stakes are higher, and sales people must raise their game to deal with these mature, veteran business operators.

The good news is that quality recruitment education and alternative selling options are available to franchisors through development consultants, independent sales professionals, recruitment outsource companies, and franchise broker networks.

Today's biggest challenge
With opportunities come challenges, and the multi-media jungle of modern times has baffled too many franchise companies. The multiple resources buyers use to find franchise concepts has created epidemic confusion among companies in monitoring their marketing and lead-generation performance. All of us veterans wish it were 1987 again when advertising was so simple, when people were forced to call you for information, and could easily tell you how they heard about you.

According to Franchise UPDATE's 2007 Franchise Development Report, only 44 percent of franchisors track their sales, and 51 percent track their lead sources. Wow. Tragically, hundreds of thousands of advertising dollars are flushing down the drain.

On a much brighter note, technology tools, systems, and educational solutions are available now that can improve lead-generation measurement and buying intelligence. It's simply up to bewildered franchisors to embrace these resources, take control of their lead-generation program, and they'll profit from greater performance.

What does the future hold?
The Internet, recruitment brokers, and outsourcing have changed the face of franchise recruitment over the past 20 years. These factors should influence development for years to come.

I also believe the growing segment of experienced franchise operators will present greater recruitment opportunities for more franchise concepts. Fifty-three percent of franchisors surveyed have franchisees that own brands with other franchise companies.

Traditionally reserved for food franchises, these professional business builders are now buying non-food and other service businesses to help diversify their portfolios. They are more interested in the viability of your business model, not what the business is. This opens a window of opportunity to recruit experienced multi-unit/multi-brand operators and area development franchisees.

I also predict the great improvement in franchisee profiling and selection tools will pay off for more franchisors by increasing franchisee satisfaction, unit performance, revenues, and royalty streams - and as important, reduce unit failures, expenses, and related problems.

And 20 years forward, I also predict I will be sitting under an umbrella sipping an ice-cold beverage, marveling about the fantastic journey franchising has experienced, how it has touched and improved the lives of billions of entrepreneurs and consumers, and how I was able to see it all happen!

Steve Olson is publisher of Franchise Update Media Group. Previously, he was senior vice president of franchise development for It's A Grind Coffee House, a franchise development consultant, associate publisher of Entrepreneur magazine, and franchise executive with service and retail franchises. He began his franchising career 27 years ago as a franchisee.
Published: October 2nd, 2007
Share this Feature
Recommended Reading:
Comments:
comments powered by

Disqus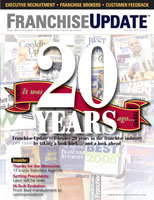 Franchise Update Magazine: Issue 3, 2007
Clayton Kendall provides franchise communities nationwide with comprehensive branded merchandise programs leading to greater brand exposure,...
Gravity Software is a cloud-based, multi-entity accounting solution that simplifies inter-company transactions and financial reporting. Built-in...