Serving with a Cause: Husband-and-Wife Team Pass on the Blessings
Whether working to build up their business or improve the lives of children in their community, Papa Murphy's franchisee Todd Mulvahill and his wife Kelly love serving with a cause. And for their passionate, unwavering support for children in the Seattle-Tacoma area, they are the 2016 recipients of the Noble Cause MVP Award.
"To our company, being noble means helping others who are either too young to know what help they need, or their families do not have the ability to provide the help," says Todd Mulvahill, a Papa Murphy's franchise for 20 years. "We are not looking to be recognized. We just want to know that our actions have improved a young person's life."
Giving back is a way of life for the Mulvahills, longtime supporters of St. Jude's Children's Research Hospital. They also work actively to spearhead programs that benefit the local partner hospitals of Starlight Children's Foundation. Recent community initiatives include money for mobile entertainment centers to help children cope during chemotherapy treatments, and free pizza donations to camp programs for cancer patients, survivors, and their families.
Employees in their own company also experience their generosity, each receiving a gift that gives back at the annual Christmas party. "Every guest gets to walk away with a little stuffed animal, and we make sure they know that all the proceeds go to St. Jude's," he says. "It is something all of our employees look forward to every year."
Mulvahill is always looking for ways to give back. After nearly eight years as president of the brand's Seattle DMA Advertising Co-op, he recently stepped down, calling his service there a great run. "I always led the co-op to help others and to try and help build all of our sales," he says. "Our Seattle DMA owner group has been wonderful to work with in supporting Starlight Children's Foundation. We all have gotten behind it and have never once questioned what all the goodwill was going toward."
These days, the Mulvahills are gearing up to spread their good works to new customers and a new brand. The company, which has operated as many as 17 Papa Murphy's before selling off 11, recently signed on as the pioneer franchisee of The Gyro Shack, a Boise-based QSR concept. The agreement calls for 14 Greek food restaurants in a market that will be able to house as many as 60.
With little room to add any more quality, high-volume Papa Murphy's stores in their Seattle market, the time was right to add a new brand. "We both wanted to diversify, and The Gyro Shack fit what we were looking for," says Mulvahill, who worked in national sales for a beer distribution company before he turned to franchising. "I'm only 51. I would drive Kelly crazy if I retired right now." Also, he says, "We have two girls, 17 and 21, and have to pay for two colleges and two weddings."
The Mulvahills say receiving the Noble Cause award was a humbling experience. They hope to continue to lead by example by showing others that "We all should reach out and help others with our blessings."
Name: Todd Mulvahill and Kelly Mulvahill
Title: Owner, President, CEO; Owner, Secretary
No. of units: Papa Murphy's, 6; The Gyro Shack (signed for 14)
Age: 51
Family: Wife Kelly; two daughters, Mikaela and Abi
Years in franchising: 20
Years in current position: 20
Personal
Formative influences/events:
I simply got tired of working for Corporate America. When I received a letter of warning from my job for something that wasn't even my fault, it was the straw that pushed me into franchising.
Key accomplishments:
Our second store. When we opened our second Papa Murphy's, we broke the company's record for grand opening sales. Our stores have always outperformed the rest of our DMA's AUV.
Other accomplishments:
I have served as president of our DMA for 8 years and served on Papa Murphy's franchise advisory board for 15 years.
Workweek:
50-plus hours.
What are you reading?
Slash by Slash and Anthony Bozza; Good to Great by Jim Collins.
Best advice you ever got:
Never partner with anyone!
What's your passion in business?
We absolutely take great pride in the development of our people and their well-being both in and outside of working for us. Without them, we would be nothing. We love providing them the opportunity to grow within our company and run the business as if it is their own.
Management
Business philosophy:
With franchising, we already have a great product. If we take good care of our people, they will take care of the customer and deliver the quality product. Management method or style:
To be the best coach we can be. Acknowledge successes before areas of improvement. We always are there to listen and learn ourselves. We learn a lot just by listening to our team. Greatest challenge:
Keeping up with and staying ahead of today's government-regulated, business-unfriendly climate. How do others describe you? A leader. Caring with a huge vision. How do you hire and fire, train and retain?
With management we always try to promote from within whenever possible. We have not gone outside the company for management for three years. When we have gone outside, we use Indeed as a tool to find candidates. If I'm guilty of one thing, it is leading a horse to the water trough too many times thinking it will drink, and it just won't. I tend to believe everybody is good. But sometimes it's just clear that an employee needs to go find their happiness somewhere else when company standards are not followed. We have a main store that we call our training store. New hires or current employees climbing the company ladder spend time in this store to learn high-volume/best practice procedures. It is typically an eight-week course from start to finish--starting with daily operations and moving on to building and working with their own team of employees, and daily and period administration duties. At the end of the eight weeks, they should be able to fully manage their own restaurant as if it were their own. For hourly employees, we use a 30-day training/coaching program. If we have done our selection process properly, an individual should have no problem becoming effective within the 30-day process.
Bottom Line
Annual revenue:
$7 million.
2016 goals:
For our Papa Murphy's stores, we want to keep up our positive comp sales growth. Our DMA is almost filled in, so we would like to start acquiring current owners looking for a change. For The Gyro Shack, we plan to open our first store by end of the year and follow with two more in Q1 of 2017. We currently have three LOIs turned in on great sites and have five more in the hopper.
Vision meter: Where do you want to be in 5 years? 10 years?
In 5 years, we hope to be the dominant owner in the South Sound of the Seattle Papa Murphy's DMA. For The Gyro Shack, we will have already finished building out our 14-store agreement. In 10 years with Papa Murphy's, I would love continued steady growth as a national brand and continued achievement of positive sales comps. In 10 years with The Gyro Shack, we hope to have our entire DMA built out (50-plus units). Most of all, I would love to see my two daughters involved with the company if that is what they could see themselves doing for a career.
What are you doing to take care of your employees?
We always do our best at staying competitive with current salaries. We have always offered a very nice bonus program that allows for a share of net profit by period. We offer paid vacations, sick leave, and profit-sharing. We have a 401(k) that we fund with 3 percent of a manager's salary on an annual basis. And we throw an awesome Christmas party for management and spouses.
What kind of exit strategy do you have in place?
If our kids choose to join the business, we would work with them to someday take over. But equally important would be to take care of and set up the people who have taken care of us for all these years: our senior management! That's at least 10 to 15 years away. We have lots of time to figure that one out.
Noble Cause Award
Why do you think you were recognized with this award?
We have always believed in giving back to the community that has been so giving to our company all these years. But more importantly, we believe in giving to charities for kids. We have partnered with The Starlight Children's Foundation for five years. We have provided children's hospitals with game carts for sick kids to play while hospitalized for lengths of time, and surgical grade iPads to many Seattle-area children's hospitals. We also donate pizza and provide funding for the children and their siblings attending their summer camps.
How have you raised the bar in your own company?
We are always looking for the next great opportunity to either better our operations or assist in the growth of our employees.
What innovations have you created and used to build your company?
We were the first owners in the Seattle DMA to embrace installing a new POS system and using it to its full capacity to control costs and create better flow-through to the bottom line. Our employees--from hourly to management level--loved our dedication to the investment for this technology.
What core values do you think helped you win this award?
Treat others as you would want to be treated! Don't give to receive, give to help others.
How important is community involvement to you and your company?
The South Sound Seattle area has embraced our company for many years. We can never stop giving back to support them, from children's charities to local schools.
What leadership qualities are important to you and your team?
What kind of party do you want? If you were to be transferred to one of my other restaurants tomorrow, what kind of party would your crew throw for you? Would it be a party of sadness because they don't want you to leave? Or a party of joy because they can't stand working for you and are elated that you are leaving? If any of our managers possesses leadership qualities that would land them at the second party, they most likely should go find their happiness somewhere else.
Published: November 7th, 2016
Share this Feature
Recommended Reading:
Comments:
comments powered by

Disqus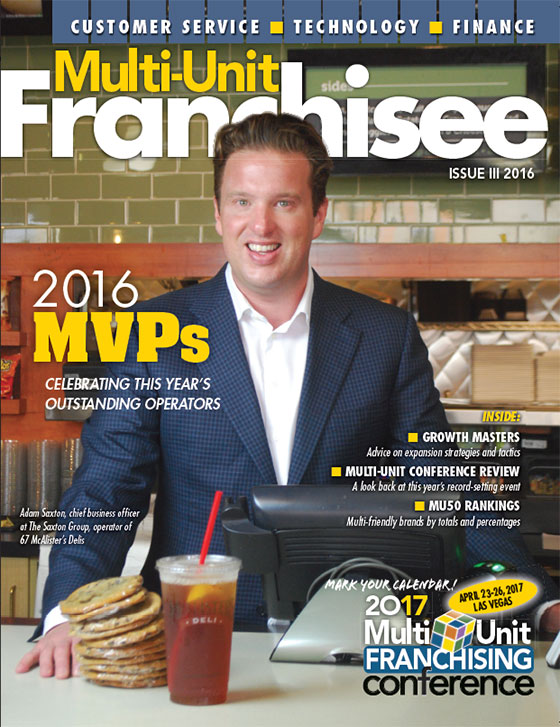 Multi-Unit Franchisee Magazine: Issue 3, 2016
Own a highly profitable business that impacts lives in your community by jumping into action as an Urban Air franchisee owner.
Cash Required:
$750,000
Make your mark on the billion-dollar esports industry while making a positive impact as a franchise owner!
Cash Required:
$50,000