Shamsu Charania Keeps Adding Brands: 2022 Multi-Brand Leadership MVP Award
Name: Shamsu Charania
Title: CEO
Company: The Falcons Group
Units: 57 Checkers & Rally's, 22 Dunkin' and Baskin-Robbins, 11 TGI Fridays
Age: 41
Family: Wife and daughter, 6
Years in franchising: 15
Years in current position: 4
Shamsu Charania is the 2022 Multi-Brand Leadership Award MVP (Most Valuable Performer).
Selected for achieving brand leadership in multi-brand expansion, he is CEO of The Falcons Group, which operates 90 units for Checkers & Rally's, Dunkin' & Baskin-Robbins, and TGI Fridays.
After finding initial franchising success with TGI Fridays, he purchased a group of Checkers locations out of bankruptcy. Then, thanks to a 30-unit deal at the end of 2021, he became the largest Checkers & Rally's franchisee, operating 57 units, along with his 22 Dunkin' and Baskin-Robbins stores and 11 TGI Fridays. Looking ahead, Charania says he'd like to own 150 stores and 50 real estate properties by 2025.
PERSONAL
Formative influences/events: The most important influence in my life has been my former boss, current partner, and lifelong friend, Ali Chunara. I started working at one of his locations as a cashier in my teens, where I developed the skills and mindset required to run a successful business. Over the years, our partnership prepared me for the growth our company has experienced.
Key accomplishments: First, with no previous casual dining experience, we acquired and successfully operated a network of TGI Fridays restaurants. Then we purchased a network of Checkers out of bankruptcy and turned them around without closing a single location. Most recently, we became the largest Checkers & Rally's franchisee through the purchase of another 30 units at the end of 2021.
Next big goal: Own 150 stores and 50 real estate properties by 2025.
Hardest lesson learned: Do not make business/financial decisions based on personal relations.
Best advice you ever got: Upgrade your advisors (attorney, CPA, coach, and others) as you move to different levels. The same people will not necessarily work at various stages of your business/life.
Favorite book: The Power of Your Subconscious Mind by Joseph Murphy.
What's your passion in business? To grow our company to a level I can be proud of—not only in terms of stores or assets owned, but also measured through the development, growth, and promotion of talent within the organization.
MANAGEMENT
Business philosophy: To win every day by improving at least 1% each day in everything we do. Business is a marathon, not a sprint. Hence, continuous small improvements compound. By learning and pushing ourselves each and every day we prove we can accomplish big goals together as a team.
Management method or style: Very hands-on and involved. I like understanding every aspect of my business while simultaneously empowering my management team to own the decisions inside their area of responsibility. I love coaching members of my team and watching them develop skills and knowledge that help them in all areas of their life, not only at our company, but wherever their career path may take them.
Greatest challenge: Building a team of like-minded individuals to grow our business.
How close are you to operations? I stay very involved. I double as a CEO and COO of our company, so every director of operations of our respective brands reports directly to me. I grew up in operations, so that aspect of the business is very important to me.
How do you hire and fire, train and retain? We have worked to establish a culture where like-minded people stay and thrive. We have found that when others feel they don't fit, they tend to simply move on to other opportunities. Believe it or not, I have had to fire very few people in my lifetime. I grew up with high standards, which have persisted into my professional life and now our business. Mediocre performers don't generally fit in well. As a result, I have been very fortunate to work with the most talented, hardworking, and dedicated individuals.
COVID-19
What have been the biggest impacts of Covid-19 on your business? Covid pushed our industry quickly into the digital revolution. Initiatives to reduce customer contact, coupled with labor shortages, pushed our business to adopt technology that will be beneficial for years to come.
MVP QUESTIONS
Why do you think you were recognized with this award? Because of the track record I have shown with various brands, especially at Checkers & Rally's—specifically, becoming the largest franchisee in their system in less than 2 years after entering the brand.
How have you raised the bar in your own company? People who work with me understand that I expect excellence and solutions, not excuses. I expect honest commitment with 100% dedication and I do my best to lead by example.
What innovations you have created and used to build your company? Since I have my undergrad degree in computer science, I have always leveraged technology and systems to build my company. We have been paperless for a long time, with all our data stored in the cloud. Plus, a lot of our process for onboarding, hiring, accounting, and payroll have been automated to make efficient use of labor. Further, we are testing a drive-thru AI order-taking system that we hope to bring to our other brands. Last, I find people get excited about investments in innovations (ordering kiosks, curbside pickup tools, and others), which makes them motivated to come to work every day.
What core values do you think helped you win this award? Dedication, persistence, and hard work. I truly believe that with these qualities one can achieve anything your heart desires in business or personally.
How important is community involvement to you and your company? We are fortunate to have received more than most and we are thankful each and every single day. With that privilege comes a responsibility to give back to our community. We support our local food banks, children's hospitals, and health clinics, which provide much-needed care and support for the underprivileged members of our community.
What leadership qualities are most important to you and your company? People say "Showing up is 90% of what it takes to be successful." A lot of people misunderstand this concept. Showing up isn't clocking in and out, but rather being engaged, motivated, and focused while you are at work. The leaders who really excel in our company (and everywhere else for that matter) do that every day.
BOTTOM LINE
Annual revenue: $125 million.
2022 goals: Open at least 6 new restaurants and do one or two strategic acquisitions, either in existing or new brands. Hire a CFO for the company.
Growth meter: How do you measure your growth? We measure growth in 3 key metrics, each of which can't come at the cost of any of the others: 1) increasing store count, 2) improved EBITDA percentage at each brand; and 3) maintained or improved quality, measured by executing on each brand's standard KPIs.
Vision meter: Where do you want to be in 5 years? 10 years? As I mentioned, the 5-year goal is to get to 150 stores and 50 real estate properties. In 10 years, we would like to have more than 500 stores across five different complementary brands to maximize our real estate strategy as we approach new markets.
What are you doing to take care of your employees? We provide a full benefits package for all of our full-time employees, which includes medical, dental, vision, PTO, 401(k), flexible scheduling wherever we can accommodate, plus a bonus structure for our store managers and above-restaurant leaders. In addition, we have started daily pay for all our employees, which gives them the option of withdrawing their salary earlier than their scheduled payday.
What kind of exit strategy do you have in place? I am very ROI-focused when driving strategy, so we consider our ultimate valuation in every decision we make. However, right now we are really focused on growth so an exit isn't on the immediate horizon.
Published: August 27th, 2022
Share this Feature
Recommended Reading:
Comments:
comments powered by

Disqus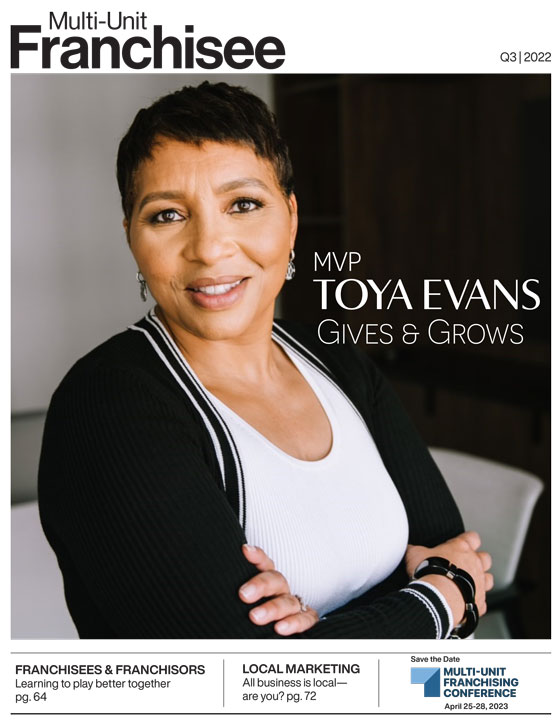 Multi-Unit Franchisee Magazine: Issue 3, 2022
Our first store opened in 1990 in California, growing quickly to a 5-store regional chain. PET DEPOT® started franchising locations in the USA in...
Cash Required:
$53,250
Own a rewarding business and help children develop skills for life with The Little Gym, the world's largest children's motor skill development...
Cash Required:
$100,000