Sink or Swim?: Dealing With Underperforming And Distressed Units
When Greg Thomas decides whether to fix or ditch a financially troubled store, he typically thinks big. "I don't pay attention to pennies, nickels, and dimes," says Thomas, franchisee of more than 30 Great Clips salons in the Southeast. "When something is distressed, saving a few nickels, dimes, and pennies doesn't do anything. You have to increase sales 25 to 50 percent overnight."
Not everyone has his constitution--nor his experience turning distressed franchise units into profit-makers. Thomas, president of Parkside Ventures in Duluth, Ga., has made it his business to know whether a store has profit potential or will continue to bleed red (for an in-depth profile of Thomas, see www.franchiseupdate-digital.com/franchisee/2011iss3).
When a franchise unit flounders, knowing where trouble lies can make or break a multi-unit operator's effort to launch a successful turnaround. The direction that effort takes depends on whether the business is underperforming (not meeting its potential) or is in financial distress (cannot pay its bills). The distinction can be critical when turnaround time is money and operators face increasing pressure on several fronts.
"Landlords don't want to adjust rents, franchisors don't want to adjust royalties, and no one wants to take a haircut," says Anand Gala, president and CEO of Costa Mesa, Calif.-based Gala Corp., which operates 25 Applebee's and Famous Dave's restaurants in Southern California and Phoenix. "The franchisee is now shouldering 90 percent of the risk associated in the business. Previously it was closer to 50 percent."
These financial challenges, heightened by lackluster sales, governmental regulations, taxes, healthcare uncertainty, labor costs, and tight credit, mean multi-unit franchisees today have much less operating margin for error, says Gala, whose company also provides consulting and management services to franchisees.
Data-based prayer?
Can you control what is ailing your business? Franchise attorney J. Michael Dady, whose Minneapolis-based firm Dady & Gardner has represented more than 350 franchise and supplier organizations, says that when a unit underperforms this is a great first question to ask. His firm even provides a kind of franchisee "Serenity Prayer" that seeks the "wisdom" to be able to determine what can, and cannot, be changed and the "courage" to know the difference, move forward, and make changes--even after you've been told there is nothing more or you to do.
If a unit's location is good and the brand is solid, problems with operations can usually be fixed, says Thomas. The swiftest way for a multi-unit operator to get a feel for a unit's controllable issues is to know its numbers--and study every line. Thomas likes to look at P&Ls month-to-month, rather than annually.
"I concentrate on sales, sales, sales--nothing else," says Thomas, who operates 32 Great Clips units with partner Grant Simon. "I know how much money each store should be making, and if it's not making that much money I raise prices. If my store is not growing double-digits, I want to get rid of it."
The numbers also help Thomas target his strategy during the acquisition stage. A look at the P&L of one struggling unit pointed to internal theft. He fired the suspected employee and sales instantly rose 25 percent. Cash flow at another poor performer was positive within a week after Thomas took over, just by reconfiguring employee pay.
With a restaurant, for instance, says Gala, analyze the core operating costs of goods, food, beverage, merchandise sales, and labor and compare them with locations that have similar volume. If there is a disparity, there is a problem.
If your portfolio is smaller, don't be afraid to seek guidance from someone you trust within your brand. When Gala suggested this tactic to a client, the restaurateur initially balked, concerned that revealing this information would somehow undermine his recovery efforts. Once that hurdle was cleared, the client met with another franchisee within the brand and the two operators shared menu, pricing, and sales data. The client also sent managers to his fellow franchisee's restaurant to train for three days, a move that instantly raised service and quality at the struggling restaurant. The result? "Everyone's sales went up," says Gala.
Also, when studying the numbers of a struggling unit, don't overlook the middle of the P&L sheet, says Gala. A lot of wastefulness can occur over time when no one is watching the numbers carefully. For instance, studying the financials of a sit-down dining location that he took over, Gala discovered that the restaurant paid people to water and change the plants in the dining room. Cutting unnecessary expenses can add up to 3 percent to the bottom line, he says.
Customers talk, customers walk
Whether your franchise units sell hamburgers, haircuts, or home repair services, customers can offer clues as to why business is down. Gala encourages franchisees to use a guest service measure or index to gather performance information. Don't have one? Make up your own, use a mystery shopper program, or hire someone to look for customer-service quality indicators such as clean restrooms, consistent food quality, and friendly employees. With the rapid growth of social media and online rating sites such as Yelp, public perception can change quickly.
"Life is too short to put up with a bad attitude," says Gala. "If there is another KFC around the corner or a McDonald's across the street, people defect much more quickly now than five years ago."
In 2009, it took just one visit to Andy's Burgers, Shakes & Fries in Lumberton, N.C., for franchisee J.R. Cottle to see why the restaurant performed at the bottom of the nearly 100-unit chain. The store was dirty, equipment faulty, and the employees uninspired, says Cottle, who started with Andy's Burgers as a part-time "fry guy" at 15, purchased his first location when he was 24, and today operates the chain's top store, in Locust, N.C.
Cottle hired a former employee to manage the unit, fired the entire staff, scoured the store, and invested in new equipment. "We had the wrong people in place," says Cottle, whose company, J.R. Cottle Inc., will post $2 million in sales this year. "We were not looking for the best people, but for the right people who would be invested in the company's success. You don't have to be the best waitress, you just have to be a good person. It's harder to teach character than talent."
Cottle's strategy paid off. In just six months, he rebuilt relationships with the community and doubled same-store sales. Hearty growth and the highest turnaround in the company continues today.
Sometimes external circumstances that are no fault of the operator can wreak havoc. A change in the market, pressure from new competition, the exit of a mall's anchor tenant, or road construction that blocks access all can hurt sales.
When road construction turned a bustling Taco John's franchise into a distressed unit, the franchisee, a client of Dady's, went to the franchisor for help. The franchisor, to its credit, allowed the unit to relocate, says Dady. "That is an example of a franchisee wise enough to ask for help," he says. A property owner with multiple properties may also be able to move a struggling unit to another location within their portfolio and renegotiate the lease.
Sometimes a franchisee is too close to the problem to see the situation clearly. Dady and Gala both emphasize the benefit of taking a step back and seeking legal counsel, asking your franchisor for help, or consulting with another franchisee for advice.
Do your homework--diligently!
Stores close, even in good times. An operator's solid track record, relationships, and open communication can play a successful role in negotiating a reasonable termination. It pays to study your loan document, lease, and franchise agreement carefully before acting.
"You had better read the fine print first of both your lease and franchise agreement before you close the doors or those things will be a huge noose around your neck," says Thomas.
Some franchisors may demand future royalty payments for closed units or refuse to allow franchisees to shut down or relocate. Some of his clients take a firm stance on early termination agreements while others are open to negotiation under certain circumstances, says attorney Lee Plave, founder of Plave Koch in Reston, Va. Terminating a franchise agreement should be the result of negotiation, says Plave, who represents franchisors and distributors.
Franchisors will seek to determine whether the distress is isolated or represents a broader problem within the franchisee's system, says Plave. And as long as the franchisee doesn't come in with a "flamethrower's mentality," he says, "people of good faith can find a way to approach the problem. Usually there is a solution that can be found."
Gala agrees that negotiation and concessions, including a reasonable termination fee, are possible. "The smart franchisors are the ones who are not looking to add insult to injury. They are not shortsighted or greedy. That just isn't good business ethics," he says.
No matter how the story of a struggling unit ends, multi-unit franchisees should keep the big picture in mind to ensure the success of their entire portfolio. And whether your store is underperforming or a day away from closure, the key is to maintain a set of standards to keep customers loyal to the brand, says Plave.
"It's kind of like a duck that looks calm above the surface, but underneath the water the legs are flapping away," he says. "If you have problems, make sure the public doesn't see. The moment the public starts to see the situation is the very moment that the franchisee has no choice but to act quickly, decisively, and without options." And that just isn't good for anyone's business.
---
Tips for Relieving Distress
Once you have looked at what you can control in a struggling unit, analyze its fixed expenses, such as rent, royalties, property taxes, and debt services. If costs are in line and fixed expenses consume a large portion of your P&L and cash flow, the unit is in distress.
"Rent and royalties are big. You have to assume those won't change," says multi-unit operator and franchisee consultant Anand Gala.
The following strategies may help cure a distressed unit:
Tax relief: Ask your local government to reassess the value of your property, particularly if the assets of the business have declined and the property is worth less than it was when last assessed. Gala says a franchisee can win this appeal 75 percent of the time.
Rent reduction: In this economic climate, a property owner is not likely to rent space at the same rate the franchisee currently is paying. Many property owners will consider rent relief a mutually beneficial solution, particularly if the reduction is considered to be temporary. Not every landlord has found religion, says Gala, but his company has been able to restructure leases 75 percent of the time.

Attorney Michael Dady of Dady & Gardner also has had success going back to the negotiation table. "If the space is going to go dark, the property owner will cut the rent, rather than have no rent at all," he says.
Restructure debt: If you can get out of your current loan without a substantial penalty, now is the time to refinance. Many operators are still paying 8 to 10 percent. An SBA loan can cut that interest rate in half and improve cash flow. Keep in mind that lender and lease negotiations and property tax reassessments can take months--a big problem when time is critical.
Talk to your franchisor: There are instances when a franchisor will grant royalty rate relief on an underperforming unit--but that is typically a condition negotiated before taking over a unit. Still, experts encourage distressed franchisees to open their books to the franchisor. Some franchisors will grant royalty relief, analyze operations, help implement a marketing plan, or even help temporarily fund overhead.
If you have hit a wall in your evaluation and negotiations with the franchisor lender, and landlord, it may be time to make a hard decision. "If what you have to pay for the rest of your lease is $50,000 for the year and you are losing $100,000," says Gala, "you may be better off closing and carrying the $50,000."
Published: December 19th, 2011
Share this Feature
Recommended Reading:
Comments:
comments powered by

Disqus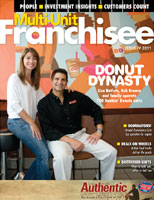 Multi-Unit Franchisee Magazine: Issue 4, 2011
Offering same-day service, a single low price, and a streamlined process that's simple to replicate, ZIPS is a standout in the garment care...
Established in 2011, Wing It On! is the only authentic, Buffalo-inspired chicken wing experience in the fast-casual wing game. We know the details...
Cash Required:
$150,000