Smoothie Sailing: Sam Osborne Loves His Role As An Area Developer
As a student at Florida State University, the entrepreneurial spirit in Sam Osborne led him to own and operate a small personal training business. One of his clients was David Walker, who was soon to be a co-founder of Tropical Smoothie Café. Things have "worked out" well for both.

During the summer following his junior year in college, Osborne traveled from Tallahassee to Destin to get a better look at just what Eric Jenrich and Walker were building.

"Just hearing Eric Jenrich talking about his vision for what the company could become was exciting for me," says Osborne. "They had a great vision, great ideas, a concept that was much more than just smoothies."

He was sold. He opened his first Tropical Smoothie in the spring of 1998 in his senior year --right before final exams.

Today, Osborne is the area developer for Tropical Smoothie Café in Tallahasee, Gainesville, and the Orlando area. He personally operates two units in Tallahassee (he had four before selling two to his franchisees) and has built a chain of 22 units throughout his territory, with one more on the way.

Osborne loves his role as an area developer. "It enables you to build a database of information that helps you refine the system and build on economies of scale," he says. Whether it's operations, food costs, insurance, or other business expenses, the magic is in the numbers, he says. "Vendors love working with a bigger organization than just a mom-and-pop establishment."

The downside is that more people equals more personalities and more potential for conflict and misunderstanding. "As an AD, I always remind new franchisees that they were 'awarded' a franchise, they did not 'buy' it," he says. "And that simply means there are rules and regulations to be followed. It's no place for mavericks." That's why it's critically important in the qualifying process to weed out candidates who don't look like the right fit.

Finding those "right fit" candidates has helped make Osborne a successful area developer. He says it's important to work closely with all the franchisees in his territory. "Their success is our success. We're not just trying to open more stores," he says. "We're trying to open good, successful stores."

He's so intent on creating systemic growth that he requires all franchisees in his territories to create new business plans every year. "It's a sophisticated system that we use to not only figure out what the goals will be, but also how to get there."

Outside of growing his territory, Osborne is passionate about his charity work. His latest endeavor is with Camp Sunshine. About a year ago, Tropical Smoothie formed a national partnership with Camp Sunshine, a retreat in Sebago Lake, Maine, for children and their families coping with life-threatening illnesses such as cancer, kidney disease, and lupus. Osborne's units have already raised more than $20,000 for the camp.

"It really has nothing to do with Tropical Smoothie Café," he says. "It's just a good thing to do."

Name: Sam Osborne
Title: President
Company: Tropical Smoothie Area Development Corp.
No. of units by brand: 22 Tropical Smoothie Café
PERSONAL
Age: 36
Family: Wife Susan, 3-year-old daughter Skyler
Years in current position: 10
Years in franchising: 10

Key accomplishments:
Opened 4 franchise locations in just three years (my own stores).
Awarded the rights to be an area developer in my second year as a franchisee.
Won Franchisee of the Year once and Area Developer of the Year twice.
Worked on several committees assembled by the corporate office to help design operational changes that have been implemented system-wide.
Part of the committee assembled to work with Management 2000 on completely restructuring our franchisee selection process, which now allows us to select the best possible candidates to become new franchisees.

Biggest mistake: Listened to a franchisee explain why they felt like a location would do well in a place that we didn't think it would, and then allowed them to open it.

Smartest mistake: Allowing that franchisee to open in that location, which then proved to be a lower-performing store finalized the decision for us to bring on professional services that now do all of our site evaluations. This has resulted in our having one of the best and most complex tactics for finding good areas within a city, and then strategically deciding on which location will provide the lowest risk for our franchisees.

How do you spend a day, typically? Each morning I get up early and work out at the gym. After that, I return to my office and return emails and make a list of what I need to accomplish that day as a result of the feedback I received overnight. I typically spend 2 to 4 hours each day on the phone or corresponding by email with franchisees, vendors, or our corporate office to follow up with any concerns or issues we may be dealing with. The rest of the day is spent working on day-to-day projects that either our corporate office has requested, or projects I may be working on to help improve the day-to-day operations of our franchisees.

Work week: Along with the daily routines that take up about 80 to 90 percent of my time, I also do store visits, monthly evaluations of each franchise location, and put together quarterly group meetings with all the owners. These things not only help us to maintain consistency within the brand, they also allow me to have two-way communication with the owners, see what they are noticing on the front line, and help them implement new policies and procedures to run more efficiently and be more profitable.

Favorite fun activities: Flying airplanes. I've been a pilot for 4 years.

Exercise/workout: I work out 5 days a week.

Favorite stuff/tech toys: I am an electronic gadget freak. If it lights up, moves, and makes noise I gotta have it.

What are you reading? I mostly read business books. My favorite two (which I continually go back to and use as reference guides) are The Ultimate Question by Fred Reichheld and The 22 Immutable Laws of Branding by Al and Laura Ries. I am currently reading Customer Satisfaction is Worthless, Customer Loyalty is Priceless by Jeffrey Gitomer.

Do you have a favorite quote or advice you give? Our motto for Tropical Smoothie, which is integrated into our culture and franchisees from the day they first meet with us as a prospect is this: "What are We Paid For? We are paid to create experiences that results in 3 things: VERY satisfied and loyal customers; Who will come back often; And will recommend us to others." It is the basis of everything we do, and how well we do it determines our level of success as a franchise.

Best advice you ever got: "People will never live up to your level of expectations, only your level of acceptance."

Formative influences/events: I joined the U.S. Air Force immediately after high school and spent a tour in Desert Storm. Not only did it give me a huge appreciation for being an American, it also made me realize that nowhere else on this earth can a person wake up in the morning and say, "I want to start my own business and control my own destiny" and then actually takes the steps to do it.

How do you balance life and work? To be honest, it can be difficult at times. With all the email, voicemail, and cell phones it is too easy to stay connected to work even when you're at the movies or on vacation. I try to spend time with my family weekends and evenings. If I do find myself going into my home office to do some work I try to do it after everyone is asleep.
MANAGEMENT
Business philosophy: Business has always been, and always will be, about taking risks. Some are small and some are big, but that idea is what drives an entrepreneur to succeed; call it survival. My second favorite quote--and I keep a copy on my desk with the very first dollar I made in this business over 10 years ago stapled to it--is from Theodore Roosevelt: "Far better is it to dare mighty things, even though chequered by failure, than to dwell in that perpetual twilight that knows not victory or defeat."

Are you in the franchising, real estate, or customer service business? The customer service business, but I actually hate that phrase. I am in the Customer Experience business. My customer is not only the person who walks up to our counters, but also my franchisees. We have to inspire our franchisees to want to take the tools we provide them and be successful operators just as much as we have to inspire our customers to want to come back again and tell their friends about us.

What gets you out of bed in the morning? Either my alarm clock or our 3-year-old's foot stuck under my rib cage.

What's your passion in business? To see other franchisees who share the same excitement I do about succeeding. It's like being on a great football team. Everyone feeds off each other's excitement, which makes everyone more passionate about what they are doing.

Greatest challenge: Trying to work with an unmotivated franchisee. I am a believer that you cannot motivate anyone. You can only give the tools to a motivated individual who can then use them to succeed in their goals. It is tough to work with a person who is like a sloth hanging out on a limb.

How close are you to operations? Because I still own a couple of stores, I am still very much in the front lines. I don't work behind the register anymore, but when I do I get really excited because if you are excited, you get your staff fired up, and it creates a great experience for the customer. We often forget that our attitudes are contagious.

How do others describe you? They would probably say I am very organized, like things done now, and love talking.

How do you hire and fire? If I ever fire someone and they are surprised, then I was a horrible communicator. I believe it is important to set specific expectations and guidelines. If those expectations are not met, then it is back on me to meet with them and discuss what shortcomings there may be. I always ask an employee after I fire them if they were surprised. I cannot think back on one person who said they were.

How do you train and retain? I use the systems set in place over the years by our corporate office or by me. I break each part of the business into sections (paperwork, running a register, making smoothies and food) to keep their attention on one thing and not confuse them. It also helps ensure each employee is taught the same way. This comes from my military background, where I can honestly say that there is not a company in the world that has better training procedures. As for retaining employees, I believe the best way to keep good employees is to pay them for performance, ask them what tools they need to be successful, and then listen to their feedback and include it in the final decisions.
BOTTOM LINE
2009 goals: Open three new stores in my market area and help our franchisees reach their individual goals for their stores, whether it be in sales or controlling food or other costs. Their success is my success.

Growth meter: How do you measure your growth? Three things: total number of units opened, individual percentage growth in sales, and franchisees' net income.

Vision meter: Where do you want to be in 5 years? 10 years?
5 years: Double the number of units in my territory. Take a three-day vacation every month.
10 years: Quadruple the number of units in my territory. Take a three-day vacation every month. Flying a bigger, faster airplane.

How is this economic cycle affecting you, your employees, and your customers? This is by far the toughest I have ever seen it. It is very hard sometimes to keep reminding everyone from vendors to employees that it is just a cycle, and like all the ones before there will be a backside to it. While it is hard to see it right now, this will be something that makes every business owner a better operator. It has forced everyone to go back and do things the way they were taught, whether it be grassroots marketing or cost controls. Food costs have risen so much for our competitors, but we have done things that actually lowered our costs, increased our quality, and improved our production. Not many brands can say that.

What are you doing different in this economy? We are focusing more on the customer than ever before. Each day we see them being more and more picky as to where they will spend their income. In many cases you won't get a second chance if you make a mistake, so now is the time to shore up any deficiencies we may have. The end result is that when the economic crisis is over the customers will remember the businesses that did well during tough times.

Where do you find capital for expansion? Local banks are easier to deal with than the larger ones right now. There are also some resources available from venture capitalists. Money is not as readily available as it was a couple of years ago, but the simple business plan for banks is still in place: they make money by giving loans. They may be shy about it in the short term, but I think we'll begin to see them getting back to full steam later in 2009. I am very optimistic about the economy moving back in the right direction some time next year.
Published: April 13th, 2009
Share this Feature
Recommended Reading:
Comments:
comments powered by

Disqus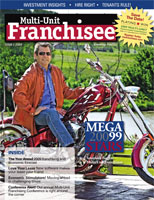 Multi-Unit Franchisee Magazine: Issue 1, 2009
Starting your own Snapology education franchise is affordable, flexible, and provides a great opportunity for success. Find out more today on how you...
Cicis is an iconic, modernized restaurant that pushes the limits of the regular family dining experience. With unlimited opportunities for revenue,...
Cash Required:
$250,000