Southern Hospitality: Multi-Brand Host Keeps Tourists Well Fed
Brent Collier earns his bread and butter from tourism. His 16 restaurants from 7 different brands offer something for everyone--from a fun or romantic fondue dinner at The Melting Pot to Sunday afternoons for the family at Golden Corral.
Collier is a restaurant baron in an unusual market: a 25-mile stretch of an Eastern Tennessee tourist area that includes Dollywood, the mountain resort city of Gatlinburg, and Great Smoky Mountains National Park, the most-visited national park in the country. The area attracts around 15 million tourists a year, and Collier estimates that about one-third of them eat at one of his restaurants.
"Probably 90 percent of all our business is tourist-based. They'll come four or five times a year--many have a time share or a vacation home around here--and they'll stay for three or four days on average," says Collier, a Sevierville, Tenn., native and president of Sevier County's largest restaurant group.
"They're not at the beach for a week where they'll stop at Walmart or Sam's and buy groceries. That means they're eating out for every meal. Three meals a day times three days equals nine opportunities for them to sit at one of our tables, all of which are a little different." That formula has been a winning one for Collier, who at one time had the world's No. 1 Country Kitchen (he no longer has a franchise with this brand) and No. 1 Golden Corral.
Collier and his brothers and sister grew up on a farm "so poor that my father had to sell it and go back into the military to make ends meet," he recalls. "He sold it to a sand company and it became a sand factory." The family spent two years in Germany while their father served in the U.S. Army but came back to Sevierville soon afterward.
"My father's background was as a country peddler. He'd sell a skillet to a farmer in trade for a gallon of milk and three chickens. So we all grew up being able to trade and barter," Collier says. "When he began doing real estate in Pigeon Forge, he'd look at us and say, 'We need a restaurant' or 'We need a motel here.' Since we had our contractor's license, my brothers and I would build it. In November, we'd go into construction mode and have it open by Memorial Day."
As it continued to grow, the family business had a unique way of sharing the wealth. "We'd buy a piece of property in the area and build that entity and then, whoever had the least number of businesses got that one." At one point, Collier had two motels, a water slide, two restaurants (his first was the Smoky Mountain Pancake House, built in 1976 and owned by the family), and was in charge of the carpenters in the construction crew.
All the businesses the family opened were independent. "When they'd give me restaurants, I'd study all the journals. That was when 'branding' was the word--it was all about branding," he says. "I can recall talking to my siblings and saying, 'We need to take these restaurants and brand them instead of being independent.'"
The family shared the combined stake in their tourism businesses from 1968 until 1988, when they separated their operations into divisions. His brother and sister oversaw motels and wineries, while another brother was in charge of campgrounds and motels.
Collier got what he wanted: the restaurants. "I wanted to be in all the food categories, from fine dining to casual to family to buffets to fast food to donuts," he says. His first franchise was with Country Kitchen, and Golden Corral came soon after in 1994. "It took me two or three years to get our Golden Corral to No. 1 in the world. We knocked Orlando out as No. 1. Then a couple of years later, Kennesaw, Georgia, knocked us out," he says.
Next he looked for a major casual theme restaurant franchise. That came in the form of Corky's Ribs & Barbecue, which he located next to his Golden Corral. "Corky's was a little bit different enough so we didn't cannibalize ourselves," says Collier. On the heels of his tremendous success with Golden Corral, he built another, then TGI Fridays, The Melting Pot, and Quaker Steak & Lube.
There was a method to his madness--one that might not have worked in a different location, he says. "I tried to keep things as diverse as possible, going into brands that wouldn't compete with the first brand. Because I was in a small area, I couldn't do a large number of the same brand. I had to have small numbers of a lot of different brands."
The simplest of his brands to operate (and he doesn't consider any of them easy) is his own brand, Flapjack's Pancake Cabin, "because 80 percent of all the ingredients or sales are based on 20 items. It's the easiest, but it's not that easy. You can really mess up breakfast, I can tell you right now," he says.
The most complex is Golden Corral with its buffet, because all of it is done from scratch, says Collier. "There's so much prep and just a lot of loving care that goes into it. That's why it does so well--because there's so much effort and concern put into it. And there are a huge number of options."
Collier says he generally doesn't share employees and managers across brands. "Most are so specialized that we want to keep key employees in the one they're affiliated with. We do have several managers who are cross-trained among brands, and we have so many employees--about 1,000 during season from Easter through New Year's--that if a disaster happened, we could still offer fast, friendly service, hot food that should be hot and cold food that should be cold. It's persistence and following the basics," he says.
He has continued the family business tradition with his daughters, both of whom worked in his restaurants from an early age. Lori Collier, his older daughter, works in finance and operations. Elise Collier-Massey, his younger daughter, works in human resources and public relations;. Her husband, Beau Massey, works in operations with CEO Cary Zimmerman.
Today Collier, at 60 an avid hiker who loves the area's 900 trails, says he's tried to retire twice. "I know they could do it without me, but I guess it was me trying to wiggle my way back in," he says.
His newest challenge is to build his first out-of-state restaurant: an Old Chicago Pizza & Taproom franchise in the Myrtle Beach, S.C., area. "That area has a similar tourist market and demographics to ours," he says. "I've been thinking about going outside the state for 10 or 15 years, and so we took this opportunity. In addition to that Old Chicago Pizza in Garden City, South Carolina, we're going to open a Flapjack's Pancake Cabin there."
Name: Brent Collier
Title: President
Company: Collier Restaurant Group
No. of units: TGI Fridays, 3; Golden Corral, 2; Corky's Ribs & BBQ, 1; The Melting Pot, 1; Quaker Steak & Lube, 1; Smoky Mountain Pancake House, 1; Flapjack's Pancake Cabin (independent), 7; Gatlinburg Convention Center Food Service
Age: 60
Family: Wife Ashley; 2 daughters, Lori Collier and Elise Collier-Massey
Years in franchising: 23
Years in current position: 20
Personal
First job:
Bus boy at Trotters Restaurant in Pigeon Forge at the age of 12.
Formative influences/events:
My father had a military background and so I was influenced by that training, expectancy, and attention to time and task.
Key accomplishments:
Owning the No. 1 Country Kitchen and the No. 1 Golden Corral in the world.
Biggest current challenge:
Opening outside Tennessee.
Next big goal:
Growing Old Chicago Pizza & Taproom, a new brand for us, which we'll open in the Myrtle Beach area. This will be our first restaurant outside Tennessee.
First turning point in your career:
Focusing my business on restaurants--not hotels, campgrounds, water slides, or construction.
Best business decision:
Signing up with Golden Corral in 1994.
Hardest lesson learned:
Not to build the restaurants too big. You have a tendency in a seasonal market when you're just at max capacity to want to build bigger, but then the other four to six months you're not at capacity. You have to consider that.
Work week:
About 60 hours.
Exercise/workout:
Hiking, walking.
Best advice you ever got:
Focus on what you are good at.
What's your passion in business?
Being the best I can be and encouraging others to do that.
How do you balance life and work?
I don't--there's too much work.
Guilty pleasure:
Wine.
Favorite book:
Anything by John Maxwell.
Favorite movie:
"Jesse Stone."
What do most people not know about you?
I once owned the world's largest water slide. It was in Pigeon Forge and was three different tracks for over a mile of sliding.
Pet peeve:
Slackers.
What did you want to be when you grew up?
Successful.
Last vacation:
Biking and walking in Hilton Head, S.C.
Person I'd most like to have lunch with:
Warren Buffet.
Management
Business philosophy:
Be persistent.
Management method or style:
I simply hire the best people I can.
Greatest challenge:
Maintaining good numbers.
How do others describe you?
Driven.
One thing I'm looking to do better:
Train the family to take over.
How I give my team room to innovate and experiment:
Tell them their goal, and then expect them to execute.
How close are you to operations?
Fairly.
What are the two most important things you rely on from your franchisor?
A good image and strong marketing--like the Golden Corral ad, "Best Buffet in the USA" with Jeff Foxworthy.
What I need from vendors:
Good customer service and competitive prices.
Have you changed your marketing strategy in response to the economy? How?
Yes, by using more social media.
How is social media affecting your business?
We're trending up.
How do you hire and fire?
We hire good people and fire after giving three strikes before they're out.
How do you train and retain?
We give good people goals and support them.
How do you deal with problem employees?
By first coaching and then giving them three strikes.
Fastest way into my doghouse:
Lying, cheating, stealing.
Bottom Line
Annual revenue:
$30 million-plus.
2016 goals:
Opening restaurants out of state.
Growth meter: How do you measure your growth?
By profit and smooth operations.
Vision meter: Where do you want to be in 5 years? 10 years?
I want to be retired and letting the kids run the business.
How is the economy in your region affecting you, your employees, your customers?
Things are good. Everybody's doing better.
Are you experiencing economic growth in your market?
Yes.
How do changes in the economy affect the way you do business?
Sevier County (a major tourist area) is pretty much recession-proof.
How do you forecast for your business?
By looking at the history of the numbers and by strong budgeting.
What are the best sources for capital expansion?
Banks.
Experience with private equity, local banks, national banks, other institutions? Why/why not?
We try to stay local. We work in the community and invest in the community and use local vendors, so we borrow in the community.
What are you doing to take care of your employees?
Paying them well.
How are you handling rising employee costs (payroll, minimum wage, healthcare, etc.)?
With menu pricing and budgeting.
How do you reward/recognize top-performing employees?
Bonuses and advancement.
What kind of exit strategy do you have in place?
Everything is in place to transition to the next generation.
Published: May 9th, 2016
Share this Feature
Recommended Reading:
Comments:
comments powered by

Disqus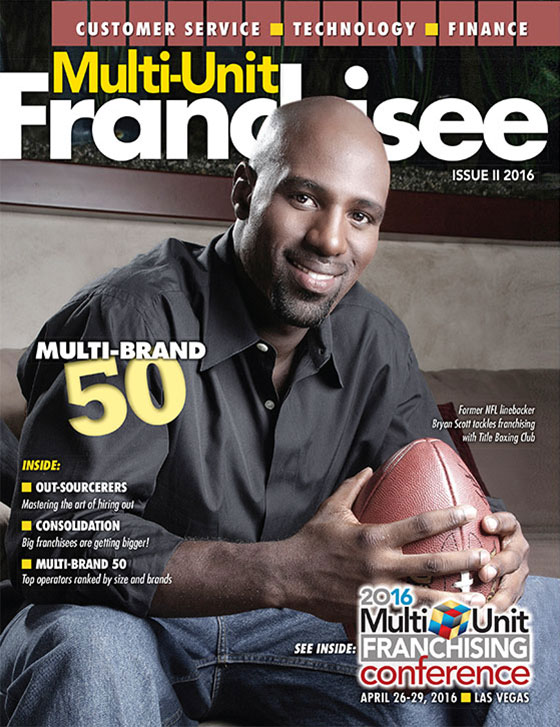 Multi-Unit Franchisee Magazine: Issue 2, 2016
On a mission to provide the most exciting Nashville Hot concept in the fast-casual space, The Budlong combines timeless southern flavors with...
Cash Required:
$150,000
Join one of the fastest-growing fast-casual restaurants with excellent financial potential, multiple business models to choose from, and an all-start...
Cash Required:
$100,000