Stories from the Covid-19 Front Lines: Q&A with Multi-Brand Franchisee Greg Cutchall
Greg Cutchall, founder, president, and CEO of Omaha-based Cutchall Management Co, is a multi-brand operator with decades of restaurant experience. Today his brands include Sonic Drive-In, Domino's Pizza, Paradise Bakery & Café, First Watch, Jams American Grill, and Lo-Lo's Chicken & Waffles (plus a few more). The fallout from Covid-19 has his casual dining restaurants now doing only take-out orders, while his QSR restaurants are carrying the load.
How has Covid-19 affected your business?
We've experienced a 90% drop in our casual dining restaurants and are offering only take-out now. We've furloughed 350 employees. But our QSR restaurants have seen a minimal to flat drop in sales. No employees were let go there.
What are you doing right now to get through this?
We have received PPP funds, but restrictions on use are difficult for forgiveness of that loan. To stay in business we will have to use some of those funds for expenses other than payroll and rent, which will ultimately add debt to the company with little or no revenue until we reopen.
Is your franchisor helping keep you afloat?
Our franchisors have not offered help at this time.
What are you doing to help your employees through this?
We have assisted the employees we've let go with filing for unemployment, and we are continuing to provide and pay for their health insurance.
What are you doing for your customers?
Take-out is available at 5 of our 16 closed units. We give each guest a thank-you card good for a 25% off coupon with each take-out order. They can also use this when we reopen.
How are you working with your suppliers?
Our suppliers have been great by working out payment plans... no discounts offered.
What are you doing about cash flow, PPP?
It seems I am working more with our restaurants closed than I did before Covid-19 struck. We are doing everything we can to work with employees, landlords, suppliers, banks, the insurance company, and the SBA.
What else would you like to see from your franchisor or government?
While the government options are appreciated and helpful, they are not covering all the issues, ongoing expenses, and lost revenue we will never recover. Much of the government assistance will just bring on more debt. The rates and terms are attractive and will enable us to not have to close restaurants permanently. With the added debt on the non-forgivable portion it will take us a year or two to recover to our former financially stable position.
How are you planning to reopen and rebuild your business post–Covid-19?
I do not believe business will return to pre-virus numbers until maybe the fourth quarter – that is if we are open by June. I believe we will be limited to 50% capacity when we do start back up and feel many guests will not return to dine in until a vaccine is available.
Published: July 18th, 2020
Share this Feature
Recommended Reading:
Comments:
comments powered by

Disqus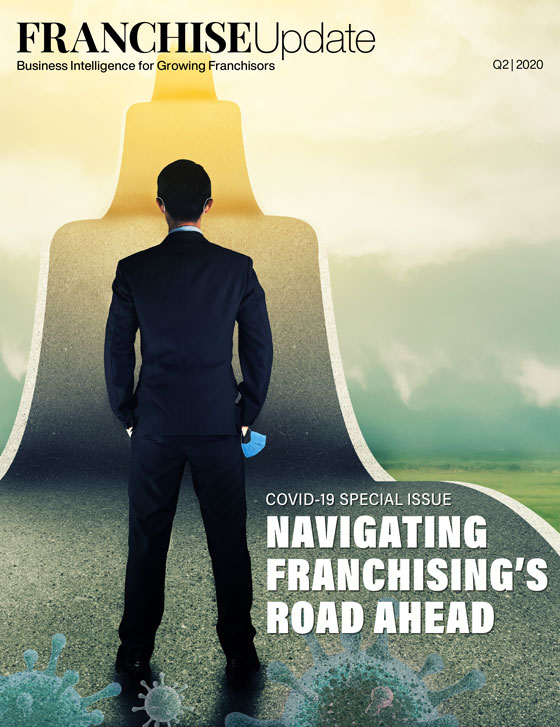 Franchise Update Magazine: Issue 2, 2020
Conferences
InterContinental, Atlanta
OCT 18-20TH, 2022
Qiigo unifies digital marketing for national brands and their locations, building brand unity and success helping businesses get found locally....
Prisma has reinvented the marketing supply chain with an end-to-end solution that makes it easy to design, customize, order, download, print, kit,...