Stories from the Covid-19 Front Lines: Q&A with Sky Zone's CMO Josh Cole
What are you doing differently with your marketing program as a result of Covid-19?
With Sky Zone parks temporarily closed, we have been focusing heavily on engagement strategies that allow us to remain relevant to our guests and, even more importantly, are helpful and provide value to them in this new and uncertain situation. Parents and kids alike need ways to stay active at home, and they also need to adapt to a new reality of increased virtual interactions. To help meet guests' concerns and needs, we have focused our consumer-facing marketing efforts on three core strategies:
1) Providing kids and parents with fun, indoor active play ideas, such as Freeze Dance, Balloon Volleyball, and At-Home Obstacle Course, among others. We shared these ideas through social media, email, and website content. The goal here is to be helpful, especially knowing how stressful it can be for parents to keep their kids moving, active, and entertained day after day.
2) Hosting virtual birthday parties, which have been a huge success! We need to stay at home, but the desire to celebrate birthdays doesn't stop. To help meet this need, we launched virtual parties based on our popular in-person birthday parties. These virtual parties are completely stress-free and cost-free. Sky Zone takes care of creating the invitations and setting up virtual links for families to share. One of our expert "Party Pros" leads the Guest of Honor and 10 of their friends through 20 minutes of active play games using Zoom video. We are also testing a monetization strategy with the goal of generating revenue while continuing to make the actual party offering free of charge. We have hosted hundreds of virtual birthdays and are currently booked solid through mid-May, which has led to the idea of celebrating multiple birthday kids in group parties.
3) Bringing our guests' favorite Sky Zone active play areas to life virtually through customized Sky Zone Zoom backgrounds. Guests can share their love of jumping, dunking, and playing at Sky Zone with classmates and co-workers on Zoom calls.
We're also launching a new Sky Zone mobile game, available free of charge on the Apple iTunes and Google Play stores. The game provides a fun, branded experience in which guests can virtually visit Sky Zone any time they want, and while there, compete to get atop leader boards, "power up" their avatars, and attempt to earn enough game points to win a free real-world jump pass.
What are your plans for the next 60 days (April & May)?
We'll continue offering ways to connect virtually to remain helpful to our guests and to drive brand visibility during the ongoing period of uncertainty. The Sky Zone game app will be a key focus of this effort as we add features. We are also continuously looking for ways to be a resource to our franchise partners, from providing new planning tools to helping navigate new governmental guidelines. At the same time, we are actively preparing for upcoming reopenings so our franchise partners are well positioned to have highly successful starts. The reopening plans cross all functional lines: marketing is tightly aligned with operations, training, and finance to create well-coordinated and clearly communicated plans for our franchise partners and their park guests.
What are your plans for the following 90 days (June, July, August)?
Hopefully, conditions allow July to September to be a period of normalization with consumers excited and able to get back to doing things they love outside of their homes, including visiting active entertainment venues like Sky Zone. During this period it will be important for us to continue communicating to guests everything we do to keep our parks clean and our guests and team members safe. At the same time, we'll also be shifting back into the swing of promotional marketing to help drive traffic to the parks. We envision it will be a period when brands across industries will be competing aggressively for share of wallet. We will likely run a value-oriented summer promotion in tandem with brand marketing that engages on a more emotional level.
Also, as happy as it makes us to provide the current virtual parties in this time of need, we will be very excited to get back to hosting the type of birthday parties we really love, with kids and their friends having a blast playing, jumping, and celebrating together. Our marketing will include a push to get these parties booked and the kids blowing out candles in person again.
All this said, we know it's crucial to continue customer research initiatives and to keep a close watch on the pulse of consumers. No one really knows what the situation will be like. Will employment bounce back? Will family budgets be extra tight while paying off debt? On the other hand, will we see higher ends of the market stay in town this summer, whereas in the past they would have traveled or gone to the beach? We may see more staycations and commensurate spending on local entertainment options. Right now, we have guesses, but we will work actively to validate these hunches and inform us where and when pivots are needed.
Have you made major changes to your marketing and media programs?
Major changes were dictated by the very unique situation caused by our parks needing to temporarily close and our guests being thrust into an unprecedented, high-anxiety situation of job losses, furloughs, and crisis home schooling. Our immediate focus was on being helpful, empathetic, and understanding with an eye toward building longer-term goodwill with our guests. We looked at whether there were new products, or modifications to existing ones, that we could launch to better meet current needs. For example, birthday parties are a big part of the Sky Zone experience. However, for obvious reasons these were all canceled. We quickly rolled out a brand-new offering, Virtual Parties, using Zoom video calls hosted by our expert Party Pros. Knowing that this downturn created acute financial burdens on families, we are offering these parties free of charge. It is extra important during a downturn to provide value, and if you can do it in a surprisingly generous way, you can create a deeper connection with your customers. Plus, if done right, your team members feel great about offering this value in the process.
Alongside the new launches, we made a conscious effort to adjust messaging to better speak to customers' needs and circumstances, while evaluating content so it does not offend new sensitivities. For instance, people are increasingly making social posts about things they look forward to doing when Covid-19 passes. So we shifted the messaging for our Easter Gift Card promotion (planned before the virus outbreak) to position the gift cards as providing something fun to look forward to. Last, we are hard at work planning for the brighter days ahead once Covid-19 subsides so we are positioned to come out of the gates swinging hard.
On a very practical level, we dialed back spending to preserve budget for when business opens again. So we put our energies almost wholly into unpaid owned and earned channels: social media content and contests, word of mouth, and publicity. The free virtual parties generated considerable national media coverage and positive buzz among parents.
Have you made any changes to the roles or duties of your team?
Our social team usually works on both paid and organic content. However, we have shifted the focus much more squarely on organic content, such as creating and sharing ways to stay active at home. Also, over the past weeks our team has been very focused on creating reopening plans, and we have been working closely with internal cross-functional teams to ensure the operations and training plans and the upcoming consumer messaging are completely in sync. At a time of constantly changing information, it's become even more important than ever to make whatever extra effort is needed to have clear and accurate communications, whether internally across teams, internally with our franchise partners, or externally with our guests.
Published: June 8th, 2020
Share this Feature
Recommended Reading:
Comments:
comments powered by

Disqus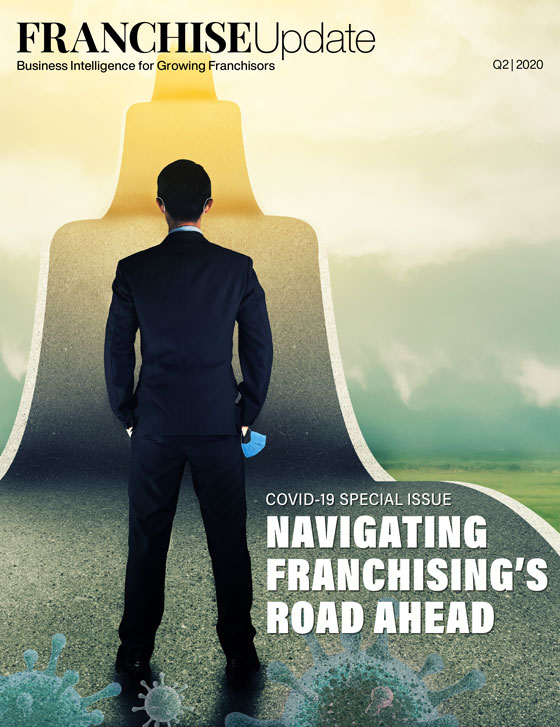 Franchise Update Magazine: Issue 2, 2020
Conferences
InterContinental, Atlanta
OCT 18-20TH, 2023
The Hungarian Franchise Association was founded in 1991 as an interest representation organization of the franchise business community.
Atmosphere TV is the world's leading cable alternative, providing free streaming TV for businesses.