Stories from the Covid-19 Front Lines: Two Men and a Truck Multi-Unit Franchisees Face Down a Pandemic
As part of our ongoing coverage of Covid-19 and its effects on franchising, we're asking franchisees what they're doing to get through the crisis and come out the other side. If you're a franchisee with a story to tell about what you're doing to survive, help your employees, or inspire hope in other operators, please email us at stories@franchising.com.
Brooke Wilson and her husband Les have built a Two Men and a Truck franchise business serving markets in North Carolina and Georgia. The married couple's multi-unit company generates annual revenue of more than $12 million. Although their moving trucks have been declared an essential business, they are facing the pandemic just as their peak spring and summer season arrives.
How has Covid-19 affected your business?
In several ways. Our business is seasonal, with a near-perfect bell curve peaking in the months of May, June, and July. February and March are typically ramp-up months for us in terms of inventory and staffing. We began February with a strong recruitment push as usual, but have since slowed with some concern over how our markets will perform through and post-Covid. We added 11 fleet vehicles (each carrying an investment of $100,000), equipment, and acquired two franchise markets in February. Fortunately, the trucking industry (including movers) has been deemed essential, and we are able to continue services. We were able to shift administrative and clerical support to work from home, and have made adjustments in operations to reduce opportunity for exposure. Employees are eager to work, and we have not been forced to furlough or lay off. Following an initial surge in service requests – likely in anticipation of shelter-in-place quarantine – we have seen a drop in lead volume into April (approximately 30% in some markets). This appears to align with what we're seeing in the real estate market.
What are you doing right now to get through this?
We have had to be nimble and dedicated to our mission of moving people forward. Within a very short time we've had to change our business practices and adopt additional precautionary measures to protect our crews and clients. We transitioned our sales, administrative, and support staff to "work from home." We fully analyzed operational procedures from every angle in order to make necessary adjustments and roll out new SOPs as part of our business resiliency plan. Our new normal includes closing the office to the public, disinfecting trucks and equipment several times a day, staggering dispatch times to heighten social distancing, touchless temperature taking every morning, wearing PPE, qualifying customers, restricting services to "hot spot" cities and for "high risk" consumers – among a variety of other processes to avoid as much opportunity for contact and spread as possible.
Our business model and pricing strategy are built in consideration of known factors and historical data. This unprecedented pandemic event has introduced unknown variables that are changing day to day, and the cost of performing our essential business continues to rise. To offset this unexpected rise in expense, we've added a temporary fee to assist with the additional costs all these changes have brought about, and our customers have graciously understood. They appreciate the fact that we are doing all we can to conduct business safely during this time. Appropriate communication and evident follow-through have been vital.
Further, we are examining our expenses down to the dime for now and asking ourselves if this expense can wait. Lenders and third-party vendors have offered payment deferrals. Insurers have provided options to reduce carrier costs on vehicles and facilities not in use. We have amended marketing campaigns; requested credits in areas such as sports marketing; and we are learning who and what our most valuable resources are.
Is your franchisor offering assistance?
Our franchisor is acting as an aggregator of information by collecting best practices from around the country and sharing them with us. Their marketing department has also been helpful by providing professional graphics that support our brand, help with consistent messaging, and ultimately help give our potential clients confidence in our company. In addition, they have waived and/or adjusted some administrative fees related to call volume support and technology support.
What are you doing to help your employees through this?
Our employees are the backbone of our company, so supporting them is critical. Whether it's responding to requests for additional equipment that will help them do their job safely, or gathering daily on a conference call for a team huddle, staying connected and available to support them is our number-one goal every day. We are striving to maintain normalcy to the best of our ability. As an essential employer, we are fortunate to continue offering work (though we are not expecting the traditional peak hours availability that is normal in the moving industry). We are working diligently to maintain normal income levels while also taking steps to keep everyone safe and healthy. We are maintaining our commitment to positive team culture. Front-line employees are being compensated at a higher premium rate in appreciation for their service in this unique environment.
What are you doing for your customers?
We are being as flexible and supportive as we can to help them during this time. Our "in home service" is unique, and though there is a direct need for service, consumers are concerned more than ever about inviting a potential risk into their home or work space. We are communicating constantly about the steps we are taking to maintain a clean/safe environment for the protection of our employees and our customers. We aren't just talking about it, we are acting on it. Providing a stress-free move has never been so important!
How are you working with your suppliers?
As mentioned previously, some lenders and third-party vendors have offered to defer payments. We have renegotiated some contracts. We've made adjustments to marketing content, and received credits from sports marketing vendors. For the most part, everyone is being cooperative and it's apparent that we have valuable partnerships.
What are you doing about cash flow?
As usual, we are watching our expenses while not letting off the gas when it comes to driving new business and sales. I've always managed my business in a fiscally conservative manner. Banks and lenders have offered deferred installments and we have accepted (not knowing if it will be necessary, but… conservative). Insurance has offered to reduce coverage levels on assets not currently in use (for example, because lead volume is reduced, we can ground a number of trucks and carry lower coverage on those vehicles at a reduced cost until the pandemic subsides). Our landlords have not been accommodating – likely because the CARES Act support offsets rents. However, as a property owner and landlord, I have been able to recognize some internal deferment. We have applied for the PPP (which was a cluster nightmare and, as of this writing, we were still awaiting information).
What else would you like to see from your franchisor or government?
Oh man… this is a tough question. Of course, it's easy to say "Defer Royalties!" In consideration of the varied effects from market to market, I think the position of the franchisor to simply aid as a resource of information has been very helpful. Though, as with all information sources, I've found that gathering and filtering is necessary to ensure the best for my business. I'd like to see more support from the franchisor from a marketing perspective. In terms of government, it's also difficult. It's so political and conspiratorial. As a multi-unit operator, it would be easier to manage with consistency. The SBA's PPP process was a nightmare. I'd like the government to talk a bit about what the future of the U.S. and world economy looks like. So much seems reactive… putting out the fire. So much uncertainty.
How are you planning to reopen and rebuild your business post–Covid-19?
We are hopeful that as an essential business we will continue to have the ability to stay open in some capacity throughout the Covid-19 pandemic. We are focusing our efforts on keeping our crews as safe and risk-free as possible so we can continue to move our customers who are counting on us. We are also using this as an opportunity to strengthen our bench with lots of training to make sure we are firing on all cylinders when normalcy returns.
As a measure of backup, we have prepared virtual training plans. In the event that closure is required, thereby resulting in furlough or layoffs, we will offer bonuses to employees who return with certifications of completed training. It is our hope this ensures that staffing needs are met when Covid-19 restrictions are lifted.
We are doubling down on some of our marketing efforts and exploring new angles to reach our audience – who have been stuck at home for almost a month now. That's a lot of screen time! We remain confident that there will be pent-up demand once shelter-in-place restrictions are lifted and the economy starts rolling again.
Published: April 28th, 2020
Share this Feature
Recommended Reading:
Comments:
comments powered by

Disqus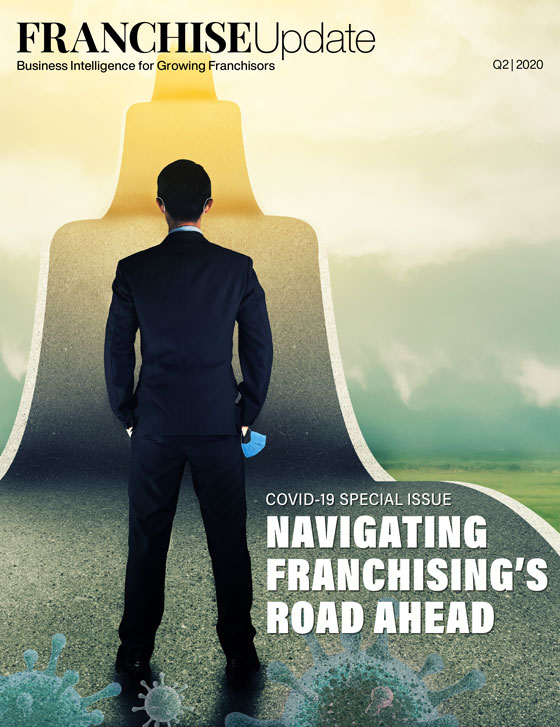 Franchise Update Magazine: Issue 2, 2020
Conferences
InterContinental, Atlanta
OCT 18-20TH, 2023
Slick Marketers is reinventing franchise marketing with a hyper-customized and ultra-localized marketing approach with measurable results and growth...
June 18-20, 2024 Marketing-Operations-Technology. Be a part of this ground-breaking new space for ideas, inspiration and networking for Franchise...