Support Your Local Franchisees: Strong Field Support Boosts Continuity, Profitability
Franchising has proven itself to be a bellwether business model, surviving the financial crisis and adding units since the early days of the current economic recovery. Between 2008 and 2013, the franchise community netted more than 25,000 units, a CAGR of 1 percent. This is impressive, given the economic environment. Praise should be given to the hard work of development staffs across all of franchising for executing in a tough environment.
Given these successes and the emphasis franchising places on growth, it is easy to continue to push for market share and to allocate additional dollars to development efforts. However, before finalizing your budget, answer this question: How many of your units, regardless of the reason, closed their doors in the last 3 years? If the answer is more than zero your brand is likely leaving hundreds of thousands of dollars on the table.
Every unit closure represents a lower return on dollars allocated to development and training. In other words, if you are not adequately supporting your franchisees you are driving your ROI, earnings, and cash flow lower.
Examining a sample of 38 franchise concepts, FRANdata found that brands with a below-average ratio of both field support staff to franchised units and field support staff to franchisees tend to experience lower continuity rates and higher real business failure rates; and brands with an above-average support ratio tended to maintain a higher continuity rate than brands with a below-average support ratio.
Although the differences were less than 2 basis points in both cases, in the context of unit closures, this translates into significant money. To be clear, there are more dynamics at work here than just the impact of field support. To dissect these dynamics, it's best to start with simple relationships that can be measured, which is what we have done here.
Let's shift our attention from broad trends to a specific case. We examined a top-performing brand in franchising with above-average support. At the end of 2012, the brand operated approximately 400 franchised units and maintained a continuity rate of 100 percent, meaning that no units closed in that calendar year. The franchisor had one field support staff for every nine units and generated about $87,700 in royalty revenue per franchised unit.
If this brand had a below-average support level, it would have shed five units that year, with a resulting loss in royalty revenue of about $485,500 for that year. Assuming an average remaining term of five years for those five units, the total revenue loss over time would have been $2,292,500. What impact would $2.3 million have on your brand's ROI?
For this brand to maintain its 1:9 support ratio, it must add head count to keep up with unit growth. For the past three years, this franchisor opened an average of 14 units. If 14 franchised units were added in 2013, two new field staff would have to be hired to maintain that support level. The average salary expense for this brand's field support staff is $61,000. Thus, the franchisor nets a gross profit, even when accounting for taxes, healthcare costs, and other associated labor costs.
Over the total life of those 14 unit agreements, the franchisor will spend approximately $1.5 million on the two additional field support employees' labor costs (this assumes 2012 employment cost remained level for the life of the agreement). Over that 10-year unit agreement period, this would generate a gross profit, net labor, of $9.9 million (this figure excludes any development and training costs associated with the 14 franchised units, and any travel and other non-labor expenses related to providing ongoing support; and assumes that average unit revenues for 2012 remain level for the life of the agreement).
Without proper support, a brand's continuity rate is likely to decline. If five of those 14 new units were to close halfway through their terms, the gross profit would fall 42 percent, to $5.7 million. What successful business accepts 58 cents on each dollar owed, when they can take steps to improve remittance?
A unit failure is not just a loss of market share, it also triggers a diminished ROI for the franchisor. It is not enough just to sell additional units. Look across departments and measure outcomes. Empower your employees and provide incentives for them to collaborate across functions. Does your head of support have the means to voice concerns and effect change on specific selection criteria likely triggering unit failures? Can your finance officer project the expected return for each additional unit sold? Are you paying commission just on unit sales, or is there also a continuity component? Have you defined your development and support KPIs? Are you tracking the right data and measuring the right outcomes?
A franchise system is a dynamic organization. Unit growth and corresponding market share are only one component. Managing across departments while measuring outcomes can produce higher financial returns. While development should be applauded for each unit sale, the long-term success comes in keeping it open for the full term of the agreement. In the end it is not just about how large your franchise system is, but also how profitably it is run.
Jacob Grosshandler is a research analyst at FRANdata, an independent research company supplying information and analysis for the franchising sector since 1989. He can be reached at 703-740-4713 or jgrosshandler@frandata.com.
Published: May 16th, 2014
Share this Feature
Recommended Reading:
Comments:
comments powered by

Disqus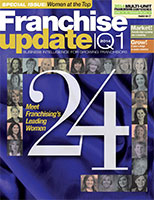 Franchise Update Magazine: Issue 1, 2014
Oct. 18-20, Atlanta, GA. An exclusive event for franchisor CEOs, Presidents, COOs, CDOs and Franchise Development Executives.
ApplePie Capital provides a fresh new approach to franchise financing that is focused on your growth and success.