Thank the Banks! (What?): Banks are Helping Franchising Win the Competition For Credit
There's a game changer coming to franchising, and the lending community is to thank for it. While it's hard to thank banks for the financial mess they created a few years back, capitalism is built on creative destruction, and what was destroyed within the banking industry is how they evaluated credit. They got it wrong, some banks failed, many businesses and people suffered, and banks now are starting to enter a new period where the old rules are being seriously revised.
As surprising as it may seem, this is a good thing for franchising and will be for years to come (until banks get carried away again and the cycle repeats). Here's how franchising is beginning to win the competition for credit.
We're now in the second phase of a small business credit recovery following the financial meltdown of 2008. The first phase began in 2009 and lasted until 2011. From the lending community's perspective, that period is best described as the "Don't Lose Money" phase. The easiest way not to lose money if you are a bank is not to lend it. A more technical description is that banks between 2008 and 2010 could not properly value their asset portfolios because of market uncertainty. Therefore, they and their regulators could not determine whether the banks had adequate capital reserves. If banks were unsure of capital reserve needs, they certainly weren't going to expand portfolios.
The second phase started a multi-year transition away from "Don't Lose Money" to a focus on earnings as portfolios get cleaned up and capital reserve levels become clearer. There's no immediate rush to make money, but the most significant way banks make money is to put loans on the books. Most banks are flush with cash and have the same miserable returns on short-term investments that we all have.
In 2012, we all have been seeing a return to lending, but only to the lowest-risk borrowers. So far, pricing for different levels of risk isn't happening. Higher-risk loans just aren't being made at any price. When we see evidence of interest rate differentiation and term structures for different levels of small-business loan risk, we'll be moving into the third and final phase of lending recovery. That's another few years down the road.
What does all this have to do with how franchising is gaining a competitive advantage in the competition for credit? A lot. Here's why. Business lending is all about assessing risks related to the borrowing company's future performance, the management team responsible for making the business work, and the industry dynamics where the company is operating. The better the information about each of these risk categories, the more comfortable a lender becomes about answering a simple question in credit committee: "What's the probability we'll get our money back on the terms we're considering?"
Here's where franchising is going to become a sustainable, distinct asset class for the first time in the history of small-business lending. A lender considering a loan request from an independent business can assess risk only four ways: that company's business history; some general industry statistics (which is why SBA data, despite often being very inaccurate is often used); the bank's own portfolio experience (assuming they have any with a particular industry or brand); and a gut feeling for the people signing on the loan application. In this second, current phase of lending recovery, the lack of confidence in these risk assessments leads to a lot of the conservative lending we are all experiencing. Yet franchising has something huge to add: performance history.
Franchising is built on uniformity and conformity. If a lender can look at the right types of credit performance history of a brand, that lender has a much more confident answer to the question of whether they will get their money back. Bank Credit Reports answer that question, and in doing so change the small-business lending game in favor of franchising--not because all franchise brands are lower risk, but because franchise brands can show exactly what risk they represent to a lender. That has never been done before, and it is the game changer.
Of course, lenders need easy access to Bank Credit Reports, FDDs, and other underwriting information, and now they have it. More than a year in development, with input from franchisors and lenders under the auspices of the IFA and the Consumer Bankers Association, the vastly upgraded Franchise Registry is housing underwriting information on thousands of franchise brands, all of which is available to lenders only. What some have dubbed franchising's unfair competitive advantage in the competition for small-business credit is happening.
And this is just the start. The Franchise Registry, in addition to putting all this underwriting information alongside the simplified and improved SBA franchise loan documentation tools, is adding business development tools for all conventional as well as SBA lenders to screen franchise brands based on lender underwriting criteria--and, even better, to evaluate and connect with prospective franchisees during the franchise development process. This will align the lending process much more closely with the franchise development process. I'll explain more on that unprecedented set of capabilities in a future article. All these developments initiated in the second half of 2012 will demonstrate to everyone how franchising is winning the competition for credit.
---
Darrell Johnson is president and CEO of FRANdata, an independent research company supplying information and analysis for the franchising sector since 1989. He can be reached at 703-740-4700 or djohnson@frandata.com.
Published: September 24th, 2012
Share this Feature
Recommended Reading:
Comments:
comments powered by

Disqus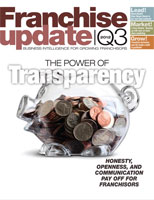 Franchise Update Magazine: Issue 3, 2012
Conferences
InterContinental, Atlanta
OCT 18-20TH, 2022
Tiger Pistol, the world's leading collaborative advertising platform, connects the power of brands with the knowledge and credibility of their...
Our accounts payable automation platform combines technology with simplicity & affordability. Save time and money, and automate your ap workflows...