The Doctor Is In: Jack Riggs, M.D., Leads a Healthy, Growing Brand
Jack Riggs didn't follow a simple straight line to franchising. In fact, it was rather crooked. But as it turned out, every twist and turn in his life helped him become the successful entrepreneur he is today.
After becoming a doctor and an expert in emergency medicine, he spent three years as director of an emergency room for the U.S. Air Force before returning to his home town of Coeur d'Alene, Idaho, where he worked as an ER doctor.
In 1986, he opened an urgent care center of his own, then added a couple more locations. He gradually migrated from the practitioner side to the business administration and numbers side of healthcare. From there, with the Clinton administration pushing healthcare reform, he developed an interest in the policy side, which inspired him to run for the state senate.
The soft-spoken doctor was good at this next career as well, and rose to Lt. Governor. He kept his care centers, but opened the door for the doctors to step up as partners before turning his attention in yet another direction after leaving office in 2003.
In 2004, with plenty of spare time on his hands, he took a trip to Santa Barbara, where his son and son-in-law were opening the city's first Pita Pit restaurant,. Healthy, fresh, and fast was exactly the kind of fast-food alternative many people in the area were waiting for.
"People loved it," says Riggs. "It was a great concept." From there it was a natural progression to start talking with the owners of the concept--who were operating two companies, one in Canada and the other in the U.S.--about investing in a bigger territory. The idea took a major leap in scope when the possibility of buying the entire U.S. company came up.
"Nine months later," says Riggs, "that was that." Growth followed: since 2005 the company has swelled from 70 to 187 locations, with 20 company-owned locations in a 39-state mix, with a solid presence on college campuses.
Looking back on all the steps he's taken along the way, Riggs says: "It all adds up to what I do and how I think today."
Right now his thinking turns a lot to additional growth, watching Pita Pit locations grow in both number and revenue as the company adds new units across the U.S. It's not always easy, especially in this economy, but his easygoing style can't mask a personality that's always open to another fresh, healthy step forward.
Name: Jack Riggs
Title: CEO
Company: Pita Pit USA
No. of units: 187 in the U.S., 125 in Canada, 20 international
Age: 56
Family: Three grown children and four grandkids. Also, I'm engaged.
Years in franchising: 6
Years in current position: 6
Leadership
What is your role as CEO?
When we took over the company we had to create a new U.S. management team and a system for growth. The core is me, Nelson Lang (the original founder), and three vice presidents (including my son and son-in-law). We've added 117 locations, created a more complete team, and set the goals of where we want the company to go.
Leadership style?
I have a deep faith, and a servant style. I simply ask myself, How can I help franchisees and the corporation succeed? It's up to them to be successful and for me to help them be successful.
What has inspired your leadership style?
Maybe reading books like The Servant. I think also that my Scandinavian heritage has had an effect. Of course, there were my own life experiences, full of odd transitions to seemingly unrelated positions.
Biggest leadership challenge?
I don't hold people as responsible as I should. I'm not as disciplined as I should be at really challenging them. But I try not to be too hard on people and to set a good example.
How do you transmit your culture from your office to front-line employees?
That is not easy. We try to constantly communicate. And communication is not just sending out information. You have to make sure that people understand. Often it's not received. That's a challenge.
Best place to prepare for leadership: an MBA school or OTJ?
For leadership I would probably go with on the job. Leadership is more inborn and learned. I think an MBA is great for analytics, but to me that doesn't describe leadership.
Are tough decisions best taken by one person?
I would say yes, after input from the advisors one trusts.
How do you make tough decisions?
I avoid snap decisions. I prefer to think things through. That can take a while.
Do you want to be liked or respected?
Respected.
Advice to wannabe leaders?
Set clear expectations and be consistent. Adhere to fundamental principles and be fair.
Management
Management style?
It's probably a participative style. I like to talk to the vice presidents and staff and ultimately there's a decision made. I like lots of input. If the executive team reaches consensus, great. If not, I make the decision.
Management team?
They all have franchise experience. I have the least experience actually working in a Pita Pit restaurant. The three vice presidents are all former franchisees. With Nelson Lang, the founder, part of the deal was that he would stay active in the U.S. with us. I probably have more of the systems background. It's a good blend. We usually come to a consensus.
How does your management team help you lead?
By providing their experience, the discussion, the pros and cons that hopefully lead to the right decision.
Favorite management gurus, books?
One was Good to Great by Jim Collins. One I haven't started yet is by Howard Schultz: Onward: How Starbucks Fought for Its Life without Losing Its Soul. Starbucks is one of my favorite corporate models to emulate.
What makes you say, "Yes, now that's why I do what I do!"?
Two things. First, I'm always amazed when I hear from customers who use the word "love" to describe us. Every time I hear that, certainly that's something that sticks with me. Second, last summer my son did a pop-up restaurant in New York City, for eight Fridays. We were interviewed on Fox & Friends each week. They have a plaza right outside of the set. That kind of exposure is very positive. We were on the street at 6 a.m. and there were long lines every morning.
Personal
What time do you like to be at your desk?
I like 8 to 8:30 a.m., but 9 a.m. is more realistic.

Exercise in the morning? Wine with lunch?
No to both. I play basketball in the late afternoon. It would have to be after seven at night for wine. I'm more of a night person.

Do you socialize with your team after work/outside the office?
I do with the family that I work with at the office, which now includes a second son-in-law. We also have a men's league basketball team sponsored by Pita Pit that I play on with the three VPs and a few other staffers. Other than special occasions, no, I tend to not.

Last two books read:
The Servant by James C. Hunter. Make Today Count by John C. Maxwell.

What technology do you take on the road?
I have a smartphone, the Droid version. And I usually take a laptop. I just changed to the Xoom, the smaller Droid tablet computer.

How do you balance life and work?
One of the big advantages to living in northern Idaho is that there are a lot of outdoor activities. We live on a lake. Coeur d'Alene is a resort area, so I have lots of things to do outside of work locally and with my family; plus I like to travel with my fiancée.

 

Favorite vacation destination(s):
There's no place I'd rather be in the summer than in Coeur d'Alene. Having said that, in the winter I like warm, so Mexico, the Caribbean, is where I like to be. Hawaii can work. A few years ago we went to Africa. That was quite an adventure.

Favorite occasions to send employees notes:
I try to send personal notes, sometimes electronically, any time something is well done, there's a birthday or an anniversary.

Favorite company product:
This spring we started something new, called the Ultimate Choice. In addition to our core ingredient options, we have added 15 additional topping choices: artichoke hearts, jalapeños, cilantro, all sorts of things that can be added to your pita.
Bottom Line
 

Long-term goals for the company?
Number one would be growth as a brand and as a franchise system, with individual store success. You want every location to be successful, combined with national familiarity and positive name recognition.

How has the economy changed your goals for your company?
It actually hasn't changed the goals but it has changed the timelines. Over the last three years the growth rate has been cut in half, but we continue to grow. It has slowed us down.

Where can capital be found these days?
It's hard. The SBA seems like it's helping out in conjunction with community banks. As a company we're not really interested in private equity firms, selling off the company.

How do you measure success?
For me it's not a specific metric, but rather being satisfied. For the franchisees, if they're happy, making money, then to me that's a measure of franchisee success. For me, I ask myself if I feel satisfied. If there are lots of problems, I don't feel successful. And I have a fairly high bar to reach to feel satisfied.

What has been your greatest success?
I think it was the challenge of putting a group together to acquire the company in 2005. And then to grow from 70 to 187 locations.

Any regrets?
No, not really. (laughs) I had no control over the economy in 2008, so no personal regrets but more of a global financial regret.

What can we expect from your company in the next 12 to 18 months?
I think we will continue to have positive growth. We have at least four new locations opening up in the next two months. If the banks open up a little and start lending again our growth will accelerate. And, hopefully, we'll add two more new states with Pita Pits in the next year.

Published: September 2nd, 2011
Share this Feature
Recommended Reading:
Comments:
comments powered by

Disqus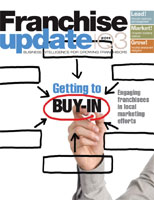 Franchise Update Magazine: Issue 3, 2011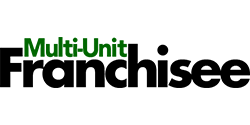 Published quarterly, Multi-Unit Franchisee Magazine is dedicated exclusively to Multi-Unit Franchisees. It delivers vital information and business...
ApplePie Capital provides a fresh new approach to franchise financing that is focused on your growth and success.