The FDD Is Not Enough: Multi-unit Operators Need More to Make Investment Decisions
With the stock market on a run at the start of 2011, I began thinking about the similarities of how stock investors and franchisees choose an investment. The obvious consideration in both cases is whether to make an investment, but that's just the starting point.
Prospective franchisees with no previous franchise experience seem to act a lot like retail stock investors, relying on news articles and other information gleaned from magazines, newspapers, and the Internet. They see ads (and variously disguised versions of ads, like infomercials and many press releases). They get calls from brokers who have plenty of suggestions. Some even get regulatory documents on targeted companies. They often buy on rumor or suggestions from a trusted advisor. That sounds a lot like the process prospective franchisees go through.
Sophisticated stock investors may do some of the same things retail stock investors do, but they perform much more extensive research on a prospective investment. They review analyst reports on a company, as well as regulatory documents, and they may speak with customers and competitors. They do this in large part because they know the questions to ask. And not only do they understand the information they are reviewing, they also know the limitations of that information as the basis of an investment decision.
What about multi-unit franchisees? When it comes to deciding whether to add another unit of a brand, they clearly emulate the sophisticated stock investor (the parallel being a further investment in the same company they've previously invested in). On the surface, the comparison also applies equally well when a multi-unit operator is considering investing in another brand. When some performance attribute catches a multi-unit operator's eye, they usually do a bit of preliminary homework. But it's at this point the comparison begins to diverge--and for the wrong reasons.
Better information needed
The sophisticated stock picker has access to more information, such as analyst reports on companies and their competitors, than their multi-unit counterpart. To get a handle on future performance, the sophisticated stock picker looks at a company's historical performance (the assumption being that history is a good predictor of future performance), at industry statistics, and at a company's current strategy and how that relates to its competitiveness. The management team's track record also is a common area of focus. Terms that often are used include return on investment/capital equity/earnings, same-store sales, unit expansion and unit closures, capital expenditures, unit and chain cash flow, and earnings per share. They can track specific metrics about a public company, and can do so on a quarterly basis.
The multi-unit investor has access to regulatory documents as well, but how useful is the regulatory information for making investment decisions? Are the other sources and types of information comparable to what the sophisticated stock investor has available?
A 10(k) and an FDD have some content similarities (e.g., both have audited statements and descriptions of management). However, a 10(k) relates directly to the company the sophisticated investor is considering investing in--whereas an FDD intertwines information about the franchise system with information about the company that controls the system that the multi-unit operator is considering investing in. Thus, an FDD's value as a guide to evaluating a franchise unit investment is far less than its value as a guide to evaluating the company that controls the system.
Over the years, the FDD has been seriously misused and misinterpreted regarding system performance. In my opinion, prospective franchisees, the media, lenders, and all sorts of experts have tried to infer some system performance attributes and investment potential from many sections, most notably Item 19 and Item 20. From a potential investment standpoint, the information contained in an FDD simply tells a small portion of the story, particularly as it relates to system performance. Combined with the absence of the quarterly reports publicly traded companies are required to issue, an FDD's usefulness to the multi-unit operator's investment decision process is rather limited.
Unfortunately, other sources of information for the multi-unit investor aren't there either. There are no independent analysts reporting on a franchise brand's performance (unless, of course, the brand is a public company). Even more challenging is that there are no common metrics for comparing franchise brands (although the hospitality industry does come closest). Therein lies the point of my comments: Multi-unit operators have the power to define the performance metrics systems should strive to achieve. And if you ask for it with a loud enough voice, franchisors will produce it because they want you in their systems.
What is it that would allow you to evaluate the appeal of a franchise brand in the same way the sophisticated stock investor evaluates companies? Perhaps that is a good topic for the upcoming Multi-Unit Conference, if not as a session topic then certainly as a hall topic. I'll be there. Let me know your thoughts.
Darrell Johnson is CEO of FRANdata, an independent research company supplying information and analysis for the franchising sector since 1989. He can be reached at 703-740-4700 or djohnson@frandata.com.
Published: April 1st, 2011
Share this Feature
Recommended Reading:
Comments:
comments powered by

Disqus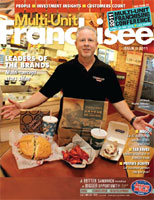 Multi-Unit Franchisee Magazine: Issue 2, 2011
Premier Martial Arts is excited to help entrepreneurs with a passion for martial arts become a meaningful part of their community.
Cash Required:
$100,000
There's nothing quite like the perfect cup of coffee. It wakes you up and gets you on the right path. Now, you've got the chance to build a lifestyle...
Cash Required:
$100,000