The Great Outdoors: Larry Spada is A Five-Brand Strategist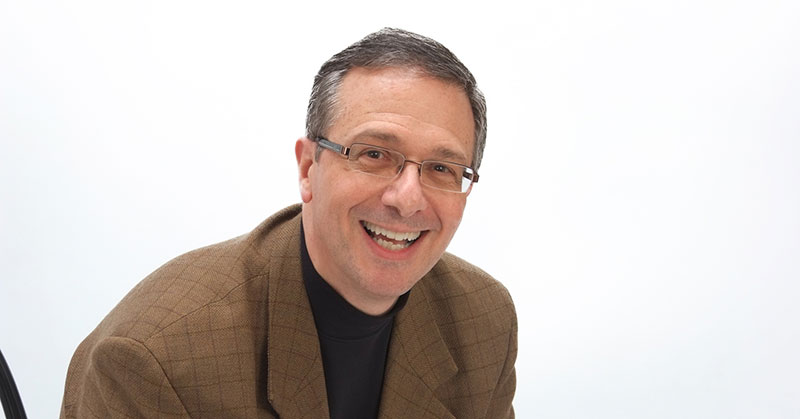 Larry Spada spends his days working from the comfort of his home in the Carolinas. But like many tech-savvy executives today, he's always just a click away from his team at the Outdoor Living Brands headquarters in Richmond, Va.
"I have regular dialogues with my team back in Richmond through technology like FaceTime and email," says Spada, brand strategist for Outdoor Living Brands. "And I visit the franchise headquarters every six to eight weeks."
Outdoor Living Brands, a company dedicated to helping its customers enjoy its slogan of "living well outdoors," is composed of five different brands: Archadeck (outdoor decks, screens, and porches), Mosquito Squad, Outdoor Lighting Perspectives, Renew Crew (cleaning, sealing, and protection of outdoor surfaces), and Conserva Irrigation (lawn sprinklers). Spada's job is to manage the company's "brand personality" by generating a marketing strategy and creative direction for each brand.
Spada cut his marketing teeth with well-known brands such as Bank of America, FedEx, Jack Daniel's, Mayo Clinic, and Saks Fifth Avenue. He also has experience with advertising and marketing agencies, including Adworks, Interactive Direct Marketing, and Spada Advertising--all companies he founded. This adds up to more than 25 years of marketing experience to draw from.
The customer comes first at Outdoor Living Brands, and reaching the right ones with the right message is imperative. "Identify the greatest consumer benefit and leverage it," says Spada. Also, he says, focus on consistency in all ways, at all times, in every conceivable channel. He says the company's "crackerjack marketing team" executes these goals effectively.
Franchisees, of course, are equally important to the company's success. Spada says Outdoor Living Brands is dedicated to being thorough and committed to its franchisee partners by providing open communication, quick response, and ongoing support.
Spada believes that as challenging as it may be to stay atop all the technological developments influencing marketing today, it's more important to properly implement those tools in ways that get results.
Describe your role as brand strategist.
After creating the umbrella brand for Outdoor Living Brands in 2008, I've remained responsible for updating existing brands (Archadeck Outdoor Living and Outdoor Lighting Perspectives) and creating new ones (Mosquito Squad, Renew Crew, and Conserva Irrigation). I oversee the brand strategy and creative direction across all channels for all five brands.
What's unique about the brand strategist position at Outdoor Living Brands?
Thanks to Steve Jobs, I get to work my 12-hour days from the comfort of my home office in the Carolinas, dialoguing with my team back in Richmond on FaceTime, by email, and through many other forms of technology. I visit our headquarters to meet with my team in person in Richmond every six to eight weeks.
What's the most challenging part of being a brand strategist or CMO today?
Staying current with the onslaught of new technology that is rapidly evolving and changing every day.
What are the 3 most important keys to being an effective marketing leader today?
1) Being a good listener. 2) Having an empathetic heart. 3) Being decisive.
How do you prepare a marketing plan and execute the strategies?
It starts with the individual brand leader and the brand marketing manager, who determine objectives for lead generation and client nurturing for each brand, usually in the second and third quarters of the preceding year. We have the great fortune of having a crackerjack marketing team where virtually everything is conceived, written, and designed in-house at our Richmond headquarters. Hence, execution runs like clockwork.
How do you measure marketing results and effectiveness?
Crunching data from channels all over the place, primarily Google Analytics, call tracking, and website landing pages.
Discuss your core consumer marketing strategies and objectives.
The objective is to reach our targeted consumers--for the most part named "the Westins"--who are affluent homeowners, with certain income, demographic, and psychographic profiles. The strategies include execution in a variety of channels, most importantly including digital, mail, regional/local print, and broadcast.
How do you go about creating a "customer-centric" marketing and brand philosophy?
First, determine the single greatest consumer benefit and leverage that. For example, for Mosquito Squad, the mantra is, "The only good mosquito is a dead one." What else needs to be said after that? As for the brand philosophy, extreme consistency in all ways, at all times, in every thinkable channel.
Describe your marketing team and the role each of them plays.
Karin Harrison, brand marketing manager, is the Big Kahuna for Mosquito Squad. Karin sets the tone for what objectives need to be determined (in concert with Amy Lawhorne, brand leader, and "The Squad" team: Nelson Stammer, Dylan Cohan, and Clayton "Buzz" Holznagel), and then works with the marketing team and me: Steven Nguyen, senior graphic design (all brands); Erica Mirra, creative development and marketing coordinator dedicated to the Mosquito Squad brand; Jane Campbell, inbound marketing manager (all brands); and Carolina Rudge, inbound marketing coordinator (all brands).
Why is it so important for the marketing department to have a "personal touch" when it comes to helping the brand connect with franchise prospects?
My mantra is "have fun, work hard, and make money." If you don't love what you're doing, you should be doing something else. Franchisees invest in a brand because they typically would not have the rigorous skill set needed to hit the ground running and grow a business. Being mentored by members of the marketing team with a "personal touch" commands extreme respect (especially when the franchisee is unaware of the topic or procedure at hand), intelligence, humor, and empathy.
How does this help your franchise sales and development effort?
Mosquito Squad is the biggest "family" I have ever seen. Our franchisees love the brand, love the support team, love the product, love our mascot Dread Skeeter, and are totally engaged. On rare occasions when I need to reach out to them collectively or individually for special requests (like contacting Brent Tatum to help with finding locations for our latest set of social media videos with licensed contractor and TV host Jason Cameron) you only have to ask once. When I first contacted Brent, who had yet to meet me in person, his reply was, "Anything for the squad." This feeling of "all for one and one for all" becomes extremely convincing when franchise candidates go through our discovery process, see our assets, and get personal validation from live calls from our units across the country, now some 200-plus strong.
What ways/tools do you rely on to do this?
We have a robust set of franchise recruitment tools including our website (mosquitosquadfranchise.com), an information-rich and easy-to-use franchise discovery portal.
Do today's prospects expect more from the franchise marketing department? What, and how do you provide it?
I have been familiar with multiple franchise operations over the years and I have never seen a franchisor as thorough, committed, and dedicated as The Squad. And I mean it. We try to respond to franchise queries within minutes, if possible, in every phase of our operation. Our being continually named a world-class franchise attests to the satisfaction level of our franchisees with their support teams.
How is technology changing the way franchise marketing is done in terms of one-on-one contact?
By encouraging us to produce digital versions of face-to-face communications, like videos and highly personalized outbound communications.
How is today's consumer and marketing data helping you fine-tune your marketing initiatives?
Simply put, by knowing what works and what doesn't, based on lead generation responses and the bottom line.
Describe the evolving role of social media in your brand's marketing efforts.
Championing the use of social media as far back as 2008, Mosquito Squad is committed to maintaining the leading share of voice in the mosquito control and mosquito elimination field--being the founder and original mosquito treatment franchise as far back as 2005. Not only does our marketing team orchestrate multiple channels of social media and digital, we also assist our franchisees with turnkey programs and individual, customized attention to their daily social needs. For some franchisees, we also recommend the services of digital social companies for both content penetration and search engine optimization. We also maintain a close strategic relationship with Google.
How are you assisting your existing franchisees with more contact and transparency?
What are their immediate needs? At the risk of sounding simplistic, virtually anything they need. By the time new Mosquito Squad franchisees finish training, they have essentially everything they need to hit the ground running, turning to Karin Harrison to channel special requests, which are then fed to the appropriate marketing team members.
How do you work with other internal departments and does technology help?
Seamlessly, especially with technology. Amanda Berdeen, our manager of IT training, support, and development, is the finest in her field. She is faithfully supported by her team, London McKnight and Andrea Nagle, with additional outside support from C5 Communications.
How do you manage costs and budgets for the marketing department?
I don't, my brand marketing managers do. They tell me how much I can spend and I do just that.
Do you see vendors as business partners? Why/why not?
Yes. They are critical to supporting the marketing and communications needs of our five brands with our extensive schedule of on-time deliverables--again, across all channels. We treat them as we wish to be treated, as a trusted friend and ally.
How have marketing strategies/tools changed over the past decade? How have you adapted? What hasn't changed?
The magic formula used to be grassroots, door-to-door selling, local spot TV, and radio and newspaper. Today, typically both homeowners are working, so no one is at home during the day. And thanks to technology, many people work to some degree at every waking hour. We encourage a strong position in digital and social media: well-targeted direct marketing with innovative strategies and high-impact creative messaging and delivery.
How is your marketing/branding strategy developed, and how does it flow through the system?
Again, a combination of our brand leader, brand marketing manager, and our franchise advisory council, all funneled through the various executional disciplines of the marketing team.
What advice would you offer to aspiring marketing executives?
Hire people younger and smarter than you are.
Published: May 28th, 2017
Share this Feature
Recommended Reading:
Comments:
comments powered by

Disqus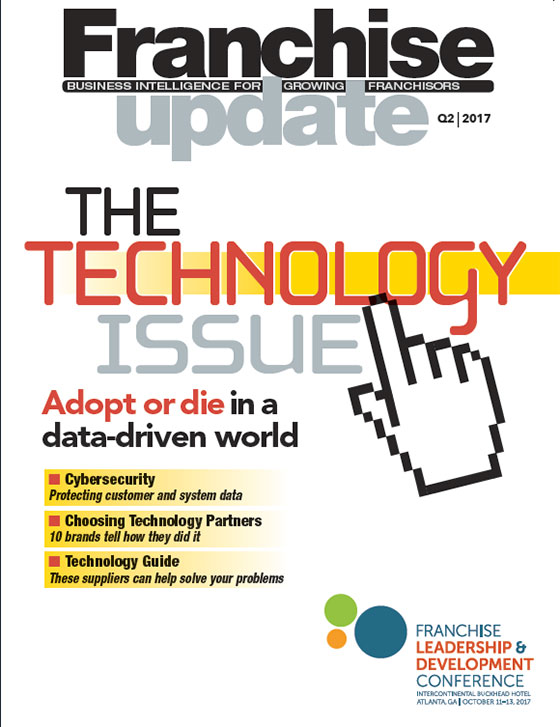 Franchise Update Magazine: Issue 2, 2017
June 20-22, 2023 Marketing-Operations-Technology. Be a part of this ground-breaking new space for ideas, inspiration and networking for Franchise...
Support your multi-location brands and empower users. OneTouchPoint integrates localized marketing services and comprehensive brand management...