The Importance of Real Estate Policies for the Successful Area Developer
I have read many "How To" articles on real estate. Often, they were written by attorneys, estate agents, or learned Ivy League professors in need of publishing. They quote facts, point to figures, refer to charts, and on occasion come up with something of value to the reader. The problem, in all fairness to these authors, is that it is difficult to write about real estate without a clear and specific idea of what their readers need or are looking for.

Rarely is real estate a confined subject, especially for area developers, as it affects many aspects of one's business, most specifically the requirement of leased premises to conduct operations. Here we will focus on how to tie the key problems area developers face into a comprehensive solution: a strategy for readers who have area development agreements with aggressive growth provisions to follow, and to benefit from over the long-term.

Franchisors, through their master agreements, preach the importance of following systems and processes. Yet rarely, if ever, do those manuals cover proper real estate systems and procedures.

Many area development agreements have been awarded by franchisors to individuals with solid backgrounds or knowledge in real estate for a given market. Franchisors recognize that real estate is key to all future success. Unfortunately, area developers' experience with real estate is often not transportable to their duties as area developers. The experience needed here is not in land development or construction, but rather in setting up processes that allow for the correct selection of multiple sites and handling of numerous and often-simultaneous lease negotiations.

We all know franchise networks are highly systematized. Systems and processes are the very essence of a franchise concept. It is what franchisees are paying for. Most area developers think they have been awarded a brand, but we strongly believe that a strong brand was born out of great systems and processes. The problem, however, is that the "brand" and all its resulting systems and processes, outlined in hundreds of pages in operating manuals, do not include a section on real estate. Franchisors seem to want to avoid making suggestions on what systems to set up, most likely because they do not have any to offer, or do not want the liability associated with providing one.

This is an interesting paradox. Most franchisors recognize the need for proper systems and processes in franchise operations for consistency. Yet, most fall short of providing any worthwhile guidance to area developers when it comes to setting up the real estate systems necessary to achieve the growth specified under the area development agreements they have signed. To succeed, this is a challenge area developers must meet properly coming out of the gate.

The first step in meeting this challenge is to recognize that your real estate endeavors, both site selection and lease negotiations, must be highly systematized. If you do not, the likelihood of hitting your targets will be greatly diminished. Imagine airline pilots attempting to take off without first following written checklists that outline the correct sequence of events to get their complex jets safely into the sky. Many would succeed, but disasters would strike daily. My point here is that if you do not set up the right processes to handle multiple real estate transactions in a short period of time, disaster will strike—even if you have been successful a few times. It will be these disasters that throw your operations off the rails, slow your growth, and cause you to miss your targets.

The lack of proper real estate systems tend to lead area developers into many other common mistakes. If you set up the right real estate systems you will be able to avoid or circumvent these mistakes and have a much better chance of hitting your desired growth targets. To set up a system that works, we recommend designing it to specifically avoid the following common mistakes. This is not that hard to do.

1) A good real estate system starts with good real estate policies, and is followed by the discipline to follow through. Policy is the connection between your corporate strategy and your real estate activities. You will need to carefully consider the resources available before setting policy, but once done it should not be altered unless careful consideration is given to the long-term effects of such changes. An example of a good policy would take into account a maximum number of units you can open within a period of time based on your available resources, and then limiting yourself to that amount. You can easily get off to a running start, but if you grow faster than your predetermined policy permits, you risk running out of resources before you hit your targets.

2) Another good policy to set in advance is not to sign personal guarantees. Far too often, landlords will throw this into the deal at the eleventh hour. This is where discipline comes in. If your policy is consistent with your overall strategic goals, and you can follow through on the discipline to abide by it, you will be prepared to walk away from deals that don't adhere to your preset policies. If you can't walk away because you're too far down the path and need the site to hit your targets, consider this: Where is the bigger risk? We would rather risk the agreement with the franchisor than risk losing the entire operation and personal assets because of a few stores that do not work out down the road. We have seen too many operators over time lose their entire network because of two or three bad stores—and lack of policy in this regard.

3) Another worthwhile policy is to set up a lease holding structure not directly tied to your operating company. Your operations and franchise agreements should be under one corporate entity. Your tenant leases should be under another, with minimal assets. If your growth calls for 20 units per year, or even over five years, do not put more than five or seven stores in any single lease holding company. You will need to determine in advance what type of covenant or support you will provide to these lease holding companies. This will vary greatly depending on the market, competitive pressures, and much else. However, experience clearly proves that if a landlord wants you as a tenant he will agree to significantly fewer guarantees. The key is to establish policies that will make landlords want to have you as a tenant.

The policies you put in place to make landlords want to have you as a tenant will propel your growth, and your reputation will begin to develop. To set these types of policies you first have to change your mind-set and understand how landlords think and operate.

This may seem simplistic, but landlords are mostly concerned with increasing the value of their property. The only way they can do this is through higher rents. We know that commercial properties are valued based primarily on a multiple of the rent roll—the higher the rents, the higher the value of the property. Understanding this simple reality and then making proper use of it as an area developer will greatly enhance your chances of success.

Most multi-unit tenant operators consider the payment of low rents to be the primary goal in any landlord negotiation. Yet it is a well-known fact among landlords that most franchise area developers will pay higher-thanmarket rents. Property owners and their leasing agents are well aware of the competitive pressures area developers are under to open new locations and will take full advantage.

Do not be surprised to hear landlords claim on your first contact that they are dealing with another tenant, or even a competitor of yours for the very same prospective location. This, to the sole benefit of the property owner, creates a bidding war in a short span of time, and whether it is real or imaginary is not relevant. What is of importance is that area developers are signing leases at higher-than-market rates as a result, without gaining any of the benefits that could be garnered from paying these higher prices.

You need to look at your entire tenant lease portfolio as a beneficial and comprehensive long-term strategy to success. Paying a higher rent—which you are probably doing anyway— is a key way to achieve important concessions from your landlords. This is where area developers' mind-sets need to be changed: Look at your tenant leases as a valuable tool, not just an expense, which brings you only the location. Rather than being focused primarily on the financial terms of the deal, look more seriously at other aspects of a tenant lease that can bring you value.

All too often, area developers do not consider the many risks contained in a tenant lease. For example, the ability for the area developer to sell any one—or perhaps all—of its units either back to corporate or to other franchisees is a key issue that is very problematic under most leases. Landlords like to have onerous assignment provisions, including termination rights, to prevent the sale of their tenants' businesses unless there is some significant financial benefit back to the landlord—in other words, some kind of payoff for their consent to the transaction. This issue alone could end up costing you millions.

Instead of fixating on just the rent, a key negotiating point should be an ability to freely assign your tenant leases either back to corporate or to any other approved franchisee in your system without the landlord's consent.

Another excellent example of tenant lease provisions beneficial to area developers would be the ability to relocate your unit if preferred space becomes available on the property at any time during your term. Often you can find locations in a strip or power center, but they may not be ideal. However, with such a provision you could solidify your location in the less-than-ideal spot knowing that at some future point, an end cap or pad site will become available and you will have first rights.

This will assist you in getting into some markets more quickly when locations are scarce and allow you to improve your location later if you desire.

I always prefer to see provisions in multiunit operators' leases that permit them to terminate their leases if sales do not exceed a certain threshold after a reasonable period of time. This will allow you to readjust your units after a few years of operations by relocating underperforming units without having to pay excessive penalties to landlords.

These types of provisions, and many more like them, can be successfully negotiated into your portfolio of tenant leases, provided you to have the right mind-set—one that will give landlords a tenancy they desire. The best way to do this is to avoid grinding on rents at the onset of a negotiation. As I said before, negotiating lower-than-market rents seldom works, and will only frustrate a negotiation on a point you are bound to lose. On the other hand, what you can win are lease documents crafted to give you lower corporate risk, longterm flexibility, and, from an overall portfolio and time standpoint, significantly increased value. Over time, if you can negotiate into your portfolio of leases the ability to relocate to better sites when available or to terminate out of a poor location without having to buy out the lease, the value to your system could be enormous.

Area developers always need to have one eye on the long term, and long-term strategic planning requires a different mind-set. When thinking of a minimum ten-year term, try to avoid annual percentage increases in rent like the frequently seen 3 percent per annum. If you are going to give in to paying higher rents up front, try to lock those rates in without any increases (including CPI) for the term. If you do need to agree to some escalation, do so on a predetermined, per-square-foot basis, and not on a percentage increase. Percentage increases compound, which means you are paying percent over percent over time. This, as you would expect, raises rents very quickly.

What you need to accomplish is a properly structured tenant lease portfolio that is designed for long-term value, not simply low rents. With the right policies, your business will have a much greater chance of increased success. The real challenge will be having the discipline to follow these policies.

Lewis Gelmon is the founder of Cirrus Tenant Lease Services (www.cirrustls.com) and has been educating and providing real estate solutions to franchise companies across North America for over a decade. He can be reached at 800-459-3413 or lewis@cirrustls.com.
Published: February 20th, 2006
Share this Feature
Recommended Reading:
Comments:
comments powered by

Disqus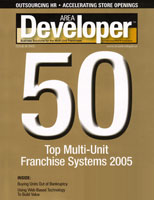 Multi-Unit Franchisee Magazine: Issue 3, 2005
After investing more than 45 years in building the most trusted brand in health and wellness, The Vitamin Shoppe is now franchising with fewer than...
Cash Required:
$200,000
Our first store opened in 1990 in California, growing quickly to a 5-store regional chain. PET DEPOT® started franchising locations in the USA in...
Cash Required:
$53,250