The Importance of Service Design: One Sour Experience Can Turn Customers Off Forever
I love Tivo. At least, I used to. But then I had to interact with live people.

Now this is not the beginning of a rant about bad service. It's the beginning of a rant about bad service design. Because when employees are directed to follow processes that drive customers crazy, that failure of service design is management's responsibility.

Imagine this: I recently moved into a new community that included in my homeowners dues a great package of cable services, including digital video recording (DVR)--the same thing Tivo provides. I had to pay for this packaged cable deal whether I used the services or not. So it no longer made sense for me to also pay for a Tivo subscription.

I wasn't mad at Tivo, but it was time to cancel. I logged into their website and searched for how to cancel my subscription. Couldn't find it so I checked the list of Frequently Asked Questions (FAQs). There it was: We do not accept cancellations online--you have to call us. Bummer.

I called as they required. I had been a happy user for years. But I was annoyed that I couldn't cancel online. The multi-minute wait to talk to a live person wasn't pleasant either. In fact, I waited long enough to walk out to my car and drive several miles down the freeway before I was actually connected with a real person.

When a woman with a cheerful disposition answered the phone, I became hopeful, feeling that this chore was almost over. But no. In the sweetest voice, the Tivo representative (let's call her Emma) asked me why I was cancelling. I told Emma I was very happy with Tivo but my new home came with DVR included so I no longer needed their service. Who could challenge that? She could--and did.

What should have been a simple, easy transaction became a long, ridiculous dance. Emma tried to tell me it made sense to keep Tivo even though I did not need it. No thanks. Then she offered me a lower rate to stay. No thanks. Finally she offered to transfer my subscription to one of my family members. No thanks. Through the ordeal, I drove 10 miles down the freeway! I was furious at the waste of my time.

I no longer love Tivo. Give me that customer survey so I can tell someone!
But I still have enough objectivity to realize that Emma could not have enjoyed my increasingly nasty tone. She was just following management's orders and/or responding to management's compensation incentives. The service design, if you can call it that, had the effect of turning me from a loyal customer with no complaints to an irritated ex-customer who can't wait to tell all about my bad experience. (I would've spread good words as a former customer if this had not happened.)

But my bad service experience wasn't really Emma's fault. She was being a good soldier, doing her job. When I took the customer survey (after the phone call) I actually complimented her and left a message for management: Their service design must be making employees as miserable as the customers who call to cancel. I never did hear back from a manager, or anyone else, regarding my feedback.

Of course, lousy service, like the weather, is something everyone talks about. The big difference is that you can't change the weather. But service experiences can and should be thoughtfully designed. The right service design makes customers happier and employees more productive.

Whether your service model invites customers to call, visit a physical location, or log onto a website, how can you make that a desirable experience--even when it's busy? In fact, if being busy is a goal, then the service model should be designed to provide a great experience--especially when it's busy!

Now you may be thinking that a fast, convenient and friendly experience automatically means adding cost. Not necessarily. Sometimes the opposite is true.

Example: my public library lets me reserve books and DVDs online. I don't have to call and ask if the items I want are available. I can reserve my desired items faster and more conveniently by doing it myself. And no standing in line.

Then when I show up at the library to pick up my reserved items, I just walk right up to the bookcases marked "Waiting to Pick Up" and find them under the first three letters of my last name.

Librarians used to perform mind-numbing repetitive tasks for hours each day, scanning library cards and books and handing out receipts. Today, instead of waiting in line for their "service," I scan my own library card, scan each book or DVD, grab my own receipt and am out the door in a fraction of the time it used to take.

What drove all those wonderful improvements in the public library service model? Falling budgets in the public sector! Libraries had to do more with less and cut labor. Necessity is truly the mother of invention. The result is better service, happier customers and employees, and, yes, lower costs.

If you think this is the time for you to improve efficiency and cut waste, I agree. And let's start by improving efficiency where it matters most: by converting first-time customers to repeat customers, repeat customers to regulars, and regulars to raving fans. Let's stop alienating customers with thoughtless service design and start dazzling them with innovations they value.

Jack Mackey is vice president of Service Management Group. For information about accurately measuring customer satisfaction, email him requesting "Five Things We Learned from Talking to 100 Million People." jmackey@servicemanagement.com or 816-448-4556.
Published: November 30th, 2009
Share this Feature
Recommended Reading:
Comments:
comments powered by

Disqus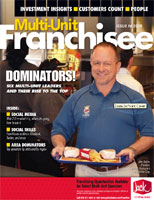 Multi-Unit Franchisee Magazine: Issue 4, 2009
810's mission is to bring there premium entertainment experience, traditionally available in large metropolitan markets, and makes it available...
Cash Required:
$550,000
Buddy's Home Furnishings is one of the fastest growing rent-to-own franchises in America with a 60+ year legacy of proven success.
Cash Required:
$150,000