The Minimum Shaft Expectation
The difference between satisfied customers and loyal customers can sink a multi-unit franchisee. But there is also good news here.
The minimum shaft expectation
Service in general is so bad, that most people are "satisfied" if they just don't get burned too badly as a customer. This gives rise to the "minimum shaft" expectation. For example, I went recently to renew my drivers license in a state that shall remain nameless. The place was drab, the people were mostly unsmiling, dour and indifferent, but the speed of service wasn't as bad as I expected. I got back to the office in less than an hour! While it wasn't wonderful, I was "satisfied." So by definition, satisfied customers are simply those who have no major complaints! This is hardly the same as having a strong feeling of preference for a particular product or service or brand.
Loyal customers outspend satisfied customers by a million dollars
When customers do have that strong preference for your product or service or brand, they will spend more with you. This is not necessarily a deliberate intention but just the natural result of having a personal preference. We've all had the experience of moving into a new neighborhood and having to discover the nearby convenience stores. As we gain experience with them, we tend to visit our favorite stores more often. One food retailer found they won 60% share of wallet from their truly loyal customers. Merely satisfied customers spent 11% less share of wallet with them. In dollars, the loyal customers were each worth about $200 more. Multiply this by 5000 customers and that's a million dollars a year in extra revenue. Loyalty is worth a lot more than mere satisfaction.
Affection drives loyalty
When customers describe themselves as "highly satisfied" with your service, what they are telling you is that they "love" you! When they are only lukewarm about your service, or when they are just relieved (the minimum shaft expectation) about the experience of doing business with you, they will describe the service as "OK" or "satisfactory." This is why customer surveys are so often given to you anonymously. That way, you'll be more likely to tell the truth. If your experience didn't create a strong, positive feeling in you, then you can politely describe yourself as "satisfied" rather than "highly satisfied." Love may be a mystery, but customer affection can be measured. If you can measure it, then you can manage it.
Service behaviors drive customer affection and higher spending
With another multi-unit specialty retailer, we surveyed customers about the service they received and then tied their responses back to the average amount they spent. Old-fashioned employee virtues such as helpfulness and friendliness and knowledge of the products contributed to big increases in spending. For example, customers who described the person who served them as "very helpful" spent an average of $46. Customers who described the service as "somewhat helpful" spent an average of $38. That's a 21% bump in revenue for being "very helpful!" An area developer who shares these service and sales metrics with employees, and who aligns rewards and recognition with higher average transaction amounts, has a powerful performance management system.

Outstanding execution makes more sales today and repeat sales tomorrow
As a multi-unit franchisee, you bought into a concept(s) you felt was outstanding. But even an outstanding concept, poorly executed, is just a mediocre business. Without great service, you never fully realize the potential sales and profits from your investment. The fundamental building block of great service is outstanding execution. Especially in our world of minimum shaft expectation, customers notice when things are done right, done quickly and done in a helpful manner. They reward that outstanding execution and great service with higher average purchases and with repeat business.

For example, there are a plenty of drive-through burger joints on the main street near my home. Last year, another went up and out of curiosity, I tried it. The person taking my order introduced himself by name—that simple gesture startled me! He made eye contact and smiled when he made my change. Then the burger was hot, freshly prepared and of a noticeably higher quality than I expected. Overall, I felt like this was a way above the average fast-food experience. So I keep coming back. I keep noticing that the people, the service and the food are always outstanding. I bet they now have the largest share of my "fast-food wallet." Yet a year ago, they started with a zero share of my wallet. That's the effect of winning loyal customers, not just satisfying customers.

Resolve to do more than satisfy your customers. Remember you have the minimum shaft expectation working for you!
Published: April 11th, 2006
Share this Feature
Recommended Reading:
Comments:
comments powered by

Disqus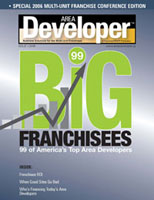 Multi-Unit Franchisee Magazine: Issue 1, 2006
Altitude Trampoline Park is the premier indoor trampoline park destination, bringing active family fun through its JumpLife(SM) mantra to the global...
Cash Required:
$600,000
With 5 locations currently open and several in the development pipeline, Bobby's Burgers by Bobby Flay has launched its full-scale U.S. and...
Cash Required:
$500,000